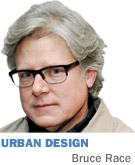 I just got back from Washington, D.C., where I attended the annual gathering of the American Institute of Architects. More than 15,000 architects from across the country and around the world gathered to discuss how design connects people to cities. After the convention, I spent Sunday on the National Mall along with thousands of others.
Indianapolis' ceremonial mall is along North Meridian Street, from Ninth to Ohio streets. It includes the Central Library, American Legion Mall, Veterans Memorial Plaza, Indiana World War Memorial, University Park and Birch Bayh Federal Courthouse. Adjacent to the parks and monuments are great landmarks, such as the beautiful Scottish Rite Cathedral, and not-so-great landmarks, such as the massive and stark brutalist Minton-Capehart Federal Building.
Both Washington and Indianapolis were designed as capital cities—with a certain formality, heroic views, intersecting axis, monumental architecture and sacred places.
Washington was designed by Pierre Charles L'Enfant, who arrived from France in 1777 to help fight in the revolution as a military engineer. He was in Valley Forge with George Washington, and his loyalty and skills later earned him the commission to lay out our nation's capital.
One of his assistants was Alexander Ralston. Ralston became a city planner in his own right and gained a commission to design Indianapolis' original Mile Square, bordered by North, South, East and West streets. His 1821 plan resulted in the Circle and our distinctive diagonal streets of Massachusetts, Indiana, Kentucky and Virginia avenues. Ralston gave Indianapolis "great bones." Our early neighborhoods and downtown evolved within this distinctive formal framework of streets and parks.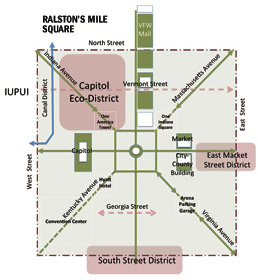 However, in an effort to attract modern development, the city permitted three of the four diagonal streets near the Circle to be developed in the 1970s and 1980s. Indiana Avenue now terminates with a view of the One America Tower loading dock; Massachusetts Avenue ends in a parking lot behind One Indiana Square; and Kentucky Avenue has disappeared altogether underneath The Hyatt Hotel and Convention Center. The remaining diagonal, Virginia Avenue, which connects downtown to the Fletcher Place and Fountain Square neighborhoods, was covered over in 1999 with the parking structure that serves Banker's Life Fieldhouse.
Each of these moves undermined avenue vistas of downtown and facilitated a ring of parking lots that further detached downtown from adjacent neighborhoods.
Washington made some similarly poor decisions in the 1960s and 1970s and is working at a neighborhood scale to repair the damage. The District has planned for sustainable redevelopment of stale urban renewal areas, such as in the 15-block Southwest Ecodistrict Initiative, where there is an effort to reconnect the Smithsonian and the National Mall via 10th Street to the Potomac River with added cultural, residential and employment uses.
In downtown Indianapolis, Indiana Avenue, Virginia Avenue, South Street and Market Street have large opportunity sites. Their development can re-energize downtown and reinforce our unique design features of parks, monuments and avenues or further detach downtown and erode Ralston's vision of a capital city.
Imagine the 15 blocks north of our State Capitol being developed as our own Eco-Capitol District—a sustainable mixed-use neighborhood connecting our ceremonial Veterans Mall and Massachusetts Avenue District via Vermont Street to the Canal District and IUPUI.
The parking lots in that area can become a fantastic neighborhood if they are not treated as inward-focused individual projects. They need to be conceived as part of a larger vision worthy of a capital city. An urban design plan for this area can extend the civic qualities of the Veterans Mall; create new places to live; and promote a vibrant, open and walkable neighborhood.
L'Enfant's remains lie comfortably in Arlington National Cemetery on a hill overlooking Washington, D.C. His vision lives on in every project, every monument and every event.
If we do not get the next generation of downtown investment right, Ralston's remains will be spinning away in Crown Hill Cemetery, and we will forever lose the distinctiveness of our founders' vision.•
__________
Bruce Race, FAIA, FAICP, is an award-winning architect and urban planner and owner of RaceStudio. He lives in a historic Indianapolis neighborhood and teaches urban design at Ball State University's Downtown Indianapolis Center. His column appears monthly. He can be reached at br@racestudio.com.
Please enable JavaScript to view this content.