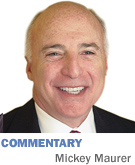 Three wise men were having a passionate discussion after lunch over the round table in the public park. They all got tired and fell asleep. At that time, a young painter was passing by. He decided to use that moment to paint their faces in funny colors. When the gentlemen awoke, they all started laughing. Suddenly one man stopped laughing. Why? What important human quality did he lack? (No one pointed. No questions were asked. No mirror was present.)
Beginning in the 1970s, Indiana Sen. Richard Lugar was an outspoken advocate for free emigration from the Soviet Union. In his capacity as a powerful senator, he applied continual pressure on the Soviet government. As a result of Lugar's intervention, many families were later allowed to cross the Iron Curtain.
Some of those families settled in Indianapolis. Fleeing persecution by the Soviet government's harsh anti-Semitic regime, the Varshavskys—Alex, his wife Nina, daughter Julia, mother Pasha, and Airedale Terrier Rona—arrived in the spring of 1990.
Alex was an internationally known mathematician who gained fame as a student in Moscow for solving Eva Kallin's problem (Yale University, 1962) in functional analysis. Don't ask me what that is. Daughter Julia was every bit as bright. She earned a perfect record from Moscow State University. Even Rona was exceptional, winning medals in Moscow as best in breed. For Nina and Pasha, the adjustment was difficult. They spoke no English.
Janie and I joined Eric and Bonnie Prystowsky in volunteering to help the Varshavskys get settled. I was privileged to take Alex to open his first bank account at Indiana National Bank. I reviewed the materials with him and asked him to enter his deposits. On checking his work, I noted a subtraction error. When I commented that he was supposed to be a mathematical genius, he replied, "I am a mathematician. This is arithmetic." Eric helped him land an interview and a job offer from Eli Lilly and Co. as a research scientist.
I drove Julia to Bloomington for an interview with the Indiana University math department. Her brilliance was obvious and she was immediately accepted into the graduate program and offered a stipend. Later, Bonnie performed the same duties at Purdue University, where the math program was more appropriate for Julia's interest. After graduating from there with a Ph.D. in Bayesian analysis, she also found employment at Lilly.
We enjoyed helping the family with their acclimation issues. Finding Alex distressed one evening, I asked what was wrong. He replied, "It's my worst nightmare. My wife is beginning to speak."
Alex and I shared puzzles and riddles. I enjoyed his creative mind, and my attempts to befuddle him were rarely met with success. He often said the same thing about me, but he was just being kind.
After a few years, the Varshavskys made their own friends and our families drifted apart. They became proud United States citizens. Julia left for San Francisco and now has a family of her own. Alex enjoyed a distinguished career at Lilly, winning numerous awards. A couple of years ago, he retired. He and Nina spend winters in Florida enjoying the American dream.
Last week, Alex sent me the challenge set forth at the beginning of this column. It was great to hear from my old friend, and I will get back to him with readers' solutions. But the bigger riddle—the one I often wonder about—is why governments often oppress their best and brightest citizens because of race, religion or sexual preference.
Iterations of the Varshavsky story have been repeated thousands of times—mathematicians, artists, musicians, scientists and authors all lost to the countries or states of their birth. It is happening now in Indiana as a result of the inexplicable harassment of our gay population under the guise of a marriage rights amendment. It is one riddle that I doubt neither Alex nor I will ever solve.•
__________
Maurer is a shareholder in IBJ Corp., which owns Indianapolis Business Journal. His column appears every other week. To comment on this column, send e-mail to mmaurer@ibj.com.
Please enable JavaScript to view this content.