A local developer plans to break ground this month on a three-story office building near Keystone at the Crossing that would be the market's first speculative office development in four years.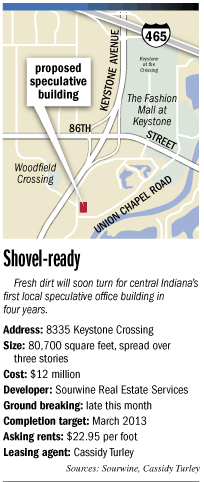 The $12 million project by Sourwine Real Estate Services calls for an 80,700-square-foot brick-and-glass building, the third in the company's Keystone Office Centre southeast of 86th Street and Keystone Avenue.
Sourwine has owned the property at 8335 Keystone Crossing for more than 25 years. The company developed the office buildings at 8395 and 8365 Keystone Crossing in the early 1980s and early 2000s.
"We're taking advantage of an opportunity to be new when no one else can be new," explained Joe Sourwine, who became the third generation to join the family-owned company after he graduated from IU last year. His father is Jim Sourwine, the company president.
Sourwine was able to move forward because it has equity available to put into the project and has secured a loan from PNC Bank. The new building will be the largest office project yet for the company, which also owns the three-building 9100 Meridian Square office complex at 91st and Meridian streets. The local office of Cassidy Turley is handling leasing.
The company originally proposed an office building for the site back in 2005, but the project stalled during the financial crisis.
Given current market dynamics, the project's reasonable size, proximity to Keystone at the Crossing, and experienced local management make it a good bet to land strong tenants, said Tom Hadley, a Summit Realty Group principal focused on office leasing.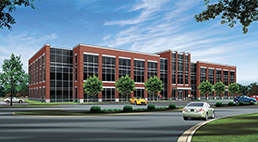 Family-owned Sourwine Real Estate Services plans to break ground this month on a three-story speculative office building in its Keystone Office Centre development. (Rendering courtesy of Sourwine Real Estate Services)
"Keystone at the Crossing has proven to be one of the best locations in Indianapolis in terms of quality of real estate, quality of owners, and quality of amenities," Hadley said. "Sourwine is one of the best local owners for that size of product. They retain their tenants and take care of their buildings. That goes a long way in this market."
Sourwine typically caters to smaller tenants that take less than 10,000 square feet apiece, though the initial targeted tenants for 8335 Keystone Crossing will trend slightly larger.
Andrew Martin, a senior vice president and principal in the local office of Cassidy Turley who is handling leasing for the project, said he hopes to land a couple of tenants that take an entire floor or half a floor. Each of the building's three stories will have about 25,000 square feet of leasable space. The first floor also will have a fitness center.
Martin sees the Sourwine project as an isolated case where speculative development makes economic sense. Otherwise, he figures most market activity will involve redevelopments and repositioning of office properties rather than construction of new ones.
The Keystone submarket has been a hot performer since the economy bottomed out.
Vacancy rates for Class A office space in the area fell to 18.1 percent in the first quarter of 2012, compared with 26 percent during the same period a year earlier, according to data from Cassidy Turley. The central Indiana market had an overall vacancy rate of 24.2 percent for the first quarter.
The Sourwine project could push market rents higher for the area. The company is asking $22.95 per square foot, just above the market's range of $9.95 to $22.54. Cassidy Turley pegs the average rent for the Keystone submarket at $18.80 per square foot per year.
"It's the land, the owner, the submarket," Martin said of the Sourwine deal. "I don't see any more 100-percent spec in the foreseeable future. I think you'll see others go redevelopment."
One example is the 180,000-square-foot office building at 111 Congressional Blvd. in Carmel that locally based Lauth Property Group bought in February for $7.1 million. The company, which moved its own headquarters into the 1986 building, is sprucing up the structure and adding other tenants.
The most recent speculative office building to open in central Indiana was Lake Pointe Center 5, completed in 2008 at the southwest corner of Interstate 465 and Allisonville Road.
That project's developer, Indianapolis-based Edgeworth Laskey Properties, in 2009 built the first phase of its Concourse at Crosspoint office park west of Interstate 69 just south of 106th Street. But Concourse is not considered a spec development because it landed USA Funds as a 30,000-square-foot tenant before a ground breaking.
Sourwine sees 8335 Keystone Crossing as a "stepping stone" to the firm's next development, which likely would be in the Keystone Avenue or Meridian Street corridors on the north side of Indianapolis, Joe Sourwine said.
The company finds itself in a strong position to grow, thanks in part to its sale of the Rivers Edge shopping center it developed at 82nd Street and Dean Road. Sourwine sold the center to Kite Realty Group Trust in 2008 for $18.3 million. Kite has renovated and added Nordstrom Rack, The Container Store and BuyBuy Baby.
Sourwine said Kite's investment "definitely improves" the trade area. But that doesn't mean the company regrets its decision to focus on its specialty of multitenant office.
"We've worked hard to invest wisely and put ourselves in a good equity position," Sourwine said.•
Please enable JavaScript to view this content.