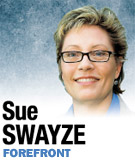 Webster defines compromise as "a settlement by arbitration or by mutual consent reached by concession on both sides." Inherent in this concept is the act of concession.
But must we always concede? Recent controversy over comments made by U.S. Senate candidate Richard Mourdock that he won't compromise on key issues has been fueled by those who reject principled decision-making in lieu of feel-good politics. And that is exactly what's brought us debt, corruption and moral failure.
It's time we elect people who will take a stand, not a pass, when decisions get hard.
Compromise is often a good thing. In our families and workplaces, we model patience and compassion when we compromise rather than demand. Yet all of us, through our character and integrity, must define areas where we won't compromise: the man with 10 years of sobriety who won't drink with the boss, the athlete who won't take steroids, or the businessman who forgoes the white lie that will seal the deal.
From birth, we're taught on children's television and in classroom activities that we're to compromise and tolerate and work with others. As adults, however, we move from milk to meat—we attend to certain principles and moral imperatives.
So, for conservatives, when compromise threatens to erode our core principles—sound fiscal policy, respect for life, exercise of religious freedom, private-sector freedom from government intervention—it is time to draw the line.
This is why the Tea Party has been scourged by a liberal media that doesn't understand why its members, typically our "greatest generation," have awakened to a Congress that hasn't exercised strong principles of restraint. We have a $15 trillion federal deficit and the most socialist-leaning health care reform act of all time. Or why, as Gallup reports in May 2012, when over 55 percent of Americans are pro-life, many states are blocking taxpayer dollars to entities that perform abortions.
Compromise got us there; principled leadership and decisive action is the only way to peel it back. We're in a battle of ideologies: one ideology saying there is no truth, and the other saying religious truth and conservative core principles take precedence.
And while people of similar beliefs can compromise on periphery differences, when it does not bring progress toward our core principles, then compromise is a hindrance.
Most of our systems (education, health care, business) have such a mosaic of regulations today that we need a host of compliance staff. Rather than upgrade old systems as a CEO might, the political process affords only piecemeal changes rather than real, lasting change. When George W. Bush reached across the aisle to Teddy Kennedy, he got a watered-down version of No Child Left Behind. Mitch Daniels, however, closed license branches like a strong CEO.
Recently, the U.S. Conference of Catholic Bishops, which arguably supports liberal causes, has thrown down the gauntlet before the Obama administration over its blatant disregard for the exercise of religious freedoms in the Affordable Health Care Act's mandated coverage for contraceptives, sterilization and abortion-causing drugs. Never before in U.S. history has the federal government forced citizens to purchase a product that contradicts their moral and religious beliefs.
Some things are worth taking a stand for. In this age of moral relativism, many of us want strong leadership and fewer gray areas in matters that impact our lives and those of our children and grandchildren. We also want to reclaim ground set by our forefathers to allow us to stand on our Christian faith.
Thomas Jefferson said, "In matters of style, swim with the current; in matters of principle, stand like a rock." Hoosier Republican voters endorsed this concept by a landslide with Mourdock.
Moral relativism has taken us down a very wobbly path. It's time we turn back.•
__________
Swayze leads the Indiana Family Institute's Hoosier Congressional Policy Leadership Series and has held numerous lobbying positions with not-for-profit organizations. Send comments on this column to ibjedit@ibj.com.
Please enable JavaScript to view this content.