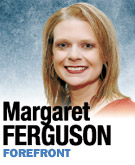 Candidates for lieutenant governor, like those for vice president, are often chosen with an eye toward something other than who would be best to step in to the chief executive office were it to become vacant.
In the last few weeks, both Mike Pence and John Gregg announced their choices for running mate. Both gubernatorial hopefuls chose women to share the ticket. Both chose lawmakers. Pence chose a newcomer who shares his conservative social values. Gregg chose an experienced lawmaker who will shore up his support among more liberal elements of the party.
Many people have mused over the importance of having women on both tickets. I agree this is noteworthy, especially given that the politics of the day are tightly centered on women, whether it be about unemployment and the economy (research shows women are even more vulnerable than men during economic downturns); education (women continue to express greater concern than men about this issue); or, most notably reproductive rights, including the right to contraception.
What I am most interested in, however, is the differences in the choices made by Pence and Gregg. Pence chose a relative newcomer. Republican nominee Sue Ellspermann is a freshman member of the state House of Representatives. She is a businesswoman and an engineer. In her time in the General Assembly, she has worked for so-called right-to-work legislation and has advocated for anti-abortion policies.
In contrast, Vi Simpson is a long-serving member of the state Senate who has seriously considered running for governor herself. She has been an advocate for abortion rights and women's health. She supports unions and marriage equality for gays and lesbians.
Often, candidates for high office choose running mates who will bring some kind of balance to the ticket. Sometimes it is geographical, other times ideological. In recent years, however, we have seen a trend toward choosing running mates who consolidate the candidate's own positions rather than offering a contrast. Ellspermann and Simpson both generally follow this trend, with one slight caveat.
Pence and Ellspermann (as best I can tell) are closely aligned ideologically. Both are outspoken advocates for conservative social causes. Both are supportive of so-called right-to-work legislation and suspicious of unions.
The conservative base of the Republican Party is comfortable with Pence already. This voting bloc (the vast majority of Republican voters in Indiana) doesn't need reassurance from a lieutenant governor candidate who shares their conservative values on abortion rights, unions and gay marriage, etc. (though they have one, nonetheless).
Gregg, on the other hand, faces a different challenge. While the typical Hoosier Democrat is probably to the right of the national Democratic party, there is an important portion of the base that is more liberal on social issues.
Gregg's support here is mixed. He is an advocate of women's health and reproductive rights, stating publicly that he supports Planned Parenthood of Indiana. On this point, he and Vi Simpson share a policy position.
However, my sense is that Gregg's support among advocates for unions and marriage equality is lukewarm at best. Unions will surely support Gregg over Pence, but they don't necessarily see him as a kindred spirit.
Further, Gregg supports rights for gays and lesbians up to a point, but he opposes marriage equality. Given the recent Supreme Court case and battles raging in the states, marriage equality will be the issue that really matters.
On this, Gregg is not out in front. Simpson's outspoken support of gay rights will perhaps provide some needed reassurance regarding Gregg's credentials among the more progressive elements of the state Democratic party.
If Gregg has a chance at becoming governor (and at this point I think it is an uphill battle), he will need to energize these elements of the party. Simpson is a step in that direction.•
__________
Ferguson is an associate professor of political science in the School of Liberal Arts at IUPUI with expertise in state politics. Views expressed here are the writer's. Send comments on this column to [email protected].
Please enable JavaScript to view this content.