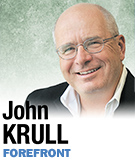 The Democrats' candidate for governor, John Gregg, began the summer by unloading a blast on the record his Republican opponent, Mike Pence, has assembled on social issues, particularly those relating to women.
Gregg called a press conference and issued a media release on something he called "The Pence Plan for Indiana." In Gregg's telling, the Pence plan calls for Hoosier women to be denied reproductive rights and all Hoosiers, male or female, to lose the right to have sex outside of marriage.
It is a textbook bit of red meat for an important voting bloc. And it shows, early in the campaign, just how desperate Gregg is.
What the Gregg campaign wants to do is define the Pence campaign as extremist, angry and misogynist.
It probably won't work, for several reasons.
The first is that Pence has mastered the Ronald Reagan-like skill of saying the most conservative things with a smile and a laugh. (Witness the cheesy but effectively upbeat campaign commercial about how he met his wife.) Even when people disagree with Pence, they have a hard time disliking him.
The second is that it undercuts much of Gregg's own record. Gregg, after all, is a man who, until now, has taken great pride in proclaiming himself a "gun-toting, Bible-quoting Democrat." Determining how his positions on abortion and same-sex marriage, for example, differ from Pence's would require the forensic skills of an entire CSI team.
That leads to the third reason it won't work. Rather than hurting Pence, this attack just will damage Gregg's credibility.
Gregg has said, again and again, that he doesn't want to emphasize social issues and he doesn't plan to govern on social issues, but instead to focus on jobs, jobs, jobs.
Yet, in the first wave of attention after the two campaigns have filled out their tickets, what does Gregg focus on? Social issues.
I have no doubt that Gregg is under intense pressure from key Democratic Party constituencies to go on the attack with Pence early. That pressure in part accounted for the decision to put state Sen. Vi Simpson, D-Ellettsville, on the ticket with him. An old-fashioned liberal and an Indiana icon of feminist politics, Simpson is supposed to reassure important voting blocs that Gregg's heart is in the right place—even if he and Simpson disagree on most issues.
But the fact that Gregg chose to go after Pence in a way that only will raise questions about Gregg's commitment to his own beliefs just makes me tired.
This race could—and should—be about so much more.
Mitch Daniels—like Pence, a Republican—has worked diligently and effectively to remodel state government. Daniels' guiding principles in this work have been that the private sector always knows better, that regulation always is wrong, and that government often is the problem.
There is a debate to be had about this historic renovation of state government. But Democrats have shied away from forcing that discussion.
Daniels can point to some impressive achievements. Our jobs and economic numbers have been better than those of surrounding states and Indiana's budget figures have looked better than most states'.
But those gains have come at a cost. Many of the jobs the Daniels administration has brought in have been for lower wages than the ones the state has lost. That raises the question: Are the jobs Indiana goes after the right ones—and, if they aren't, what ones should we be seeking? Similarly, Indiana's budget numbers have been polished by some short-term infusions of cash from privatizing assets that could have long-term consequences.
These are, to be sure, difficult issues to discuss.
But, if there is a Democrat with the communication skills to frame such a discussion, it is John Gregg—the former radio talk show host and the man with the quickest quips in the state.
We'll just have to wait to see if he's got the heart to do it.•
__________
Krull directs Franklin College's Pulliam School of Journalism, hosts the weekly news program "No Limits" on WFYI-FM 90.1, and is executive director of The Statehouse File. Send comments on this column to ibjedit@ibj.com.
Please enable JavaScript to view this content.