Stung by a 2-14 season and the departure of star quarterback Peyton Manning, the Indianapolis Colts this month hired Get Real Sports Sales and six summer interns to help sell 3,000 season tickets that weren't moving.
It's the first time in team history the Colts have hired an outside ticket sales firm and the first time in a decade that summer interns have been hired to bolster ticket sales, Colts officials said.

Greg Hylton is vice president of premium seating and ticket sales for the Colts.
The six interns will cull the team's season-ticket waiting list and call previous single-game ticket buyers, while locally based Get Real Sports will reach out to potential corporate clients, said Greg Hylton, Colts vice president of premium seating and ticket sales.
Things were so good for the Colts over the last decade, team officials essentially dismantled their sales team.
"It didn't make sense to keep people on staff because we didn't have anything to sell," Hylton said.
When ticket sales plummeted this year, it was more efficient to bring in an outside ticket-sales firm than to reconstruct the sales department, Hylton said.
In the first two weeks, the two-pronged effort has resulted in the sale of 900 season tickets, but much work remains.
"I'm not going to lie; it might take until late July or early August, and it hasn't taken nearly that long in recent years, but I'm confident we'll sell out," Hylton said.
He is less confident the team will top last year's attendance mark.
By selling extra standing-room-only and suite tickets, the Colts last year averaged 64,800 fans per home game. Exceeding Lucas Oil Stadium's capacity of 63,500 was the norm during Manning's tenure with the Colts, when the team was a perennial playoff contender.
Just five years ago, the Colts boasted a season-ticket waiting list of 30,000. Part of that was diminished by the move from the 54,000-seat RCA Dome to Lucas Oil Stadium.
In 2010, Colts officials said they still had 16,000 who had paid a $100 deposit to be on the waiting list.
With the season-ticket renewal rate dropping six percentage points, to 87 percent this off-season compared with a year ago, that number has shrunk to 7,500. After last year's disappointing season, and an uncertain future with a new general manager, coach and quarterback, many on the list took a pass on available tickets. Some told the Colts they passed for financial reasons while others said they wanted to wait for better tickets to become available.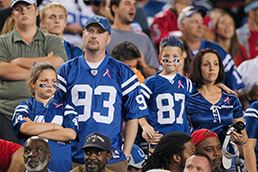 Indianapolis Colts fans grew increasingly frustrated as the team went 2-14 last year and cut quarterback Peyton Manning and a slew of other star players after the season. (AP photo)
Sports business experts say the balking from waiting-list members shows a softness to the local market for Colts tickets, pointing out that fans on waiting lists in cities like Green Bay and New York would never pass on season tickets.
"We try to explain to people once you buy tickets, you get preference on seat improvements before the people on the waiting list get a shot," Hylton said. "More than anything else, though, we hear that people are taking a pass right now due to the economy and personal finance issues."
About 90 percent of the available tickets are along the sidelines in the upper deck, with a smaller number of mid-level tickets in the corners available.
Upper-level tickets cost $690 per seat per season for eight regular-season and two preseason games. The mid-level seats cost $990. The Colts haven't raised ticket prices since 2010.
From 2007—the year after the Colts won the Super Bowl—to 2010, Colts season-ticket renewal remained between 95 percent and 96 percent, team officials said, about 5 to 7 percentage points above the league average.
In 2011, as the economic swoon dragged on, the Colts' renewal rate dropped to 93 percent. Then Manning's departure accelerated the trend, making about 8,250 tickets available this off-season.
"The NFL is still the nation's No. 1 sports property, but it, too, has been hit by the economy," said Marc Ganis, a Chicago-based sports business consultant who counts several NFL teams as clients.
Ganis estimates the league's average season-ticket renewal rate has dropped 3 to 4 percentage points since 2009, to below 90 percent.
"If you're at or above 90 percent now, you're doing really well," Ganis said.
Hylton acknowledged the effect of Manning's departure. Manning was unable to play for the Colts last year due to a neck injury, and the Colts opted to cut him after the season. He later signed a five-year, $96 million deal to play for the Denver Broncos.

Vernon
"We've heard from some season-ticket holders who have left with Peyton Manning," Hylton said. "Of course, people were attached to him, and understandably, because he did so much for this team and community. We knew that was going to happen."
Josh Boling is one of the loyal Manning fans—and season-ticket holders—who was upset that the team didn't retain No. 18.
"I have such strong feelings about Peyton Manning, it's difficult to separate whether I'm a Peyton fan or a Colts fan," Boling said. "I suppose I'll always be a Colts fan because I'm from here, but [Manning's absence] leaves a huge hole here and I'm not the only Colts fan that feels that way."
Edward Holloran III, another season-ticket holder, estimates that one-fourth of the people who filled Lucas Oil Stadium in recent seasons were there solely because of their attachment to Manning.
Despite the strong feelings for Manning, Hylton says he's hearing increased excitement from ticket holders about the upcoming season and No. 1 overall draft pick Andrew Luck, who will replace Manning at quarterback.
"Ninety-five percent of what we hear right now is positive," Hylton said. "The positive response has really been building since the draft."
Jake Vernon, Get Real Sports president, is also hearing positive feedback.

"Right now, the biggest issue is getting word out that tickets are available," said Vernon, a former Indiana Pacers ticket-sales executive who launched Get Real Sports earlier this year. "Because Colts season tickets haven't been available in so long, when we started this process [earlier this month], there wasn't even a good understanding among the people we were calling that tickets were available."
Ticket sales is the second-biggest revenue stream for NFL teams behind television money, and Ganis said it's much less expensive to sell season tickets than to sell tickets game-by-game.
"Selling single-game tickets takes a lot of marketing and a lot of manpower each and every week," Ganis said. "Those two things cost a lot of money."
Last year, the Colts brought in almost $60 million in ticket revenue, nearly one-fourth of the team's total revenue, according to league sources.
Increased ticket sales and attendance also mean more revenue from concession and in-stadium merchandise sales, parking and other ancillary revenue, Ganis said.
While hopes are high that Luck will be the Colts' next great quarterback, Hylton and Vernon agree the team can't wait for on-field performance to sell tickets.
"We know in this business we can't entirely control the on-field product," Hylton said. "We have to control the things we can."•
Please enable JavaScript to view this content.