Grocery budgets are tighter, but families still need to eat.
That dynamic has played out well for Madison County-based tomato processor Red Gold Inc.
Since the recession hit in 2007, consumers, in hopes of saving a few dollars at the supermarket each week, have turned away from the increasingly popular fresh produce to their canned equivalents, industry data show.
"We knew that was going to happen," said Colt Reichart, new media manager at Red Gold.
Canned tomatoes are as much as 75 percent cheaper than their fresh counterparts. The U.S. Department of Agriculture said canned tomatoes cost an average of 77 cents per pound. Fresh Roma or plum tomatoes, on the other hand, average $1.75 per pound. Round tomatoes top the price charts at an average of $2.94.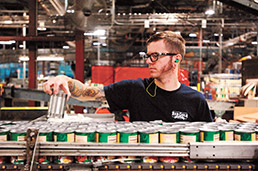 Chris Furnish works at Red Gold's Orestes factory. The company has increased employment during the recession. (IBJ Photo/ Perry Reichanadter)
Family-owned Red Gold, which has about 1,150 full-time workers in Madison County, doesn't disclose revenue. But sales of the company's brands are "all up," said Reichart, whose father, Brian, runs the business.
That's in step with the packaged tomato industry. Sales of processed tomato products—cans, bottles, pastes, purees and sauces—surged 18 percent from 2007 to 2011, reaching $1.1 billion, according to the Chicago-based market research firm SymphonyIRI Group.
Reichart said Red Gold's investments in recent years—including $20 million in equipment upgrades and a $3.5 million move to a new home office in Elwood—would have occurred regardless of the economy. But he said difficult economic times always boost business.
"If you look at the last 10 years, we've invested the same amount no matter what the economy was doing," Reichart said. "I think every year we've put a new line in just to expand."
Red Gold's sales momentum through the recession has allowed the company to continually invest and add jobs in a county that saw unemployment peak at 12.7 percent in 2010. Upgrades and expansions have happened at all three of the company's plants in Elwood, Orestes and Geneva.
Since 1942, three generations of Reicharts have grown the company into a national brand. About 60 growers in Indiana, western Ohio and southern Michigan provide tomatoes for Red Gold products and the company's other three name brands: Red Pack, Tuttorosso and Sacramento.
Employment has grown about 50 percent since 2000 as the company has expanded to compete against name brands such as Hunt's and Heinz.
Companies like Red Gold have to use strong business practices to compete against conglomerates like ConAgra Foods Inc., which produces Hunt's, said Maria Marshall, an associate professor of agricultural economics at Purdue University.
"I think it takes production efficiency, strategic vision of where they think the market is going to go and how they can expand," Marshall said. "They seem to be a company that doesn't get kind of sidetracked."
Tightfisted consumers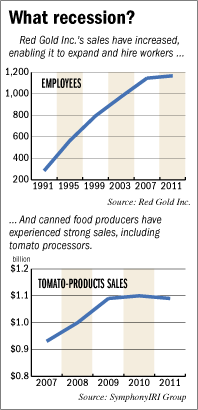 Red Gold's aggressive expansion came just as consumers began looking for ways to cut their grocery spending.
The nation's middle-income households—those bringing in an average of $46,012 a year—cut food expenditures 12.5 percent from 2006 to 2009. Even members of the highest-income household demographic, which averages $157,613 annually, spent 5.7 percent less over that span, the USDA reported.
The quest to find savings led many shoppers to the canned-food aisle.
"Basically, the roles between fresh and processed have swapped over the past couple of years," said Ricky Volpe, an economist with the USDA Economic Research Service.
As grocery prices spiked in 2011, fresh products outpaced processed food in inflation, which helped canned food sales.
Canned food processors initially were insulated from the higher costs, since they tend to sign supplier contracts running a year or more. But that advantage began to disappear last year.
The USDA forecasts prices will increase this year 2 percent to 3 percent for fresh fruit and 1 percent to 2 percent for fresh vegetables. Processed fruits and vegetables likely will increase 3 percent to 4 percent, the agency predicts.
Playing up nutrition
To no surprise, processed-food producers have made lower-than-fresh prices into a marketing tool.
But that's not their only pitch. The Canned Food Alliance—which represents four steel manufacturers and eight food processors, including Red Gold—also emphasizes convenience and nutrition.
While consumers may think of fresh produce as richer in vitamins, a May 23 study in the Journal of Nutrition & Food Sciences found that the cost per nutrient was lower for canned produce compared with fresh, frozen or dried for almost every food type researchers examined.
Canned tomatoes, for instance, cost 3 cents more than fresh per milligram of vitamin C, but cans cost 48 cents less per gram of fiber.
Red Gold promotes its products using similar logic.
"If you can have a nice, cheap can of healthy tomatoes, why wouldn't you?" Reichart said.•
Please enable JavaScript to view this content.