The opening of a chain coffee shop wouldn't normally be something I'd dedicate a column to. But Lino's Coffee (1201 Main St., Speedway) is no ordinary coffee shop. At least, not in the continental United States, let alone within sprinting distance of the Indianapolis Motor Speedway.
Choosing the ground floor of the Dallara race-car chassis facility as its first Western Hemisphere location, Lino's runs the risk of being considered out of the way. But successful eateries—like successful race car drivers—know that without guts, you don't stand out.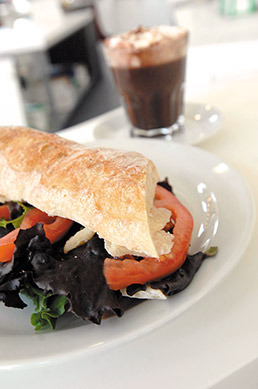 Parma ham, sliced Parmesan and veggies make the Parma more than a mouthful. (IBJ Photo/ Perry Reichanadter)
Lino's stands out not just in its location, but also in its style. The sleek surfaces, simple color scheme and high ceilings leave plenty of room for savoring food and conversation. Not only weren't there TVs that plague most casual food locations these days, but there wasn't even music playing. And it sounded great.
You order at the counter, which creates challenges since there seem to be only subtle differences between the choices. The food and drinks are then delivered to the table … eventually. Those in a hurry might want to stick to Starbucks.
Our beverage choices included Ciocchino ($3.60), with cream syrup, caffe espresso, steamed milk and whipped cream, an Ice Coffee ($2.70/$2.40/$3.80) enhanced with syrup, cocoa powder and cream, and a sublime Budinoso ($3.15) that slid down smoother than Willy Wonka's chocolate river and instantly turned me from a hot chocolate skeptic into a fan.
The Panini Milano ($2.99) never made it to our table. When we noted that to the server, she said, "Our mistake," but didn't lift a finger to replace it or credit our bill.
Must be a cultural thing.
But the Parma ($5.15) arrived safely, with deliciously layered Parma ham, sliced Parmesan, lettuce and tomatoes on a crunchy baguette. A Breasola Salad ($5) was heavy with feta cheese, easy on the grilled eggplant, and accented with Breasola salami, walnuts, sesame seeds and a balsamic vinegar dressing. A bowl of Barilla Whole Grain Mezze Penne with Tomato and Basil Sauce ($5) didn't dissuade me of my conviction that whole grain pasta just doesn't come close to the flavor of its traditional cousin, but the sauce was subtle and flavorful and, like the rest of the food here, a bargain. The pastries ($1.80) include brioches and are one more reason to stretch lunch at Lino's into the afternoon.
Congratulazioni, Speedway. You not only have Main Street dining choices—you now also have a destination coffee shop.• —Lou Harry
__________
Third in a month-long series of new-in-the-neighborhood restaurants.
Note to readers: In last week's review, I commented on the non-traditional gumbo served at B's Po-Boy. It turns out that a server error led to the wrong dish arriving at my table, so it's likely my impressions of the gumbo weren't valid. The online version of the review has been corrected.
__________
–L.H.
Please enable JavaScript to view this content.