He sits at a table behind Tim Durham, looking stoic and rarely speaking to anyone. If Rick Snow's goal in the high-profile Fair Finance Co. fraud trial is to stay out of the crossfire, he's doing a great job so far.
In the early days of the trial, which began June 11 and is expected to run three weeks, prosecutors entered into evidence an avalanche of e-mails showing that Fair's co-owners, Tim Durham and Jim Cochran, pulled huge sums from Akron, Ohio-based Fair—and continued the transfers even after a severe cash crunch began in late 2008.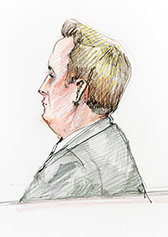 Rick Snow isn't accused of taking insider loans. (IBJ sketch/Tina Hansford)
But Snow, 48, who's facing the same felony charges as Durham and Cochran, doesn't fit the same narrative. Though he was Fair's chief financial officer, early government witnesses, such as former Controller Doug DeRose—suggested his actual authority was limited.
The witnesses cast Durham as the all-powerful leader and Cochran as more of a follower. Snow, on the other hand, came across as one of a handful of Fair executives who stood by as Durham and Cochran looted the company, pulling out tens of millions of dollars in the form of insider loans for themselves and their businesses that were never repaid.
Snow's attorney, Jeffrey Baldwin of locally based Voyles Zahn Paul Hogan & Merriman, is playing up the contrast every chance he gets. Under his questioning, DeRose and Elizabeth McClure, a former assistant to Durham, said they were not aware of Snow's receiving any insider loans.
In addition, the pair said in separate testimony that Snow did not have authority to approve the wire transfers out of Fair that prosecutors say gutted the business. Nor did he have dealings with the Ohio investors who were swayed to buy and renew investment certificates from Fair.
Prosecutors charge Fair executives and the company's offering circulars failed to come clean about the company's mounting woes. Fair finally collapsed in November 2009, leaving 5,000 investors with more than $200 million in losses.
During his questioning of DeRose, Baldwin emphasized that Snow "did not have control" and "did not have any say" over various controversial moves.
But it's still early, and court papers filed by prosecutors make clear they'll eventually put him in their sights.
In a trial brief filed last month, the government alleges that after an accounting firm in 2006 concluded that its audit opinion would express doubt about Fair's ability to remain a "going concern," Snow told the firm its services were no longer needed, thereby terminating the arrangement.
That was the second of two accounting firms to wave red flags. From then on, Fair did not have audited financials. Instead, it relied on a provision of Ohio law that allowed Durham to personally attest to the accuracy of the financials.
"When the defendants were twice told by their accountants how to properly account for the loans Fair had been making to Durham and Cochran, and to their businesses and their friends and family, they responded by firing each firm," the government said in its trial brief.
The brief also includes excerpts of wiretapped phone conversations between Durham and Snow. In one exchange, Snow appeared to endorse Durham's suggestion that they provide a deluge of paperwork to an Ohio securities regulator who was considering whether to permit Fair to sell additional investment certificates.
"My feeling is, give them a s—load more information so that there's just so much it overwhelms the guy. My guess is the guy at the state of Ohio isn't a financial genius," Durham said on the call.
According to the transcript, Snow responded, "Yeah, no, I think you're right."
Unaddressed in the trial brief is what motive Snow might have had to participate in a fraud. But a civil lawsuit filed by Fair's bankruptcy trustee in February suggests that, even without participating in the insider loans, he had plenty of financial incentive to keep Fair's woes quiet.
Fair and its parent paid Snow $1.7 million from 2002 to 2009, most of it bonuses based on fictitious profits, according to the suit, which seeks to recover much of his compensation. In addition, Snow received a $50,000 bonus that was not reported on his tax forms for acquiescing to a questionable transfer of assets between Durham companies, court papers allege.
Snow hasn't provided a detailed response, citing his Fifth Amendment privilege against self-incrimination.
All the numbers may sound small compared with the millions Durham is accused of draining from Fair during a multi-year spending spree. That may explain why he has largely avoided the early spotlight.
But prosecutors wouldn't have bothered to secure Snow's indictment if they weren't intending to charge that he played a key role in facilitating the transformation of Fair into a Ponzi scheme.
So, as much as Snow might want to be the forgotten defendant, it surely won't last. Eventually, prosecutors will turn their focus toward persuading the jury that he's just as much of a criminal as his co-defendants.•
Please enable JavaScript to view this content.