Some meals would be best if they could be experienced, Benjamin Button-like, in reverse. We had one on a recent trip to Mediterra Restaurant (815 E. Westfield Blvd., 253-1141), which took over the former Midtown Grill spot in Broad Ripple.
Such a backward trek would have started with a pair of serviceable-but-not-made-on-premises desserts. It would have continued into a trio of entrees, none of which inspired or delighted. The Coriander Crusted Salmon ($18) featured an overcooked, thin piece of fish slathered with a thick sundried tomato vinaigrette that diminished the flavor of the already-cold-when-it-arrived dish. The ratatouille siding it was charred and without distinction, leaving the chopped roasted potatoes the saving grace. Even less exciting was Goat Cheese Stuffed Chicken ($19). It was so tough that on first cut I thought I'd hit bone. An ample amount of goat cheese and wild mushroom cream sauce couldn't hide the poultry problem. Alfredo Chicken ($15) was competent, with sizable pieces of chicken and a not-too-thick sauce.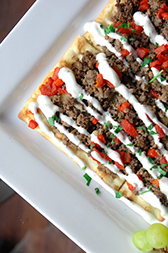 Pomegranate marinated beef and peppers top a flatbread at Mediterra. (IBJ Photo/ Perry Reichanadter)
Had we gone in reverse, though, things would have picked up. The Mixed Greens Salad ($7) might have freshened our palates with what are billed as local garden veggies. Appetizers were even better. A Crispy Shrimp Fritter ($9) was, indeed, crispy, with ample shrimp innards in a creamy herb aioli. Mediterra also knows how to top a flatbread: We tried the Lobster version ($10) with tomato salsa, caramelized onion, mozzarella and a slightly-spicy crème fraiche. The Mediterra Flat Bread ($8) sprinkled roasted red peppers and pine nuts on top with an ample supply of flavorful pomegranate marinated beef that left me fantasizing about it as a pizza topping.
Service was friendly and professional: It was refreshing to have someone ask if we were ready for our entrée rather than have it brought out early and step on our enjoyment of the salads and appetizers.•
—Lou Harry
__________
Last in a month-long series of new-in-the-neighborhood restaurants.
Please enable JavaScript to view this content.