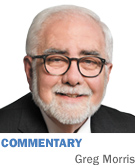 Happy July 4 week. I hope we can all find time to take a brief mental break from the day-to-day chaos and revive our pride in America over the holiday. Are you feeling patriotic this year? If not, is it possible to get that feeling back? I decided I'm going to escape all the madness and remind myself that I live and work in the best darn country in the world. In spite of all the bad news that inundates us every hour of every day of the year, I'm proud to be an American.
Yes, I know what's going on out there. I don't have my head buried in the sand. I know there's a lot to be worried about. I understand today's challenges seem insurmountable. I know the economy has been awful for a long time and there doesn't seem to be much relief in sight. We currently have a highly dysfunctional Congress and a president that struggle to agree on anything.
I see the divisions created by a country split right down the middle. Any decision or course of action on any topic has the potential to infuriate 50 percent of the population. With last week's highly anticipated Supreme Court decisions on immigration and health care law, there was something for almost everyone to be upset about.
We add to an already uncivil tone by being quick to judge others. We want to determine quickly if an individual is with us or against us. There can be no middle ground. Our leaders in Washington set a poor example for the rest of us in the diplomacy department. Take no prisoners. Don't compromise. It's my way or the highway.
We need to fight the urge to be so unyielding and negative much of the time. It's not healthy for us and it's not good for the country and it's not good for business. Being negative is the easy thing to do. Having a positive attitude is much tougher to achieve.
We've got to really work at filtering out all the negative chatter dished out by the media 24/7. We've got to take control of our own attitude, our own actions and reactions to things. We can try to be a positive influence on others. We've got to take control of as much of our small slice of this planet as we can and lead by example to those around us—family, friends, co-workers, and people less fortunate that need our help.
In what other country do you have as good an opportunity to achieve your goals and dreams and make such a positive difference in other people's lives? This country is the greatest place on earth to live a meaningful and productive life. There is great disagreement over the best way to achieve this greatness, but that is part of our DNA. Diverse opinions usually produce a better outcome. So let's drop the gloves and celebrate America together this week.
If your local fireworks show was canceled due to the extremely dry weather we've been experiencing, you can always tune into "A Capital Fourth" celebration on PBS (WFYI Channel 20 locally), broadcast live in HD from the west lawn of the U.S. Capitol starting at 8 p.m. It's a great show each year, with many popular performers and patriotic music. In celebration of America's 236th birthday, the show will be capped off with a rousing rendition of Tchaikovsky's "1812 Overture" choreographed to a spectacular fireworks display. And who is conducting the National Symphony Orchestra for this concert? It's Indy's own Maestro Jack Everly, principal pops conductor for the Indianapolis Symphony Orchestra.
As a side note, we might think Everly spends most all his time here in his home state of Indiana, but he's got a few other things on his busy plate. Our maestro is also the principal pops conductor for the Baltimore Symphony Orchestra, Naples Philharmonic Orchestra and National Arts Center Orchestra (Ottawa), in addition to many other appearances throughout the year. We are fortunate to share his talents with the rest of the country.
Well, I'm feeling patriotic already. I hope you'll join me this week in saluting our great country while sharing quality time with loved ones. Then, let's tackle the second half of the year with enthusiasm and purpose.•
__________
Morris is publisher of IBJ. His column appears every other week. To comment on this column, send e-mail to gmorris@ibj.com.
Please enable JavaScript to view this content.