Look back about 18 months and ahead another 12 and you'll find a who's who of Broadway and cabaret stars gracing Indy-area stages, from Bernadette Peters and Barbara Cook to Liz Callaway and Liza Minelli. Patti LuPone has been here and so has Sutton Foster (OK, in Muncie, but close enough).
And there's plenty more on the way, courtesy of the Indianapolis Symphony Orchestra, the Cabaret at the Columbia Club, the Center for the Performing Arts, Clowes Memorial Hall and more.
This makes me, for one, a happy man.
Usually, these unconnected appearances are spaced out a bit. But over the June 22-25 weekend, there was a harmonic convergence of sorts when two of the most popular acts on the sing-that-show-tune-in-front-of-an-orchestra circuit, Linda Eder and Idina Menzel, both played to enthusiastic fans, the former at the Cabaret at the Columbia Club, the latter at Clowes.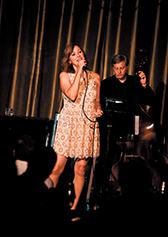 Linda Eder (Photo courtesy of The Cabaret at the Columbia Club)
The Eder phenomenon has always stumped me. The former "Star Search" champ ventured onto Broadway in the musical "Jekyll & Hyde" but since then has focused primarily on albums, concerts and PBS specials. I have a few of her discs in my collection but they
haven't made frequent rotation. I always felt a cold proficiency about her—pristine vocal quality always seemed to trump passionate connection to the material.
That impression wasn't changed after seeing her on stage at the Cabaret. Backed by a first-class trio, Eder tackled a set of songs whose only connectivity seemed to be that they showed off her phenomenal vocal control. Unlike many cabaret singers, Eder doesn't act her songs; she delivers them polished and, at least on the surface, flawlessly. There just doesn't seem to be anything under the surface.
For some generic tunes (such as "Someone Like You" from "Jekyll & Hyde"), that doesn't matter so much. But if you are going to cover songs best known for a version infused with personality—Adele's "Rolling in the Deep," for instance, or Patsy Cline's "Crazy"—the impression given off isn't superstar, it's best wedding singer ever.
Eder ended her set with "Over the Rainbow." Idina Menzel began hers with the same song.
For the original Elphaba, the connection to the song is clear. As if there were any doubt, she quickly segued into "The Wizard and I" from "Wicked." Before she said a word, it was clear to the audience they didn't have to worry about personality. Menzel has personality to burn, playfully playing up her foul-mouthed Long Island roots between bold performances of "Don't Rain on My Parade" and Cole Porter's "Love for Sale"—both accompanied by less-focused-but-still-effective versions of anecdotes she shared when she performed with the ISO last year.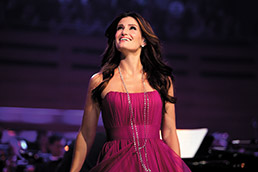 Idina Menzel (Photo courtesy of AEG Live – Midwest)
Menzel doesn't have the kind of control Eder does. And she's more likely to take vocal risks, some of which pay off and some of which don't. But that's what makes her an engaging performer. If occasional shrillness is the cost of passion, I'll take it.
The show transcended when Menzel went out into the house searching for audience members to join her on "Love Me or Leave Me" (from "Rent") and finding some strong talent. Rather than come across as pandering to the locals, the reach-out felt like an honest effort to make the performance as special for her as for the audience. If she was merely acting that sincerity, then the woman deserved her Tony Award. And then some.
Lesson learned over the weekend: I'm more enamored by a singer who demonstrates a love for her songs than I am by a singer who demonstrates a love for her voice. Even if the latter hits all the right notes.
Note: One reader on my You-review-it Monday blog post complained that the running time of the Menzel concert didn't justify the expense. I try to avoid putting monetary judgments on artistic work, but the late-starting 8 p.m. show had its audience in the parking lot by about 9:40 after a series of encores.
Without intermission, this didn't seem absurdly short—although I, too, would have been happier with a few extra songs. (Something from Menzel's lesser-known musical turn in "The Wild Party," perhaps?)
____________
Speaking of divas, on film few could hold a candle to Joan Crawford, whose off-screen behavior was notoriously chronicled in her daughter Christina's tell-all "Mommie Dearest."
That tome—and the Faye Dunaway flop movie that was based on it—inspired "Dearest: The Mommie Musical," having its world premiere at Theatre on the Square.
Sounds like the makings for campy fun?
Well, I never thought I'd say this about a show at TOTS, but the show isn't nearly campy enough. Throughout it, I kept thinking how much more fun "Dearest" would be if writer/director Ron Spencer had done what he's done many times before—play the lead in drag.
And while both the young and the older Christina handle their parts well enough, the roles aren't dramatic or funny enough to be played straight.
What the show primarily lacks is a point of view and forward narrative motion. There's little sense of what any character wants in a given scene—which was presented farcically rather than as a musical drama. What "Dearest" does have is a pleasant score, artfully arranged (in instrumental versions, I could have sworn some were almost-classics from the 1940s).
I applaud TOTS for ambitiously launching an original musical. I only wish it were as much fun as the brief film clip that's shown from the Crawford caveman-on-a-rampage film "Trog."•
__________
This column appears weekly. Send information on upcoming arts and entertainment events to lharry@ibj.com.
Please enable JavaScript to view this content.