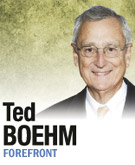 Marion County's unique system for selecting its 38 Superior Court judges is coming under increased fire. Much of the justifiable criticism focuses on the point that it puts judicial selection in the hands of political parties who use it as a fundraising device by requiring candidates to pay slating fees to receive the party blessing necessary to be elected.
Making judges unwilling cash machines for the local Republican and Democratic committees injects campaign finance into the process of choosing our judges and creates the appearance of excessive ties between the judges and their party organizations and donors.
The Indiana Judicial Qualifications Commission recently reaffirmed its view, first expressed in 1992, that payment of slating fees threatens judicial independence and impartiality and is not permitted under the Code of Judicial conduct.
There is a serious flaw in the Marion County electoral scheme apart from the issues it raises under the Code of Judicial Conduct. Under this system, the primary election is the only significant step in the election process.
Making a farce of the general election in November is no laughing matter. Only primary election voters are able to cast a meaningful ballot for Marion County judges.
As a result, party adherents select the judges and independent voters have no voice in their election. Giving this power to a subset of the voters and holding a meaningless general election is not only silly, it violates some basic principles at the foundation of our government.
Here is how this system works. The judges are elected for six-year terms. They are on the ballot in two groups. Eighteen were elected in 2008 and 20 will be elected this November. The law provides for each party primary election in May to nominate only half the number to be elected in November. So this fall, we will have 10 Democrats and 10 Republicans running for 20 seats.
An independent or third-party candidate has virtually no prospect of overcoming the straight-party votes in the general election, so as a practical matter the 20 primary election winners are guaranteed victory in November.
This scheme for Marion County judges is qualitatively different from all other primary elections. In other primaries, the winner becomes the party's nominee who wins or loses in the fall general election. In these judicial primaries, the winners are elected to the office. Eligibility to vote in a primary for a party's candidates for governor or legislative office is limited to those who are willing to affiliate with the party.
Supporters of this requirement justify it as a means to let the party choose its nominees to stand for election by the general electorate. But even if you buy that rationale, it does not in any way justify giving the power to elect a public official to the limited group who vote in primary elections
This judicial selection scheme significantly infringes the rights of independent voters. In order to vote in an Indiana primary election, a voter must declare a party affiliation and, if challenged, must swear that he or she intends to vote for a majority of the party's nominees in the general election. A majority of voters do not participate in either party's primary election. Some avoid primaries because they simply choose not to vote, others because they consider themselves independents and prefer not to declare an affiliation with any party.
Just as everyone has a right to join a political party, every citizen has a federal and state constitutional right to refuse party affiliation. But if they exercise that right, the Marion County judicial selection process denies them the right to participate in the judicial selection process that is granted to primary voters.
Sooner or later, this selection method, described by Gov. Daniels as "a travesty," will disappear. Whether that occurs by enlightened reform by the Legislature or by court order remains to be seen. The sooner it occurs with the least effort and cost to the citizens the better off we will be.•
__________
Boehm is a retired Indiana Supreme Court justice who previously held senior corporate legal positions and helped launch amateur sports initiatives in Indianapolis. Send comments on this column to ibjedit@ibj.com.
Please enable JavaScript to view this content.