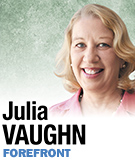 In these pages late last year, I complained about City-County Council Republicans' lame-duck redistricting power grab and appealed to Mayor Ballard to play nice with Council Democrats on the issue, since poisoning the well with redistricting is likely to create ill will that threatens their working relationship.
Unfortunately, that request was ignored and since then the dispute surrounding Marion County redistricting has continued to fester, with the mayor's veto of the Democrat's attempt to fund their version of redistricting the latest salvo.
You don't need to be clairvoyant to predict where this feud is headed. It's likely the Indiana Supreme Court will once again be the final arbiter on new maps, and that's a shame.
It's unfortunate not because the court didn't do well by Marion County voters with the maps they drew in 2003; those districts were compact and fair and have drawn few complaints. But if the court has to intervene, it will mean the two major political parties have put their squabble ahead of the needs of voters, and while that won't be surprising, it will be disappointing.
Given that redistricting presents our community with a once-in-a-decade opportunity to engage citizens in a grass-roots discussion about how the county should be divided for political purposes, it's imperative that discussion take place, no matter how much partisan fighting breaks out. This dialogue between citizens and our local representatives is useful for redistricting, but it also has value for reasons including building a core group of citizens who feel a connection to local government and will get involved in civic life, something desperately needed.
While my organization has no ability to force Republicans and Democrats to cooperate on redistricting, we are able to provide the public with a valuable tool for providing meaningful input in the process. We have teamed up with the Midwest Democracy Network, a Chicago-based alliance of citizen advocacy groups in six Midwestern states, to create www.drawmarioncounty.org, a website loaded with user-friendly mapping software that allows anyone with the interest and Internet access to draw new council district maps.
The mapping software provides all the tools—including 2010 census data, demographic and political data, and the new precincts updated in 2011—needed to draw legal maps. To encourage public use, we're offering training and technical assistance in a variety of ways: in public and one-on-one trainings and via telephone and e-mail.
We're reaching out to a variety of organizations, from neighborhood associations to groups representing minority voters and encouraging them to work directly with our trainer to draw maps with the goal of maximizing their community's political clout.
We are making this effort because the way the lines are drawn can keep a community together or split it apart, leaving voters in the district without a representative who feels responsible for their concerns. The way the lines are drawn can have a huge impact on who wins an election. And ultimately, the way the lines are drawn can determine which party is in control of the process and which laws get passed. Given the stakes, it's no wonder the politicians have gone to war.
Council Democrats have outlined a six-month process for redistricting, which gives adequate time to seek public input both before and after maps are drafted. Public meetings should be held at the front end of the process to define and identify communities of interest throughout the county—areas such as neighborhoods, school districts and concentrations of minority voters.
Plotting these areas on a map before the redistricting process begins is the best way to ensure that communities of interest are not harmed and that citizens can recognize how they will be affected by the new maps.
Common Cause/Indiana believes the best way to ensure that new council districts are fairly drawn is to have a transparent process that embraces and enhances public input. Our website provides just that.•
__________
Vaughn is policy director for Common Cause/Indiana, a nonpartisan citizens lobbying organization that works for open, honest and accountable government. Send comments on this column to ibjedit@ibj.com.
Please enable JavaScript to view this content.