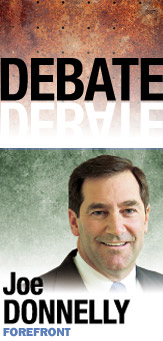 Question: Will the victory of Wisconsin Gov. Scott Walker in the June 5 recall election affect the U.S. Senate race in Indiana?
Answer: One of the lessons of the Wisconsin race was a sign of the power of money in politics, with the winner and his allies outspending their counterparts 7-to-1 to win in a bitterly fought race. Hoosiers witnessed the power of outside spending against Sen. Lugar in the Republican primary. Out-of-state interests are treating Indiana as a proxy for national politics instead of focusing on Indiana's economy.
Richard Mourdock said that if he were a member of the minority, he would skip legislating—the job he's asking Hoosiers to elect him to do—and focus on campaigning for other candidates across the country until he could be part of a majority.
I have served in both the majority and the minority. In each, I was able to work to get things done for Indiana. I am honored to have the opportunity to fight for the men and women I represent and take that responsibility seriously, no matter who is in charge or who gets credit. Some issues are nonpartisan: the local economy, taking care of our veterans, and providing better opportunities for our children and grandchildren. If I focused only on politics and campaigning for a majority, important work would fall by the wayside.
Mourdock spent $2.8 million of taxpayers' dollars trying to force the liquidation of Chrysler. While he argues this was done out of principle, he originally settled before deciding to sue. He has said the lawsuit was his "Rosa Parks moment" and has repeatedly acknowledged that he made his political star in an effort that would have cost Indiana nearly 150,000 jobs if it succeeded.
I would rather fight for every Hoosier job—both to keep the ones we have now and to create new opportunities. By working together as Republicans and Democrats, we can give business owners and entrepreneurs every opportunity to succeed. I supported the auto rescue—initiated under President Bush and completed under President Obama—because over 100,000 jobs in Indiana depended on it. I will work with anybody and everybody who wants to do what's right for our state.
Mourdock has said the highlight of politics to him is to "inflict" his opinion onto someone else. He questions the constitutionality of Social Security and Medicare. He wrongly claims that ethanol drives up the price of gas. He wants to eliminate the Department of Education, cutting $5 billion from Indiana students and classrooms. These extreme positions aren't good for Indiana, and they're certainly not worth "inflicting" on Hoosiers for political gain.
I think most Hoosiers would agree with me that the highlight of politics is building a consensus to get important work done for our families. That's why I introduced a plan to help Indiana businesses create Hoosier jobs. We need to protect the good jobs we have now by leveling the playing field for manufacturers and cutting taxes for Indiana job creators, including making permanent the research and development tax credit for our homegrown innovators.
We need to give Hoosier workers the tools they need to compete—teaching to the needs of employers. We need to invest in infrastructure to make sure we are appealing to new businesses and go all-in on American energy production to keep our hard-earned dollars here at home. All this needs to be done while making Washington live within its means and address the debt crisis.
I will continue to place my trust in Hoosiers, not national political interests. My opponent stands for more partisan bickering and would rather focus on the national spotlight. I choose to spend my time with the small-business owners, students, parents and seniors of this state, working toward the common goal of improving life for Hoosier families.•
__________
Donnelly, a Democrat from Granger, represents Indiana's 2nd Congressional District and is seeking election to the U.S. Senate. Send comments on this column to ibjedit@ibj.com.
Please enable JavaScript to view this content.