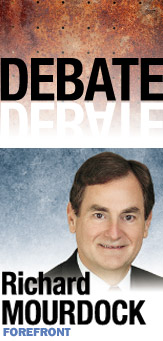 Question: Will the victory of Wisconsin Gov. Scott Walker in the June 5 recall election affect the U.S. Senate race in Indiana?
Answer: The recent electoral victory of Wisconsin Gov. Scott Walker represents a strong endorsement for the values and policies many Hoosiers and I embrace, as well as a wind behind the backs of conservatives. We are encouraged as we look toward the November elections.
In a state that was first to allow collective bargaining and is home to America's Progressive movement, this mandate for Walker's brand of fiscal conservatism and gutsy leadership is a tremendous source of encouragement for all who share his views.
Wisconsin's election was a referendum on a decisive style of leadership—one that produced results here in Indiana with Gov. Mitch Daniels and in states like New Jersey with Gov. Chris Christie.
That no-nonsense brand of governing is characterized by balanced budgets, reduced taxes and job-friendly policies where hard-working folks can build businesses and raise families. Walker earned more votes in the recall against Milwaukee Mayor Tom Barrett than he did in his 2010 election and did so with strong support among working-class families and union members.
The vote for Walker, however, was also a vote of confidence in something even more fundamental: courage of conviction, principled leadership and the backbone it takes to make the hard choices and tough stands necessary to save a state and serve its people.
The Wisconsin vote was a rare and clear sign recognizing a unique sample of American voters we can no longer afford to indulge with excessive spending, which has characterized our policies the past several decades. For a large group of typical Midwestern voters—including one-third of all union voters—embracing such a change is a message that is hard to misinterpret and impossible for liberals to disguise.
The vote in Wisconsin will give Walker's recipe more time to work and to demonstrate positive results, which in turn will fuel more reform in Wisconsin and across the nation.
Here at home, Hoosiers have already begun to realize the benefits of such reforms, and policy makers, the media and voters are paying attention. Hoosiers and our fellow Americans are beginning to believe again that budgets can be balanced, jobs can be created, and political leaders can make a difference.
Here in Indiana, the Wisconsin win will energize those who struggle for freedom from the stranglehold of unfunded mandates, overzealous regulation and excessive taxes.
As for those who cling to the policies of the past, which have nearly bankrupted many states and our federal government, the Walker victory is a debilitating blow that has energized common-sense Americans while discouraging those who cling to liberal, big-government solutions.
Most important, Walker's victory will give new courage to elected leaders to make the tough decisions necessary to balance budgets and trim unsustainable spending.
Reinforced by stubbornly high unemployment rates, an exploding federal debt and an economy struggling under the weight of dangerous new mandates, a consensus is forming among middle-class Americans favoring the policies that have always made America strong—freedom, individual responsibility, self-determination, entrepreneurship and private property—and against more spending, more mandates, more regulation and less individual freedom and responsibility.
As candidates who embrace these timeless American values, we must stay true to our principles, speak clearly and without hesitation about our core values, and work hard to empower Hoosiers who share the frustration of Wisconsin's voters. In doing so, we can achieve a similar and equally powerful result in November.•
__________
Mourdock, Indiana state treasurer, is a Republican running for the U.S. Senate. Send comments on this column to [email protected].
Please enable JavaScript to view this content.