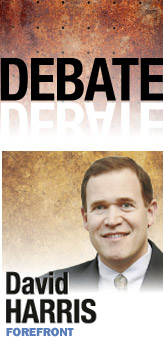 Question: How are volunteers most effective in improving public education?
Answer: We're fortunate to live in a community where so many people are motivated to help improve the quality of our K-12 education system so that more students can have the chance to excel. Residents often wonder, though, how they can really make a meaningful difference in public education.
One critical answer: serving on public charter school boards.
Public charter schools, which are held to high academic levels of accountability in exchange for the freedom to innovate, are governed by volunteer boards. They rely on their board members for guidance about issues such as securing facilities, evaluating school leadership and holding schools accountable for meeting high standards.
Having talented people with professional experience provide these schools with direction is critical to creating charter schools that provide children and families with excellent schools options.
Indianapolis is fortunate to have benefited from a number of prominent civic and business leaders who have volunteered on charter school boards.
In fact, the contribution of these leaders is a major reason Indianapolis' charter sector, which on average outpaces traditional public schools in standardized test performance and growth in test results, is viewed as a national model. And it's a major reason why, in 2006, the city of Indianapolis won Harvard University's Innovations in American Government award for its charter school initiative.
John Neighbours, an attorney; Gene Zink, a real estate investor; Christel DeHaan, a businesswoman and philanthropist; and not-for-profit leaders Jim McClelland, Joyce Rogers and Joanna Taft all played pivotal roles in founding some of the city's—and nation's—best charters. Their involvement made possible the launch, respectively, of Charles A. Tindley Accelerated School, Challenge Foundation Academy, Christel House Academy, Herron High School, Andrew J. Brown Academy and Goodwill Education Initiatives.
Those schools now produce amazing outcomes among students who come from challenging backgrounds.
It doesn't require founding a school to make difference, though. Gina DelSanto, who serves on the board of Goodwill Education Initiatives, which operates three charter schools, provides the organization's leaders critical guidance in nearly every major decision they make. She also provides support and connections. While in a leadership role at the Department of Workforce Development, DelSanto helped connect Goodwill to several people who helped the organization determine the career-track options it offers students.
Likewise, when Christel House Academy began considering an expansion, Murvin Enders, the academy's board chairman, was the first person to start asking the necessary tough questions about Christel House's capacity. And a few board members have assumed the significant challenge of helping revive struggling schools, including David Mann, Mike Smith and Rollie Dick.
These community influencers' involvement in the city's charter schools sets a strong precedent for Indianapolis' emerging charter schools.
It's important that leaders of soon-to-be-launched schools make the quality of their board members a priority. In fact, as The Mind Trust reviewed applications for schools competing to receive $1 million through our Charter School Incubator, board leadership was among the key criteria we examined.
It's also critical that the next generation of leaders steps up to get involved in leading charter schools, following the example of others who have made a difference in our city.•
__________
Harris is CEO of The Mind Trust, a not-for-profit focused on K-12 education reform in Indianapolis. Send comments on this column to ibjedit@ibj.com.
Please enable JavaScript to view this content.