For the past 35 years, the Indianapolis-based Regenstrief Institute Inc. has done more than any other organization to build the case for the use of information technology to reduce costs and improve quality in health care.
Now its team of physicians and researchers faces its biggest challenge ever: getting other doctors to adhere to its prescriptions.
Health IT has been embraced by nearly everyone—from the White House to Wal-Mart—as a modern-day Atlas to keep the world of American health care from collapsing.
And why not? Information technology has revolutionized nearly every industry in America over the last four decades, bringing dramatic efficiencies to banking, manufacturing, telecommunications, retailing and even real estate.
Health care, however, has remained a paper-based enterprise. Computers have helped it switch from handwritten papers to typewritten ones—but nothing more transformational than that. And all the while, spending in health care has skyrocketed, to nearly $2.7 billion annually.
So Regenstrief has preached—and rigorously documented—how IT can cut out both costs and errors in health care. Doctors wouldn't duplicate tests. Fewer patients would fall through the cracks.
There's just one problem. The great results Regenstrief has produced over the years in studies at Indianapolis' Wishard Memorial Hospital have not held up when conducted in a wider variety of settings.
Doctors still behave pretty much the same way as before, even after they start zinging CT scans, blood test results, drug prescriptions and other patient records around via the Internet.
Therefore, greater use of electronic medical records doesn't seem to improve quality. And costs, instead of going down, might even go up. One study found that electronic medical records led doctors to order 40 percent more imaging tests than they did with paper records.
That's particularly sour news for Congress, which authorized $38 billion in spending three years ago to help doctors and hospitals install electronic medical record systems and actually use them to swap records and do e-prescribing. Congress assumed immediate cost savings would save the federal Medicare and Medicaid programs $19 billion by 2019.
It's also bad news for President Obama, whose health care law was premised on the idea that $700 billion in annual health care spending is needless—and that health IT can help identify and eliminate it. Obama seized on that idea to promise that it was possible to expand health insurance coverage without spiking taxes for everyone.
"There are a lot of assumptions in the Accountable Care Act that are unproven," said Regenstrief CEO Dr. Bill Tierney, referring to Obama's 2010 health reform law. Of cost savings from health IT, he said, "There's not going to be a lot of early evidence that this happens."
His prescription? The health care system needs to follow the rest of Regenstrief's regimen, and do the hard work of using health IT to alter the time-consuming processes doctors and hospitals now use to care for patients.
Of course, this is like telling heart patients to take Lipitor and change their diet and exercise routines. Popping the pills gets done. Cutting out pizza, beer and channel surfing typically doesn't.
And the patient eventually ends up back in the hospital for high-priced surgery.
Taking the government's money and buying an electronic medical record system is the easy part. Customizing a computer system to produce more efficient care—that's the hard part.
But, said Tierney, it's the only thing that will bring the promise of health IT to fruition.
"Just having an electronic medical record system doesn't affect the quality of care unless it affects how the hospital operates," Tierney said. The same goes for costs, he added.
Cutting-edge
Tierney oversees Regenstrief's team of 52 physicians and researchers from the sixth floor of one of the wings of Wishard Memorial Hospital.
Regenstrief has no external sign, and to find its offices, a visitor must walk through the clinic registration area and curving hallways to a hidden bank of elevators, then ride up to the sixth floor.
Perhaps for that reason, Regenstrief's profile has always been low in Indianapolis, even though it is widely known in health care circles nationally and internationally.
That reputation has been earned over the past 35 years as Regenstrief researchers designed, built and tested computerized medical records and a computer system to allow doctors to issue orders to nurses or pharmacists.
For decades, the systems it built have included computer-generated reminders that pop up on the computer screen when physicians use Regenstrief's electronic medical record system—a feature that has only recently become common for office-based physician practices.
In 1976, Regenstrief researchers published results of the first randomized trial of computer-generated reminders for physicians, finding they could reduce medical errors.
A 1984 study showed that computer-generated reminders to primary care doctors nearly doubled the percentage of patients who received preventive care and tests, including flu shots.
A 1990 study led by Tierney found that showing Wishard physicians the results of previous lab tests led them to reduce their orders of additional tests 13 percent.
A blockbuster 1993 study, also led by Tierney, showed that, by using a computer system instead of paper to send physician orders from one hospital department to another, Wishard could get medicines administered to a patient just 30 minutes after admission—as opposed to a six-hour wait using paper records.
That faster time to medication helped patients start recovering sooner, cut one-third of medication errors, and helped patients leave the hospital one day sooner on average. Shorter stays shaved the cost of care about 13 percent, or $900 per patient.
"The biggest power of this has been the point-of-care reminders to physicians," said Dr. Lisa Harris, CEO of Wishard Health Services and herself a Regenstrief researcher. "Physicians know what they need to do, but it can be a real challenge in the midst of a busy office visit."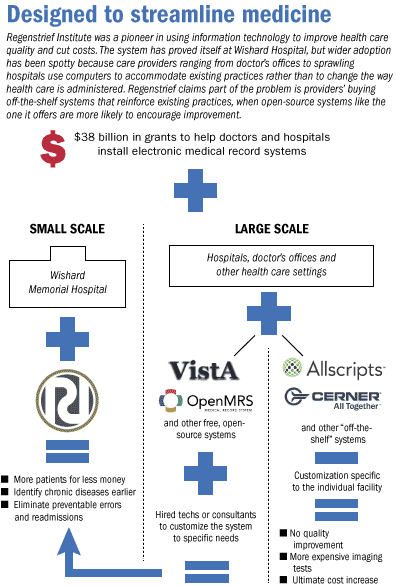 Studies by Regenstrief since then have shown that computer-generated reminders lead to better isolation of patients with antibiotic-resistant infections—which contribute to a shocking 100,000 deaths each year in American hospitals.
Also, computer-generated reminders help physicians give patients needed medicines before a discharge from a hospital—helping prevent costly readmissions.
The ability to prescribe drugs electronically reduced medication errors 80 percent in Wishard Health Services' 11 outpatient clinics, according to a forthcoming study.
Regenstrief has even included in its system reminders that tell physicians the estimated cost of a test or treatment—just before the physician clicks a button to execute that order. Those reminders have also reduced costs at Wishard.
"Now that's useful information, if it can be relied upon," Dr. Mark Lawlor, a solo family physician in Anderson, wrote in an e-mail.
Status quo reinforced
But that's the trouble. Lawlor, like most doctors, uses a commercial, "off-the-shelf" electronic medical record program because, unlike Regenstrief, he doesn't have a team of researchers to help customize his IT needs.
Such commercial software is tailored to the ways hospitals and doctors already function—not how they might function better.
That means most electronic medical record systems don't help doctors retool their work processes to become more efficient, said Dr. Danny McCormick, a Harvard Medical School researcher who authored the study showing electronic medical records led to more, not less, ordering of imaging tests.
"Many people see HIT as the savior to the health care system cost crisis that we have," McCormick said. "If it's not true, we ought to know about that now, and start thinking about other kinds of reforms and ways of dealing with runaway costs."
Another study, published last year by researchers at Imperial College London, reviewed scores of academic studies on whether health IT improved the quality of health care. The places where it did improve tended to be academic medical centers—such as is the case with Regenstrief and Wishard—and their successes were not duplicated in the more common medical settings.
Both those studies were based on data from before the 2009 stimulus funding, which has led many physicians and hospitals to update their electronic medical records systems.
Also, the law required "meaningful use" of electronic medical records, which included the ability to do electronic prescribing and to swap records with unaffiliated doctors and hospitals.
Many physician practices, as they have added computer systems the past three years, have had exactly the kinds of discussions Regenstrief's Tierney and Harvard's McCormick want them to have.
"Often they'll decide, 'This is a good time to go back and look at all our processes,'" said Michael Hall, CEO of iSalus Healthcare, an Indianapolis-based maker of electronic medical record systems.
Hall likened the world of electronic medical records today to railroads in the mid-19th century. There are lots of different systems that don't all fit together well, but are now beginning to—if only folks will be patient.
"Meaningful use is the first top-down initiative that we've had to standardize these systems," he said. "This is the first step that has to be taken. It's the most painful one. It's expensive."
Open-source solutions
Regenstrief's Tierney generally agrees with Hall, but he views commercial makers of electronic medical records as more hindrance than help in reaching the promise of health IT.
"The big-box systems need to go away," Tierney said, referring to "off-the-shelf" systems made by such giants as Cerner Corp., Epic Systems and AllScripts.
In their place, Tierney wants to see doctors and hospitals adopt free, open-source systems. And instead of spending their stimulus cash on computer licensing fees, they can pay technicians and consultants to customize an open-source electronic medical record to their specific needs.
Tierney could be criticized as being self-serving, since Regenstrief has created and uses an open-source electronic medical record system, called OpenMRS. But Regenstrief isn't the only one. The federal Veterans Administration system uses the highly praised open-source system called Vista.
McCormick, the Harvard researcher, also likes the open-source idea, although he noted that, even if doctors paid technicians to customize a free electronic medical record to their needs, they probably still wouldn't have the time to truly transform the way they practice.
The real need for additional research—and where Regenstrief is focusing some of its current research—is on how to make electronic medical record systems more user-friendly and how to train physicians to use electronic records to improve the quality and efficiency of their practices.
Whether that leads to cost savings for the entire health care system is still very much in doubt, said Lawlor, whose solo practice is called Anderson Family Medicine.
Lawlor also uses his electronic medical record system to quickly generate lists of his diabetic patients—so he can make sure they're getting all the tests they need. Health insurance plans increasingly give doctors bonuses for this kind of oversight of patients with chronic diseases.
But that, Lawlor noted, leads to more care, which costs more money.
"There will be some efficiencies, but I still think as technology progresses, you're going to see more expensive technology. And just because of 'protecting yourself' medicine, you're gong to see a lot of tests ordered," Lawlor said. He concluded, "I think it'll be a wash."•
Please enable JavaScript to view this content.