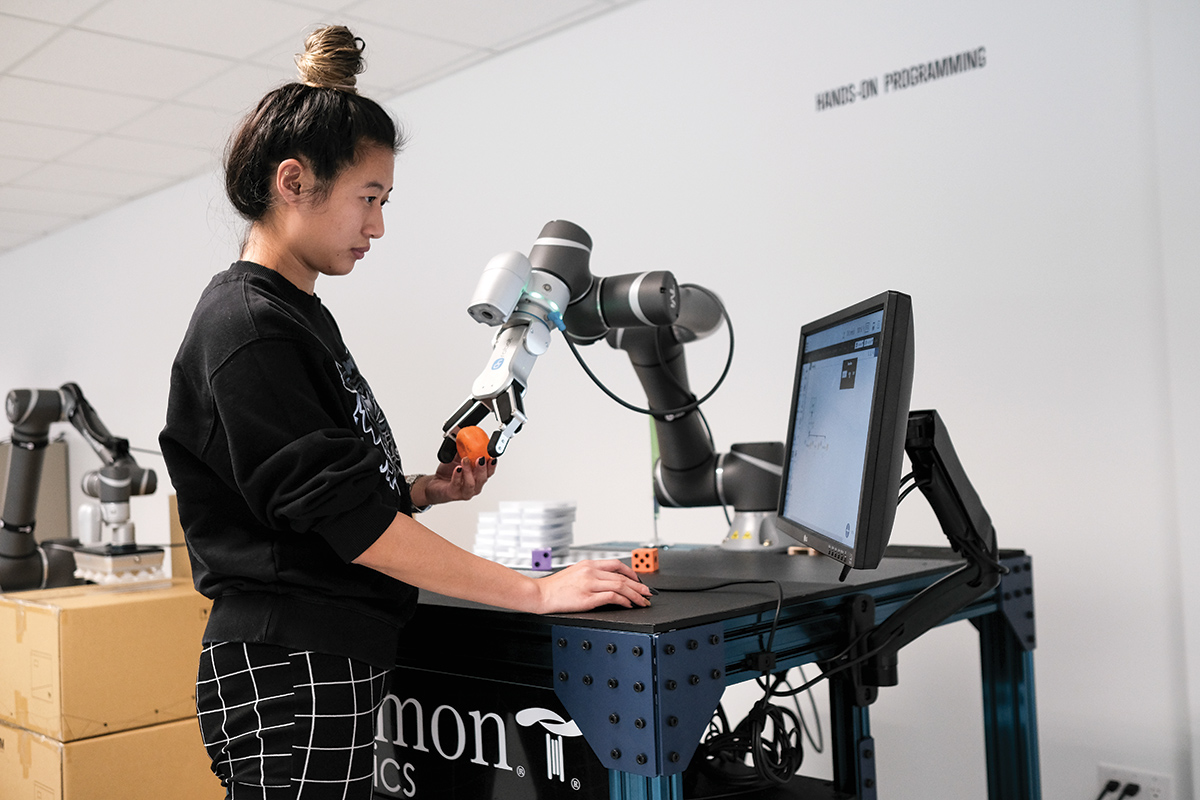 Longtime local business executive and entrepreneur Albert Chen is bullish on cobots.
Last year, the retired founder of Carmel-based Telamon Corp. founded Telamon Robotics, which sells collaborative robots—called cobots—and helps companies integrate the technology into their operations.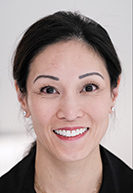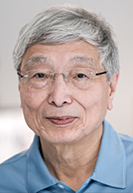 Cobots are designed to work alongside humans, handling tasks that can range from stacking pallets to inspecting finished goods to picking and packing parts.
"The applications are phenomenal," Chen said. "You can apply it to almost any environment."
The company currently has eight employees, including Chen's daughter, Stephanie Kim, who serves as president. To date, it's landed five customers and $1.5 million in revenue, which Chen projects the company could double in another year.
It's a business, yes, but one with a larger mission: to help Indiana's small to medium-size manufacturers stay competitive through the adoption of advanced technologies.
Chen said cobots are an effective way to achieve that mission because—compared with other advanced technologies—they're affordable, adaptable and relatively easy to use. Business owners "can see the benefits right away," he said.
Telamon Robotics has already formed partnerships with both Purdue University and Vincennes University, which are working with the company to offer educational and training opportunities for companies that want to learn more about the technology.
The effort has caught the attention of Indianapolis-based Conexus Indiana, a not-for-profit that works to promote the state's advanced manufacturing and logistics industries.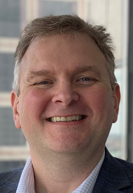 "We're excited about what they're doing, supportive of what they're doing," said Mitch Landess, vice president of innovation and digital transformation at the organization.
The effort is especially important now for a few reasons, proponents say.
Manufacturing is in the midst of what's popularly known as Industry 4.0—the adoption of data analytics, 3-D printing, virtual reality and other advanced technologies to improve productivity, lower costs and enhance worker safety.
But many Indiana manufacturers are behind the curve and need some help to catch up with the rest of the world.
"We are so far behind Asia and Europe," Chen said.
At the same time, companies' interest in new technologies has accelerated over the past year or so.
"We're seeing an uptick," Landess said. "Companies are leaning into this stuff."

Increasing adoption
This past spring, he said, Conexus surveyed 135 manufacturers of varying sizes about their rate of technology adoption. In that survey, 22% of respondents said they had installed a cobot and had found it useful, up from 6% in 2020. Another 8% said they had installed a cobot but hadn't found it useful, a drop from the 10% who said so in 2020.
Cobots have emerged in recent years as a more flexible and accessible tool, for a wide variety of uses, than the industrial robots that have been in use for decades, Landess said.
Traditional robots are typically isolated from human workers for safety reasons. They're also expensive and are usually programmed to do one specific activity for a long time. Cobots are smaller and easier to move around, they have safety features that allow humans to work around them, and they can be easily reprogrammed to handle a variety of tasks.
Cobots come in different sizes and capabilities, but Landess said the technology is available for as little as $20,000 to $30,000 per cobot.
"All these things, they've rolled together in this low-cost package," he said. "This is no longer just for big manufacturers."
Landess said he's aware of dozens of Indiana manufacturers with fewer than 100 employees that have added cobots to their shop floors within the past few years.
And Conexus and the Indiana Economic Development Corp. are trying to encourage more companies to take the leap. They teamed up last year to launch the Manufacturing Readiness Grants program to help companies modernize their equipment.
"We're seeing applications from shops as small as five to 10 employees buying their first cobot," Landess said.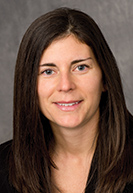 Purdue's Manufacturing Extension Partnership, which works with manufacturers around the state, has also seen an acceleration of interest in cobots and other advanced technologies.
"We have seen a lot more interest from manufacturers in the past year in investing in and implementing these technologies," said Purdue spokeswoman Ranae Stewart.
Showing off the goods
Purdue and Telamon Robotics have teamed up for a new 3,000-square-foot Digital Manufacturing Technology Center that's housed at Telamon. The center features a variety of advanced technology, including cobots, 3-D printing, automation platforms and other features companies can see, touch and try.
The center officially launched with an open house last week. It's already scheduled a dozen workshops and training sessions covering a variety of manufacturing technologies through the end of the year, all open to the public and some offered at no cost.
In the partnership between Telamon Robotics and Vincennes University, the school has purchased dozens of cobots from Telamon that it is deploying at three of its existing training centers around the state—in Lebanon, Jasper and Vincennes.
Vincennes received an $8.1 million grant from the Lilly Endowment Inc. earlier this year, part of which the school has used to purchase the cobots.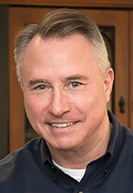 "This is a huge investment," Vincennes University President Chuck Johnson said. "It's a leap forward for Vincennes University, and hopefully the whole state of Indiana."
The training centers are designed for both degree-seeking Vincennes University students and local companies that need to train their employees on new skills and technologies.
The school is working with Telamon Robotics and Techman Robot, the Taiwan-based company that makes the cobots, to develop a training curriculum.
Giving back
Chen's interest in cobots started several years ago. He had retired from Telamon Corp. in 2015 but wasn't quite ready to put his entrepreneurial days behind him.
Telamon is a large and diversified company that does everything from assembling vehicle wiring harnesses to installing telecommunications networks. It had $658 million in annual revenue last year, and many of its customers and employees are outside of Indiana.
So, Chen considered what to do next that could specifically benefit his adopted home state. Chen grew up in Taiwan, moved to Oregon in 1968 at age 25 to pursue a master's degree in mathematics, and later moved to Indiana.
"I love this country," Chen said. "It's about time for us to pay back."
What Indiana could really use, he decided, were cobots.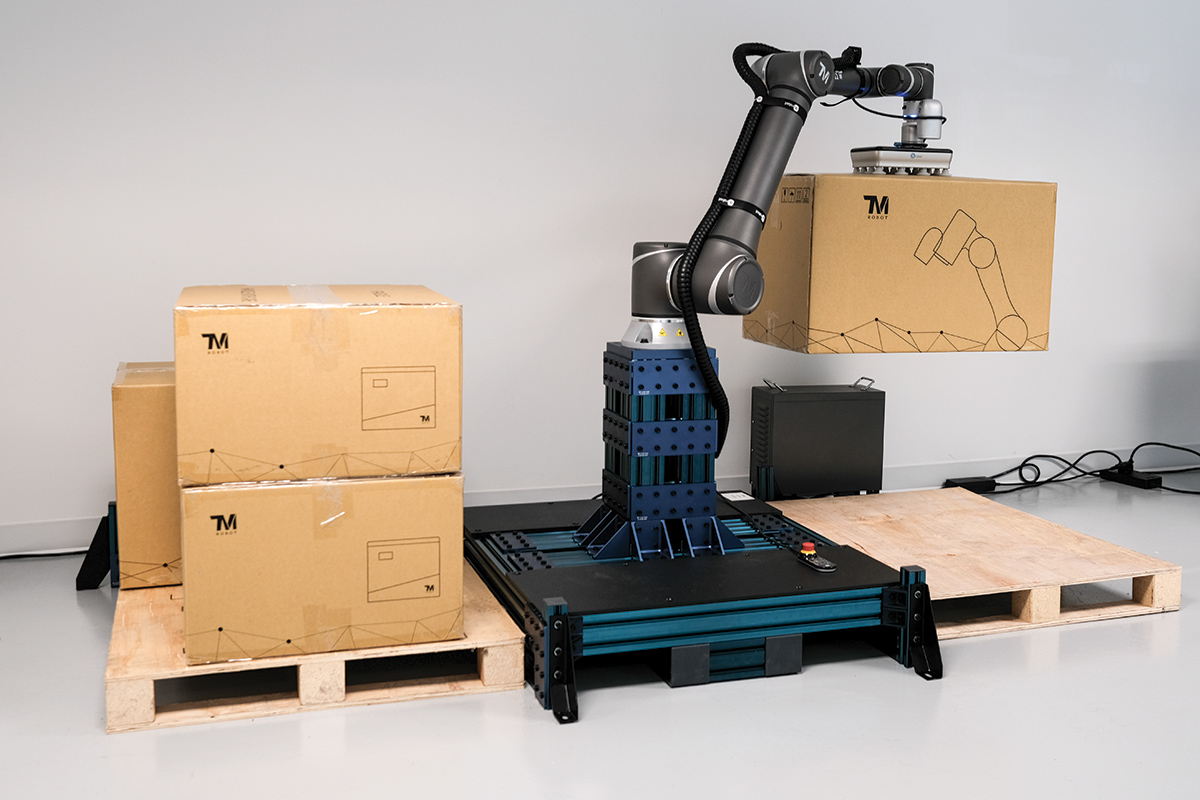 About four years ago, Kim recalled, her father brought some cobots to Telamon to show off the technology. He saw its promise, but Kim was skeptical.
"I looked at him and said, 'That is never going to be adopted here. We're not ready for it,'" Kim said.
About six months ago, Telamon Corp. itself jumped aboard and installed some cobots for its operations.
What's changed between then and now? Kim said the technology has improved and people have become generally more accepting of the idea of cobots. She believes the disruptions caused by COVID-19 spurred many companies to upgrade their operations.
Kim is not surprised that her father was early to recognize cobots' potential. "Albert is very forward-thinking, and often ahead of his time," she said.
In fact, Chen is already thinking ahead to new markets for Telamon Robotics.
The company is starting out with a focus on manufacturing, but because the cobots are so adaptable, Chen can envision their use in anything from unloading a restaurant's dishwasher to helping health care workers with rote tasks.
With that in mind, Chen said he's already considering what other industries Telamon Robotics might target. The company hasn't made any decisions quite yet, he said. "Give us six months to a year."•
Please enable JavaScript to view this content.