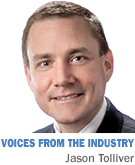 The DNA of the entire American health care industry is changing faster than you can say ObamaCare, and the early evidence of this transformation is beginning to emerge in the Indianapolis medical real estate market.
As medical innovation continues to flourish in our city—at the same time that our nation's health care industry enters a period of unprecedented growth and change—you can expect to see a direct impact on the where and how you and your loved ones receive comprehensive medical services.
Medical development in Indianapolis continues at a magnitude unrivaled by any other private-market segment in the city, with projects under way valued in excess of $2 billion.
And, since the Great Recession, the Indianapolis medical office building market has grown steadily—to the tune of an impressive 1.04 million square feet. This growth is in sharp contrast to the multitenant office market, which has increased a mere 522,000 square feet since 2008.
The demand we're seeing in medical real estate is not coming primarily from growth on existing hospital campuses. We're beginning to see evolution in the genetic makeup of medical facilities—and the way patients access services as a result.
The aging baby boomer population is a key factor that will continue to fuel this growth. In 2011, the first wave of baby boomers turned 65, with nearly 32 million Americans projected to follow suit by 2030. Since roughly half of an individual's lifetime medical expenditures occur after age 65, this group stands to drive substantial gains in health care demand and spending.
To address the needs of the boomer generation—and patients of all ages—hospitals are striving to increase their market share and attract new patients by establishing a closer, more convenient presence. This retail-like mind-set is sometimes called the "hub-and-spoke" model, with hospitals serving as the hub and satellite offices increasing their footprints.
There are also numerous drivers toward growth in outpatient care that are likely to remain steady, regardless of whatever changes may stem from revisions to national health care legislation. Outpatient facilities that have been growing in number include imaging, oncology and obstetrics-gynecology centers. The lower cost of establishing off-campus locations allows hospitals to add patients while spending relatively less on space.
As health care providers expand into desirable communities, they're finding willing retail landlords, some of whom seek untraditional tenants to shore up their revenue after weathering the recession. For providers, the shopping centers offer convenient and affordable locations, as well as desirable foot traffic.
The benefits of expansion are also evident at office parks, where medical tenants are just one class of occupants. At Castleton Park, for example, Cassidy Turley closed 78,000 square feet of medical space transactions in the first quarter of 2012 alone, making 90 percent of space leased or sold in that park health-care-related. A representative model, these transactions consisted of both an acute care hospital and businesses supporting the health care sector but not directly related to hospitals—two health-care-related business areas that are growing and requiring more space.
We're also noticing the continued trend in the migration of ancillary medical services—such as accounting, procurement, information technology and communications—from their historical hospital campuses to off-campus office spaces. Indiana University Health's 2011 acquisition of the Gateway Plaza tower is a prime case in point. While the hospital had previously announced plans to build a $73 million administration building, it had a quick change of heart when millions in savings came available through the purchase of existing office space.
Support services moving off-campus also opens space to accommodate an increase in co-location: the dynamic pairing of research and development with critical care on the same hospital campus. Close physical proximity of R&D with critical care lends itself to improvements in both while increasing the attractiveness of the city's hospitals for the best medical minds.
Co-location is also coupled with the acquisition of talented young doctors into the hospital staff as an increasing number of smaller practices merge into larger hospital systems. This is due partly to the fact that growing regulatory requirements and escalating operating expenses will continue to drive consolidation throughout the health care industry, resulting in larger and often hospital-affiliated practices, and encouraging young doctors to pursue hospital employment.
In coming years, medical real estate will continue to be affected by a range of market forces from the economy, demographics and regulations, to the traditional property-operating issues of maximizing rents and minimizing operating expenses.
It is undeniable that the business of health care will remain as dynamic as the challenges facing it. Most trends in health care—including the where and how patients are treated—will have direct bearing on the management of real estate assets that enable the optimal delivery of health care services.•
__________
Tolliver is research director at Cassidy Turley. Views expressed here are the writer's.
Please enable JavaScript to view this content.