The last time I saw Gregory Hancock Dance Theatre's "The Hunchback of Notre Dame" (which returned for a June 29-30 run at the Tarkington), I wrote in praise of Ryan Koharchik's lighting design and the costumes by Hancock.
But I took issue with the music. The score came from both the French- and English-language versions of "Notre Dame de Paris," a 1998 stage musical also taken from Victor Hugo's novel. Rather than enhance the work, I felt it tied chains to an otherwise strong production.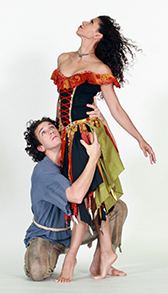 Martin Casanova and Christine Thacker play Quasimodo and his beloved Esmeralda in Gregory Hancock's take on "The Hunchback of Notre Dame." (Photo courtesy of Gregory Hancock Dance Theatre)
"Co-opting the score from someone else's interpretation," I wrote, gives an unfortunate secondhand, derivative quality to Hancock's vision. "It's a shame, since his varied, subtle and, when necessary, explosively big choreography deserved better."
The bombastic, histrionic music still adds a "Les Mis"-like gravitas to the proceedings. And the often trite and repetitive lyrics still rob Hancock's talented dancers of the opportunity to set the emotional tone. But this time around, the performance space at the Tarkington proved much more conducive to Hancock's vision, with terrific site lines and smart use of minimal set pieces. (This was my first time seeing the company in the Tarkington and the marriage seems to be working, at least on stage.) The ensemble is sharper, too, and the overall impact strengthened.
As Quasimodo, Martin Casanova has deepened in a role that he had already mastered five years ago. Still heartbreaking, he now seems to have matured as a
performer, accepting his place in an ensemble show. Subtle choices add to richer emotions. Aided by Hancock's choreography, Casanova finds a remarkable balance of twisted body and soaring spirit without making the music's mistake of overplaying.
The role of Esmeralda seems to have grown on guest artist Christine Thacker, too, who also played the part in her farewell performance as a company member in 2007. Here, she's powerful and passionate and youthful and conflicted for most of the show. In death, she's far more than a lifeless rag doll, giving the potentially morbid duet a virtuosity that never gets in the way of its humanity.
____________
Next week, I'll be offering a critical guide to the best of the Indianapolis International Film Festival. Amid all the independent, foreign and documentary feature screenings, though, I thought I'd take a break and see something completely different—a big Hollywood film at the multiplex.
Unfortunately, that film was "The Amazing Spider-Man," a film so overpacked with coincidences and writer-rigged plotting that I didn't believe a second of it and was bugged by most of it.
The fact that Andrew Garfield and Emma Stone are good actors make the film they are stuck in even more annoying.
Trust me, I have no trouble buying a web-shooting super hero (I bought "The Avengers" hook, line and sinker). I neither worshipped nor minded the "Spider-Man" made 10 years ago, so I had no agenda. And I'm not one of those critics objecting to unnecessary remakes. For one, little that Hollywood does is necessary. And for another, remakes are part of the game: Frederic March won an Oscar for "Dr. Jekyll & Mr. Hyde" only about a decade after John Barrymore made his film version.
What I have trouble with is "Oh, come on" moments at nearly every plot turn. Specifically:
I have trouble buying a high school student getting a position of great responsibility in a high-tech, experiment-heavy company. Even if she is played by Emma Stone and looks well into her 20s.
I have trouble with the fact that said company barely has a security system or even video cameras monitoring its experiments, allowing Peter Parker to basically waltz in. The White House during the Garfield administration had tighter security.
And while I'm nit-picking, I have trouble with the fact that, right in the middle of the high-tech lab, there's a loud three-dimensional display to aid tour groups in explaining the wonders of the company's experiments. And, in the massive lobby, an even louder voice spouts company PR. What is this company? Distractions Unlimited?
Even with bullying stories in the news, I have trouble believing a high school kid can have the crap beat out of him in front of an entire student body without anyone saying anything or his family pressing charges.
I have trouble with a giant lizard attack witnessed by hundreds of people—some of whom had vehicles thrown off a bridge—being reported in the press as a rumor.
I have trouble with unlocked New York City windows that can be accessed via fire escapes.
I have trouble with time bombs that not only have conveniently visible numeric displays but also a helpful voice to tell you how close to your doom you are.
And I'm tired of writers relying on Emma Stone's hesitant charms to carry scenes.
"The Amazing Spider-Man" is like radio commentators who are concerned only with the impact of what they are saying right now, regardless of whether it makes any sense or connects to what happened moments ago or what happens next.
All of which wouldn't be so much of a problem if "The Amazing Spider-Man" were fun and/or original. 
Now where's Batman?•
__________
This column appears weekly. Send information on upcoming arts and entertainment events to lharry@ibj.com.
 
Please enable JavaScript to view this content.