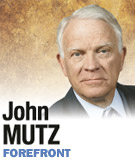 Innovation, change and accountability are likely to be major goals for Gov. Mitch Daniels when he becomes Purdue University's 12th president in January. During his two terms as governor, he has initiated new ideas and enacted most of them. He has been willing to question conventional wisdom and answer his critics.
The governor is a determined leader who would not take on the task of running a great research university if he didn't believe he could make it better. With his innovative approach, Purdue could become a national model for the "University of the Future."
This opportunity comes at a time many observers believe the public research university is not a sustainable model, in part because resources in the form of state appropriations are limited, the power structure on most campuses is shared by the administration and the faculty, and the cost to students and their families has grown so rapidly that the nation has an almost unbearable amount of student debt.
In spite of the challenges, Purdue is internationally recognized for its engineering school and agricultural research and as the leading producer of astronauts for the U.S. space agency. It has a $2 billion endowment, a number of award-winning professors, and almost a half-million alumni around the globe.
Predicting what Daniels will tackle is as risky as second-guessing a U.S. Supreme Court decision. But here are some possibilities for action:
• Establish an ongoing and active dialogue with the faculty.
• Expand an ongoing search for talent and a way to pay for the best and brightest in the world. Purdue normally ranks in the lower half of salary levels in the Big Ten and lower than the so-called elite private schools.
• Develop a new model of how to make college more affordable. Consideration could be given to better use community colleges for the first two years of a college experience, allowing students to easily transfer to Purdue. This arrangement should lower the total tuition bill and free up resources.
• Decide how Purdue should be organized. It could become another University of Michigan, which now considers itself a private school with some public support from the Legislature. Or a Cornell University, which operates a land-grant college as a public university and side-by-side on the same campus an elite private school, each with different tuition rates.
• Continue the emphasis of online education started by the governor when he and other funders started Western Governors University, Indiana. This effort used a partnership with WGN to bring online offerings in six subject areas to more than 2,800 Hoosiers.
Reconsider Purdue's role in Indianapolis as part of IUPUI. It could expand its offerings and attempt to more fully serve our city with its best programs, thus taking advantage of the state's largest population center. IUPUI was part of a statewide compromise on how to organize urban education. Indiana University was given supervision over the Indianapolis campus and Purdue over the Fort Wayne location. IU obviously got the best of this deal.
• Rethink technology transfer techniques. The chain of technology parks now in operation are quite successful, but could be even more effective for creating jobs and local economic development throughout the state.
• Consider what role the university should take in reform of grades K-12. It could become a charter school authorizer and develop partnerships with public and private high schools.
• Develop a productivity improvement program for all aspects of the university including the classroom, a higher education version of Six Sigma, a program widely used in American businesses to save money and get more done for less.
Whatever the governor decides to do, it will almost certainly be another exciting chapter in a lifetime of superlative public service.•
• Mutz has held leadership positions including lieutenant governor and president of Lilly Endowment and PSI Energy. Send comments on this column to [email protected].
 
Please enable JavaScript to view this content.