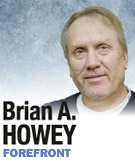 President Barack Obama's order to halt the deportation of certain young illegal immigrants has drawn the support of most Americans, according to two new polls. And a Howey/DePauw Indiana Battleground Poll taken among primary Republican voters April 30 to May 1 indicates wide support in Indiana.
On June 15, President Obama issued an executive order—essentially bypassing Congress—that would allow illegal immigrants under age 30 who were brought to the United States before the age of 16 to stay.
A Bloomberg News Poll shows that 64 percent of likely voters approve of the new policy and 30 percent disagree. But 86 percent of Democrats and 56 percent of Republicans support the order. Among independent voters, 66 percent favor the order.
In the Howey/DePauw Poll, Republican respondents were asked: "Do you support or oppose allowing the children of illegal immigrants who graduate from high school and have no criminal record and serve in the U.S. military or attend college a path of full U.S. citizenship?"
The survey conducted by Republican pollster Christine Matthews of Bellwether Research and Democrat Fred Yang of Garin-Hart-Yang Research Group found 22 percent said they "strongly supported" that, 32 percent said "somewhat support," while just 13 percent said they "somewhat oppose" and 19 percent "strongly opposed." The aggregate on that question was 54 percent supporting and 32 percent opposing.
The order could have a bearing on the U.S. Senate race where Republican nominee Richard Mourdock has ardently opposed the Dream Act but has been mum on the issue since the Obama order was released.
Various Indiana Tea Party cells, however, have ardently opposed the act. State Sen. Mike Delph, R-Carmel, who has authored key immigration legislation in recent years, called the move "an abuse of power and a step towards tyranny" on his blog.
Indiana has the 21st-largest Hispanic population in the nation, according to the Pew Hispanic Center. There are 116,000 eligible Latino voters in Indiana, or 2 percent of the total.
The announcement on June 15 appears to have clearly erased Obama's enthusiasm deficit among Latinos, according to a Latino Decisions Poll conducted with America's Voice. Asked how they felt about Obama's action, 49 percent of Latino voters said it would make them more enthusiastic about Obama, compared with 14 percent who were less enthusiastic, a net enthusiasm advantage of 35-plus points.
Republican presidential nominee Mitt Romney framed the order as a political move.
"What I can tell you is that those people who come here by virtue of their parents bringing them here, who came in illegally, that's something I don't want to football with as a political matter," Romney told Fox News.
Roll Call reported that congressional Republicans are flummoxed by the move and are waiting for Romney, who for months has tried to dispel notions of being a flip-flopper and a political opportunist with no core values. But Romney had used his opposition of the Dream Act to drub Texas Gov. Rick Perry out of the race last year. Now, he faces a more moderate voter poll and risks what would be a glaring flip-flop.
The June 25 U.S. Supreme Court decision that struck down parts of the Arizona law, but upheld the portion that allows for police to ask people for legal documented status, complicates the political implications of the issues.
After the Arizona ruling, the issue only gets more complicated for Republicans, who risk alienating vital independents.
President Obama, needing to shore up his base in what looks to be a tight election, used a shrewd political move that helps shore up another key constituency—Latino voters.•
• Howey publishes Howey Politics Indiana. Send comments on this column to ibjedit@ibj.com.
Please enable JavaScript to view this content.