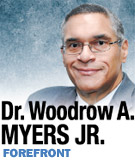 Today is June 27, and tomorrow the six women and three men appointed to the U.S. Supreme Court will offer this nation what is likely to be a split decision that will set the tone for a new health care debate and the upcoming presidential campaign. Tomorrow is June 28, and had my mother Charlotte Elnora Tyler Myers lived, tomorrow would have been her 90th birthday.
She was born in 1922. The first in her family to go to college, she became a teacher in the Indianapolis Public Schools, and later an elementary school principal and finally an IPS administrator in charge of implementing the orders issued by then-federal Judge S. Hugh Dillon in the 1970s to desegregate IPS.
She died of a cardiac arrhythmia in 1996 at age 74, but lived much longer than the mortality tables predicted. The average age of death for women born in 1922 was 58, so mom had 16 years more than most.
I believe those 16 years were possible because she had access to the best medical care we could find for her in Indiana. In the late 1960s, Dr. Frank Lloyd, an obstetrician-gynecologist at Methodist Hospital (who later became CEO at Methodist) found and removed a tumor on her uterus that had been incorrectly diagnosed by others. Had he not done so, she would have never made it to 58, never mind 74.
Other physicians found and treated other problems along the way that could have been lethal, as well. She got this great care not because of her son (who had been inspired by Lloyd to become a physician). She got great care because her health insurance (Blue Cross Blue Shield provided by IPS), allowed access to great care. On occasion, we had to "encourage" mom to make her appointments, but inability to pay was never a barrier.
So tomorrow, we'll see if the six men and three women (average age 66, all of whom have great health care insurance) of the Supreme Court move this nation forward or backward in its goal to allow everyone access to the best care available.
I hope the decision will be at least 6-3 in favor of affirming the individual mandate. I predict that Justice Kennedy (the swing vote on most controversial issues) will be joined by Justice Roberts, who will write the opinion for the majority.
But there will be multiple opinions tomorrow with dramatically different conclusions. These decisions will not be made on the basis of "law," even though that is how the opinions will be framed and written.
These decisions will be made by human beings whom we ask to interpret the laws for us. And these intelligent human beings know for certain that what they decide will affect the lives of millions of Americans for decades to come.
They each have loved ones who will benefit if this nation can finally move forward and set in motion the steps that will allow other moms and dads to live longer than today's mortality tables predict. That is why I'm optimistic.
We are not "done" with health care legislation, irrespective of what the court decides tomorrow. Even ardent supporters of the Affordable Care Act know changes are required to make it easier for the states and the federal government to help achieve the goals of better care for more people at a more affordable cost.
So if Charlotte Elnora were alive for her 90th birthday tomorrow, we would celebrate it with Guinevere Charlotte, her great-granddaughter who recently celebrated her first birthday and who, because of her wonderful parents (and great health insurance), is highly likely to make it well past 100.
Today is June 28, and one hour ago, we learned the Supreme Court upheld the Affordable Care Act by a 5-4 majority. Happy birthday, Mom.•
• Myers is a former chief medical officer for WellPoint Inc. and served as health commissioner for Indiana and New York City. Send comments on this column to ibjedit@ibj.com.
Please enable JavaScript to view this content.