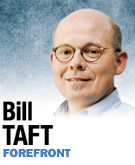 I moved to Indianapolis in 1991 because of a job created by Eli Lilly and Co., but it had nothing to do with pharmaceuticals and I never worked for the company.
I was hired by neighborhood volunteers to lead a small not-for-profit working to revitalize the Fountain Square neighborhood. While seemingly disconnected, this job existed only because Lilly invested dollars and leadership talent.
Twenty years later, this corporate/neighborhood collaboration has accomplished a dramatic upsurge in vitality of Fountain Square. If we are to revitalize our older Hoosier neighborhoods, this kind of partnership of mobilizing anchor corporations and institutions must multiply.
Until recently, institutions tended to erect physical and cultural barriers designed to shield employees and customers from any real contact with the surrounding neighborhood. This approach virtually guaranteed the continued decline of surrounding areas.
Thankfully, this "fortress" mentality has been rejected by several of Indy's neighborhood anchor institutions in addition to Lilly.
The Children's Museum of Indianapolis made the tough decision decades ago to stay and invest in its midtown neighborhood rather than move someplace "safer." It uses its endowment as investment capital for housing renovation, and recently led an effort to create a neighborhood quality-of-life plan that guides reinvestment in education, housing, urban agriculture, business development and cultural activity.
The museum is leading redevelopment of the abandoned Winona Hospital site into new apartments, business and recreational space.
The University of Indianapolis recently celebrated with neighbors the reopening of Hanna Avenue as an attractive thoroughfare serving auto traffic needs of neighbors while allowing its students to cross safely to other portions of campus. The university realized it is one of the few economic "drivers" left in its area of the city, so it is taking a more aggressive stance on ensuring the health of surrounding neighborhoods.
The school is so interested in strengthening the adjacent University Heights neighborhood that it offers faculty and staff a cash grant to help purchase a neighborhood home.
Finally, Methodist Hospital (now Indiana University Health) made a crucial decision in the 1980s to remain at its historic Capitol Avenue location and help improve the neighborhood. The hospital also creates pathways for urban residents to obtain jobs in the hospital.
These local stories are examples of a national trend of neighborhood institutions' getting engaged in nearby community revitalization.
Institutions are investing in real estate improvements that benefit both the community and themselves, hiring neighborhood residents, purchasing supplies and services from nearby businesses, spinning off related businesses that create new jobs and wealth, and encouraging employees to live and volunteer in the community.
Indianapolis could do more to encourage such synergy. Board members and executive leaders at anchor institutions should ensure that significant resources are dedicated to seeking out productive community partnerships, and to examining internal policies and practices to ensure that they are as supportive of neighborhood revitalization goals as possible.
Local government should encourage such partnerships when anchor institutions ask for infrastructure or tax incentives to benefit their expansion or modernization projects.
Finally, neighborhood groups should reject outdated attitudes of suspicion toward institutions and instead develop equitable partnerships with these potential engines of neighborhood prosperity.•
• Taft is Indianapolis executive director of Local Initiatives Support Corp., a not-for-profit that invests in neighborhood redevelopment projects. Send comments on this column to ibjedit@ibj.com.
Please enable JavaScript to view this content.