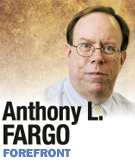 By now, you probably have heard about the "you are not special" high school commencement speech. I wonder if you heard how it ends.
David McCullough, an English teacher at Wellesley High School in Massachusetts, seemingly broke the mold of how to send off a graduating class when he told the Wellesley students they were not exceptional. Judging from the various comment boards on the Internet, he has drawn a certain amount of flak as well as praise for the parts of his speech that have been quoted repeatedly.
In case you missed it, McCullough said that students had "been pampered, cosseted, doted upon, helmeted, bubble-wrapped," but none of that made them special.
He criticized the trend of giving everyone trophies for participation in various childhood activities.
"We have of late, we Americans, to our detriment, come to love accolades more than genuine achievement," he said. "We have come to see them as the point—and we're happy to compromise standards, or ignore reality, if we suspect that's the quickest way, or only way, to have something to put on the mantelpiece, something to pose with, crow about, something with which to leverage ourselves into a better spot on the social totem pole."
I suspect that many of my fellow university professors who heard this much of the speech wanted to send McCullough flowers or buy him a drink. We have too many students who have been protected from every bump and bruise and rewarded for every ho-hum achievement. I meet them all the time. Sometimes I get to be the one to give them the equivalent of the McCullough speech in the form of a grade I think is quite fair and they think is an insult because it isn't an A. I hasten to add, however, that those students are the exception, not the rule.
My concern was that if McCullough had simply told the students they weren't special, they might have missed the corollary to that message: that, in our own ways, each of us has the capacity to be special.
The message for the wider community, which we tend to forget, is that the capacity to be "special" is something we all share. That, in turn, means we should respect those around us for having that shared capacity rather than assuming it is a gift that only we possess.
As it turns out, McCullough made roughly the same point. The second half of his speech veers back into familiar commencement territory. He urges students, for example, to "[d]ream big. Work hard. Think for yourself."
His conclusion bears repeating.
"Exercise free will and creative, independent thought not for the satisfactions they will bring you, but for the good they will do others, the rest of the 6.8 billion—and those who will follow them. And then you, too, will discover the great and curious truth of the human experience is that selflessness is the best thing you can do for yourself. The sweetest joys of life, then, come with the recognition that you're not special. Because everyone is."
Not that long ago, I would not have thought it necessary to point out each of us is an autonomous being capable of being special and worthy of respect. But we are entering the height of the campaign advertising season, and still not completely out of a nasty recession.
Candidates and their interest groups are going to demonize each other, of course, but also, I suspect, subsets of us. Opponents will be criticized for catering to the poor and needy, the rich and greedy, the "illegal," the "immoral," the right-wing nut, the liberal bleeding heart. The goal will be to divide and conquer on Election Day, but given the nation's sour mood, I worry that the divisions will stick.
So, repeat after me: I am not special. We are all autonomous human beings—no matter who approved the message that says otherwise.•
• Fargo is an Indiana University journalism professor and member of the Indiana Coalition for Open Government. Send comments on this column to ibjedit@ibj.com.
 
Please enable JavaScript to view this content.