The ambitious Grille 39, at the Renaissance Indianapolis North (11925 N. Meridian St., Carmel, 814-2550), doesn't try to hide the fact that it's a hotel restaurant.

Others wanting to transcend the genre often attempt to hide what they are. Take a seat at one of those and you wouldn't suspect that there's a family of four and a couple of business travelers checking in just outside the doorway. But Grille 39's space blends with the high-ceilinged, well-appointed lobby. Its borders are less defined. The openness gives it breathing room. And it works.

We dined midday, and found the food as refreshing as the atmosphere.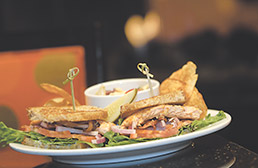 There's nothing fishy about the Salmon BLT at Grille 39. (IBJ Photo/ Perry Reichanadter)
A Salmon BLT ($13.75—perhaps a bit pricey for anyone not on an expense account) didn't need the tartar sauce to give it snap. Inside a toasted sourdough roll, the kitchen layered a good-sized piece of Atlantic salmon with applewood bacon, roasted tomato, sliced avocado and red onion. A cup of Lump Crab Chowder ($5.25) was subtle but well stocked.

The Shrimp Salad Nicoise ($14.75) seemed designed by an art director rather than a chef, with big, leafy lettuce that seemed to come from the Land of the Giants. The lettuce housed haricot vert (thin string beans), finely chopped egg, olives, tomatoes and shrimp with tails still intact. Good luck finding a starting point, but once you figure that out, the flavor combinations work.

Better balancing eye appeal and manageability was an outstanding Pulled Pork Sandwich ($12.50), which used restraint in blending in Montgomery Inn BBQ sauce. The tender meat cooperated well with smoked gouda and a soft pretzel roll. Housemade potato chips on the side were thin, crunchy and delicious.

It was a bad news/good news day for us on the dessert front. Our waiter wasn't aware of a refrigerator breakdown in the kitchen until after we ordered his

recommended Hot Apple Pecan Crisp and the Skyscraper.

"All we can do," he said, "is the Grille 39 Sundae or the Strawberry Shortcake."

"And surely," he added, "we won't charge you for them."

A nice customer service move—especially for a hotel restaurant with a transient population unlikely to become regulars. (Although we did wonder why it took this long for the waiter to find out there was a problem.)

The temporarily limited selection turned out not to be a compromise. The Grille 39 Sundae ($8.50) was more than a bowl of ice cream with toppings—it featured a palate (literally) of toppings to complement a waffle bowl of Graeter's raspberry chocolate chip ice cream. The Strawberry Shortcake ($6.50) proved a bit of a DIY with pound cake, lots of fresh candied strawberries and chantilly cream.

After such a satisfying lunch, it was tempting just to get a room.•

—Lou Harry

__________

Third in a month-long series of "Grill" restaurant reviews.