A tiny convention this fall will rival the Super Bowl in its power to define Indianapolis and outlying areas.

The Society of American Travel Writers descends on Indianapolis for its annual meeting Sept. 9-14, the first time since 2008 the gathering has been held in the United States.



The 250 registrants represent some of the most prominent publications in the industry, ranging from The Wall Street Journal to specialty travel publications aimed at leisure travelers and convention planners, and their impressions can make or break local reputations.

Media exposure from the event is expected to reach more than 50 million people over the next year and generate $3 million in publicity, almost double the Indianapolis Convention & Visitors Association's annual tourism advertising budget.

As a result, local officials are sparing no detail to impress the scribes as they explore the city and places as far from Indianapolis as New Harmony. Dignitaries are at the ready. Tours are arranged. Attractions will be polished.

"This is a huge opportunity," said Chris Gahl, ICVA vice president of marketing and communications. "It's not just about Indianapolis. This is about uplifting central Indiana and the entire state."

Gahl said the Super Bowl helped convince the group Indianapolis was worthy of the convention.

Indiana Restaurant Association President John Livengood noted society members will be interested in different things than the game most Super Bowl writers came to follow.

"This group will be focused primarily on our hospitality and tourism capabilities along with our attractions," Livengood said. "This group of writers has tremendous influence over leisure travelers and meeting planners."

Impressing finicky globe-trotters who have gathered for conventions in New Zealand, Germany, England and Switzerland won't be easy.

The ICVA has a lineup of tours and events to interest the visitors, many of whom will see Indianapolis for the first time, Gahl said.

Some travel writers will arrive with low expectations, with one member admitting many of his colleagues think Indianapolis is "a small Midwestern Rust Belt city."

Michael Hiller, a travel writer for The Dallas Morning News, Houston Chronicle and San Antonio Express-News who has been to Indianapolis once—in 2010—wasn't impressed by some of the city's culinary offerings, particularly its steaks. He also recalls quite a bit of blight near Indianapolis Motor Speedway.

Hiller did, however, rave about new bicycle lanes and trails, a vibrant downtown and sports facilities, and the pizza offerings—especially at Carmel's Pizzology Pizzeria & Pub—as well as brunch at Trader's Point Creamery.

Indianapolis convention officials beat the odds by winning the bid to host the 2012 event. Society executives wouldn't say who competed against Indianapolis, but members said one was a Caribbean location—complete with a cruise.

"The bidding for this event is highly competitive," said society President Betsa Marsh.

Taken by surprise

Marsh, a 26-year veteran travel writer who pens articles for National Geographic Travel and Midwestern Living, among others, thinks convention-goers will be "taken by surprise by the area's numerous hidden gems and untold stories."

"We think a lot of our members, especially those from New York and California, are going to find an Indiana they never knew existed," said Marsh, who has been here several times. "You hear about the city's walkability and hospitality and about its recent development, but you don't fully get it until you get here and explore.

"Indianapolis has become a regional powerhouse and people outside the area simply don't know that. I've been telling [members] they need to come and look and they will be astonished."

Anne Banas, executive editor for Boston-based Smarter Travel and a travel writer of 12-plus years, isn't sure what to expect. She knows Indianapolis has an auto race, but is eager to learn more about the new airport and flight options and pricing, and the city's hotels and downtown infrastructure.

"I especially want to see what the city has from a culinary standpoint," said Banas, who is also a pastry chef. "I expect to find a lot of fresh home-grown food, some nice farm-to-table offerings."

Orion Ray-Jones, a Brooklyn-based travel writer and restaurant critic, is eager to get a glimpse of some "off the beaten path" attractions around central Indiana.

"I want to explore the bike lanes downtown and along the Monon Trail," he said. "I want to get good and lost in some of those neighborhoods that aren't on any tour."

Ray-Jones plans to check out the new Dallara IndyCar chassis factory in Speedway, Fountain Square and the city's burgeoning Hispanic communities.

VIP treatment

Local owners of hotels, restaurants and attractions will be doing everything to put a positive spin on the group's stay.

Scott Blalock, general manager at the JW Marriott, where society members will stay, plans to meet with his employees shortly before the group arrives to stress the importance of this gathering.

"This is a special group because we know they can speak to the world about our hospitality," he said.

Blalock and his staff will greet each arriving member and provide them with a list of local happenings and attractions. During their stay, members will be offered a bevy of meals and snacks, many with a local flavor. They'll also get turn-down service each evening and an offering of a late-night snack.

The menu hasn't been finalized, but Blalock said offerings from fried biscuits with honey and apple sauce to authentic Italian cuisine will be served. The best gourmet coffees and fine wines will be offered, he said.

The JW Marriott—the world's largest—will find itself under the microscope more than most attractions. Society members coming to Indianapolis said they will evaluate the hotel's greetings, in-room and restaurant dining experience, housecleaning, and even elevator speed.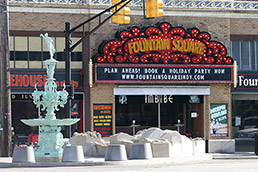 Among excursions offered to the writers will be trips to Indianapolis Motor Speedway and Fountain Square. Other offerings range from The Children's Museum to a tour of basketball shrines led by former high school star Bobby Plump. (IBJ file photo).
"For us, the significance of this is similar to hosting the Super Bowl," Blalock said. "We know this group has a big voice. We worked hard to attract this group, so we're ready. We thrive on getting ready for the big game."

The JW isn't the only local attraction wanting favorable mention.

The Crowne Plaza Hotel downtown hopes its location at historic Union Station and the Pullman train cars attract some of the writers. Indianapolis Motor Speedway is offering behind-the-scenes tours and rides in open-wheel two-seaters capable of 180 mph. The Indianapolis Zoo wants members to swim with its dolphins.

"I can sum up what this gathering means to this region and its hospitality community in one word: priceless," said Glenn Brooks, vice president of General Hotels Corp., which operates 13 locations from Terre Haute to Indianapolis, including the Crowne Plaza hotels at the airport and Union Station. "This could open up the eyes of the world to Indianapolis."

Intense process

Gahl started the intense process of becoming one of the society's 1,200 members four years ago. About two-thirds of the members are writers and the other third are destination marketing executives like Gahl.

Once Gahl became accepted as a member, he set his sights on networking with members, meeting board members and eventually bidding to host the annual gathering, which is typically held in the United States only once every few years.

Just getting accepted as a member was an arduous task, Gahl said, and getting the board to consider Indianapolis alongside Las Vegas, Orlando, and Oahu, Hawaii, as domestic host cities proved even more difficult. Indiana hoops legend Larry Bird was summoned to write a letter to board members detailing the highlights of the city and state—including his hometown of French Lick.

"The momentum of winning the Super Bowl bid and touting the world's largest JW Marriott was the hook that helped win us the bid," said Gahl, who spearheaded the bid effort in 2010.

Winning the bid was just the first step. Convincing members to attend the optional gathering was another matter entirely.

Marketing proved to be an uphill battle. About 350 members have attended recent annual meetings, but when registration for this year's gathering closed July 10, the organization fell about 100 short of that benchmark.

Still, if the return is as great as ICVA officials expect, the expense will be well worth it.

The event budget is $175,000, with $125,000 coming from ICVA, $25,000 from a state tourism grant, and $25,000 in in-kind contributions from ICVA's local tourism partners. The bid includes hotel and meeting room space, audio/video equipment, ground transportation, meals and a variety of tours.

Tours galore

While members will be here for six days for the conference, the majority will come early or stay later for pre-arranged tours—many to outlying areas.

Those half-day and day-long trips include tours of Hamilton County golf courses—including VIP treatment at a PGA Tour event at Crooked Stick Golf Club—as well as Amish country, Brown County, Indiana Dunes National Lakeshore, French Lick and New Harmony.

"I'm worried about the side trips," said Larry Olmstead, an 18-year travel writing veteran who writes for Forbes and USA Today, among other publications. "I don't think Indiana has the kind of side trips attendees are used to."

Gahl is undaunted by the negative perceptions.

"We fight it all the time," he said. "We've fought it through the bid process, and during the registration process, and it continues. But this gathering is all about dispelling those myths and showing that this is a first-tier city and a region with lots of unique attractions."

During the week of the convention, tours will be given of some of the city's tried-and-true attractions such as Indianapolis Motor Speedway, The Children's Museum of Indianapolis and the Eiteljorg Museum of American Indians and Western Art.

Other excursions are less-obvious choices. They include Fountain Square; a tour of basketball shrines hosted by former Milan High School star Bobby Plump; White River via canoe; and behind the scenes at Gilchrist & Soames, a global producer of luxury toiletry items for hotels.

Additional side trips include a bicycle tour of the new Cultural Trail and surrounding attractions led by trail developer Brian Payne, and a Power of Chocolate tour involving the chance for SATW members to roll up their sleeves at The Best Chocolate in Town and learn how to make the store's new line of fall-flavored truffles.

Gahl is confident ICVA is ready to help the region shine. But he emphasized that once the conference leaves town, the work isn't done.

"We'll continue with a lot of follow-up work—touching base and making sure they have all the information they need," Gahl said. "It's our job to never stop pitching the story of this city and region."•