Scale Computing, which made a splash a few years ago with an affordable data storage unit the size of a pizza box, could soon make big waves by marrying it to a computer server.

"A lot of people have called it a 'data center in a box,'" said Scale's co-founder and CEO, Jeff Ready.

Ready
The Indianapolis upstart buoyed by Silicon Valley investors will offer its "HC3" units next month as a lower-cost, simpler-to-manage alternative to conventional setups. It could even be an alternative to the "virtualization" of the data center.

That so-called virtualization trend sweeping IT departments is built around software that allows several operating systems to run as "virtual machines" on a single computer.

That's in contrast to a typical IT department arrangement in a smaller company where individual servers handle distinct functions, such as one for e-mail.

Though virtualization has allowed IT departments to do away with multiple, under-used servers, adopting it poses a number of challenges, especially for smaller businesses.

Among them: licensing virtual machine software such as VMware, upgrading to a bigger server, adding additional data storage, and spending money to train the IT staff to manage the intricacies of the virtual network.

Many of the small/medium-size businesses Scale is aiming for are too spooked to leap to a virtualized data center after vendors explain what's involved.

"If this is what they're drawing on my whiteboard, I'm thinking, 'What the hell?'" Ready said of IT managers balking at the virtualized setup.

Ready pulled out a 350-page book that involves just one aspect of virtualization, and started reading the technical mumbo jumbo in mocking manner.

"Our technology makes all those go away," he said.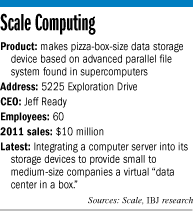 Scale's concept is "hyper-convergence, basically, where the storage and applications and servers—all that is all brought together in a single console," said Arun Taneja, founder of suburban Boston-based Taneja Group, a technology consulting firm testing the Scale units.

That could be a big selling point to smaller firms with only a couple of IT employees who are more generalists than specialists.

Scale's system also can be expanded—scaled up, if you will—by doing little more than plugging another box into the rack.

One reason the HC3 should be cost-competitive is that its basic design, like that of its data storage product, works in such a way as to reduce the need for backup equipment. The underlying architecture of the devices spreads data throughout its nodes so that a failure in one part of the system means the data can still be found elsewhere.

Quantifying the sales potential of HC3 is difficult at this point, but Taneja estimated that Scale could play in a market easily worth more than $5 billion a year.

"What nobody has done in the industry is [calculate], what is the size of this convergence space?" he said.

Ready is reluctant to spout sales projections.

But he's been hiring industry veterans for his executive management team, to help boost sales capabilities. Two executives recently hired came from successful small tech companies snapped up by Cisco Systems and EMC Corp., for example.

In recent weeks, Ready has crisscrossed the country to help prep Scale's distributors for next month's HC3 launch. Scale has $1 million in pre-orders already.

Scale has sold about 4,000 of its pizza-box-size data storage units. Those comparatively low-cost, easy-to-use and robust units have given Scale a name in the market, but the HC3 concept "was actually why we started the company," Ready said.

Scale, which has about 60 employees, hasn't needed to raise additional capital lately. Two years ago, the company landed $9 million from Silicon Valley venture firm Benchmark Capital.

A four-node HC3 unit should come in at under $30,000.•