Indy has no shortage of sandwich shops—Subway, Jimmy John's and many other "what-do-you-want-on-that?" chains.

We don't, however, have many sandwich shops where the portions aren't determined by corporate policy and where the desserts aren't shipped in. Which is why, in this month's visits to "grill" restaurants, I want to celebrate Big City Grill & Lemonade (23 E. 38th St., 283-7000).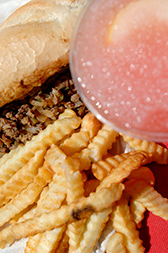 A Philly Steak with fries and a pink lemonade from Big City Grill and Lemonade. (IBJ Photo/ Perry Reichanadter)
No, it isn't the most polished eatery in the city. Its limited seating is more suited to someone scarfing down lunch than to a couple on a date. But the counter service is efficient and friendly. Free WiFi makes it a useful stop between downtown and the north side if that is your travel route, and—most important—the food succeeded well enough that I intend to visit again.

We tried a Philly Steak ($4.99 or a $7.69 bargain with a drink and fries), and once again I have to rant that true Philadelphia cheesesteaks don't contain green pepper. Nonetheless, Big City understands that the quality of such a sandwich increases by finely dicing the meat and thoroughly mixing it with the onions, melted cheese (in this case, provolone), etc. A bit greasy, yes, but there wasn't a tough bite to be found. The fries that sided it were also winners, with more than a dash of seasoning to spruce them up.

An Italian Beef sandwich ($5.49) could have come with a spice warning. The fine-cut roast beef here is mixed with hot, flavorful giardiniera—and packed to near overflowing into a roll with enough strength to soak up some of the juice while keeping everything contained.

You could get a soda, but the house drink is fresh-squeezed lemonade served in 20 oz. cups with the option to add Sno-Cone flavoring, including watermelon and fruit punch. I went with the strawberry, which was added to the icy cup of ade, wrapped in cellophane, and given a quick shake. Delicious—and what I didn't finish at lunch stayed cold on my ride back to the office.

But I didn't leave without dessert. Big City's choices (cheesecake, peach cobbler, etc.) are created locally. I went with Banana Pudding ($2.99) which, with sliced bananas and wafer cookies, tasted like it came right from the family reunion picnic.•

__________

Fourth in a month-long series of "Grill" restaurant reviews.