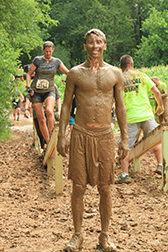 Participants in this year's Mudathlon in Anderson tackle the wooden balance beams, a newly added hurdle to the 5K, which included 40 obstacles. (Photo courtesy of PBC Sports Photography)
A 53-foot box truck loaded with giant wooden spools, tires, signs and other equipment squeezes down narrow roads in rural Anderson, cutting through cornfields and pastures.

Before long, it will be joined by heavy equipment and crews prepared to spend weeks turning grassy fields and nearby woods into the next Mudathlon, a 5K race drawing thousands of participants not afraid to get dirty.

The series of events—coordinated by a 3-year-old Westfield firm with the same name—has grown by, well, leaps and bounds as obstacle course races gain speed nationwide.

More than 12,000 people were expected to participate in four Mudathlons this summer, up from about 2,000 at the company's first two races in 2010.

Graves
Vision Event Management owner Jeff Graves started Mudathlon when he noticed the adventure-race trend gaining popularity. Graves had experience staging other events, including the massive 500 Festival Mini-Marathon, and he was ready for something new.

"If you can produce an event, you can produce any event," he said.

Something's working. About 3,000 participants from 27 states turned out for the June 30 race at White River Paintball Adventures in Anderson. Even more were expected for the July 21 event in Valparaiso.

Last summer, Mudathlon added a race in Ohio to the two in Indiana; this year, a Kentucky event joined the lineup.

"For a small group in Westfield, Ind., we're very happy," Graves said.

Despite Mudathlon's early success, not everyone is eager to jump into the fray. Don Carr, president of locally based Tuxedo Brothers Event Management, simply isn't interested in adventure races.

"To a certain degree, the market is saturated with them now, and I would have no desire to compete against others," said Carr, whose firm will coordinate 40 events this year.

And Carr believes mud obstacle courses are a trend that's going to sink.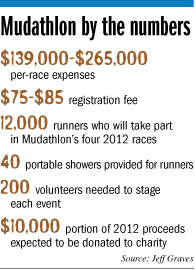 "People are going to get tired of going to pay good money to get muddy," he said.

Prep work

The inspiration for Mudathlon came from Muddy Buddy, a mud race series that started in 1999 and has eight events scheduled this year.

Bob Babbitt, editor-at-large of California race producer and magazine publisher Competitor Group Inc., came up with the idea after participating in a "leap-frog" race in which two team members take turns running and riding a horse.

His version is a six- to seven-mile course that takes racers through five obstacles while alternating running and biking. Babbitt, who calls himself "hyperactive," said adventure races are popular because it's difficult to get bored.

"People are looking for new things," he said. "This isn't supposed to be a suffer-fest. This is supposed to be a party."

Like Muddy Buddy, Mudathlon emphasizes the entertaining aspect of the races. However, Mudathlon's idea of fun includes more obstacles and zero biking. (This year, Muddy Buddy also added a bike-free option.)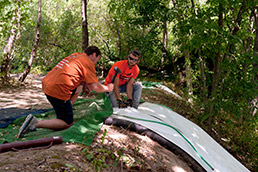 Andrew Wonders, left, and Ryne Lamm make adjustments to a slide leading to mud pits for a Mudathlon race in Anderson. At finish, the track will boast 40 hurdles. (IBJ photo/Eric Learned)
Mudathlon's concept is simple: Teams trudge through the mud, get past the obstacles, and celebrate with a beer.

From start to finish, Mudathlon is hard work for more than just the participants; it's also complex to set up. It takes a few weeks to build a mucky track dotted with 40 hurdles.

At any point, racers can find themselves sliding down a hill into a pool of muddy water, army-crawling under mesh material, or climbing over hay bales. For this summer's race in Anderson, for example, workers spent 10 hours building four wooden balance beams for participants to cross.

First, Mudathlon employees walk the course to mark the 3.1-mile route and determine where certain obstacles should be placed. No two tracks are the same.

Next comes the big equipment. Crews in Anderson used a Bobcat earth mover, machetes and their bare hands to clear paths through a wooded area. They ripped through another chunk of land with a bulldozer to create the most infamous obstacle: a 10-yard-wide and 1- to 3-foot-deep pool of muck.

Fort Wayne resident Stephanie Zimmerman trudged through her first Mudathlon in Valparaiso three years ago. The mud pit was her favorite obstacle.

"You look like an animal," said Zimmerman, 21. "The mud gets in your eyes, and it's actually pretty uncomfortable. … But it's worth it."

The extra mile

When the race is over, it's cleanup time—for both participants and volunteers. Mudathlon supplies showers for runners at most races (others have to make do with a creek), and crews usually clear the event site the following day.

Graves doesn't mind the effort.

"People smile at our events," he said. "How many people can say they do that for a living?"

Although he declined to share the company's financial results, Graves said the races cost anywhere from $139,000 to $265,000 to produce. He expects the most-successful race this year to produce a profit of $90,000, but another event could result in a loss of up to $50,000.

And Mudathlon added a charitable component this year, donating $10 on behalf of each participant who registers as part of a team. Graves estimates that will raise $10,000 for various organizations this year.

Also, when people sign up for the race online, they're asked to donate to the Leukemia and Lymphoma Society. Mudathlon has raised about $1,500 for the organization so far this year, said Graves, who serves on the Indiana chapter's board.

On your mark, get set, go

More than half of Mudathlon participants are women, and the average age is 33. Graves said the athletic abilities of those who sign up run the gamut.

"It's challenging, but anyone can do it," he said.

That doesn't mean everyone should, said Matt Ebersole, who coaches runners at Indianapolis-based Personal Best Training. He said he would refuse to help a client prepare for an obstacle course race.

"I don't think [Mudathlon] has to do with running or endurance sports at all," Ebersole said.

He worries that participating in a Mudathlon could hurt runners who have been training hard to achieve their goals. He said older participants must keep in mind that they aren't resilient kids anymore. The same daring moves they could absorb as children on a jungle gym could damage their bodies as adults.

But he doesn't think mud obstacle course races appeal to many competitive runners, anyway.

"Most of the people I've talked to who've done these are not competition-oriented," Ebersole said. "They just want to go out and do it."

Graves doesn't consider himself or his colleagues runners, and he acknowledges that these events might not fulfill hardcore runners' desires. That's why he refers to Mudathlon as an obstacle course, not a road race.

Zimmerman, who has run Indianapolis' Mini Marathon before, said Mudathlon has a much more relaxed atmosphere.

"It was a workout, and it was active, but it was fun," she said.

But as the cliché goes, it's always fun until someone gets hurt.

Graves said every race includes the inevitable injuries: cuts, scrapes and bruises. But he also has seen broken bones and dislocated shoulders.

Risk of injury obviously presents liability issues and increases the chances of Mudathlon's being sued.

"That's the thing that scares me the most," Graves said. "I love producing these, but don't ever want to see anyone get hurt."

Mudathlon has liability insurance and tries to control the situation as much as possible. A handful of volunteers are medical personnel, and the company sets up a medical tent and has two ambulances at the ready.

When temperatures passed 100 degrees a few days before this year's Anderson race, Mudathlon agreed to let 600 participants apply their registration fee to another event.

Racers are required to sign a waiver saying they understand the risks involved—and that they'll be ejected if they put others in harm's way.

"We've had some people we've had to kick off the course because they've been acting stupid," Graves said.

Perhaps they got carried away with acting like a kid again—what Graves said is one motivation to do the Mudathlon. That's why Zimmerman would do it again.

"There are only a certain number of times in which you can justify getting muddy and running around with a large amount of people who are doing the same thing," she said.•