Superintendent of Public Instruction Tony Bennett is out-raising his Democratic opponent, Glenda Ritz, 15-to-1.
Bennett has raised $579,131 this year to Ritz's $36,895, campaign finance reports show. His war chest is even bigger—he has $779,192 in cash on-hand to Ritz's $24,532.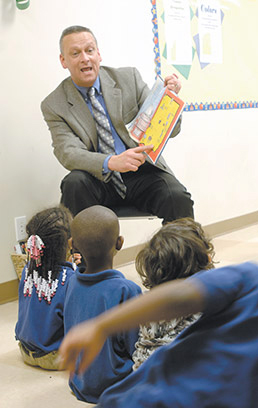 Indiana education chief Tony Bennett is raising big money in his campaign for a second term. (IBJ File photo)
Clearly, the Republican incumbent and chief school reformer has better access to deep pockets than Ritz, a media specialist at Crooked Creek Elementary in the Washington Township district.
So what's Bennett really running for?
The level of fundraising in this race is unprecedented and speaks to Bennett's opportunities on the national stage, said political analyst Ed Feigenbaum, publisher of the Indiana Legislative Insight newsletter. Bennett could attract attention from Republican presidential candidate Mitt Romney's campaign as a pick for secretary of education, Feigenbaum said.
He could also ward off Democratic challengers in Indiana for a long time to come. (There are no term limits on the top educator's office.)
Bennett received 11 gifts of $10,000 or more in the last quarter, and a couple more have come in since June 30. Wal-Mart heiress Alice L. Walton wrote the biggest check yet: $200,000 on July 19. Chicago hedge fund manager Anne Griffin gave $25,000 July 12.
Other out-of-state donors include New York Mayor Michael Bloomberg, who gave $40,000; Roger Hertog, a New York financier who gave $25,000; Paul Singer, a New York hedge fund manager who gave $10,000; and Daniel Loeb, another New York hedge fund manager who gave $25,000.
Bennett also attracted big gifts from influential Hoosiers. Weaver Popcorn President Mike Weaver gave $10,000; Todd Wolfe of DECA Financial Services gave $10,000; Dean White gave $25,000; and Christel DeHaan gave $50,000.
Please enable JavaScript to view this content.