I didn't expect to find a quote from a long-dead French food writer on an Indianapolis restaurant's website, but there it was: "In cooking, as in all the arts, simplicity is the sign of perfection."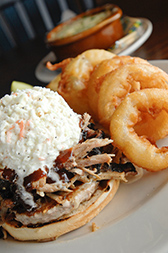 JT's Pork Out sandwich is a wonderful combination of grilled and smoked meat topped with coleslaw. (IBJ Photo/ Perry Reichanadter)
Maurice Edmund Sailland's words ring true, no matter what the folks at Food Network would have us believe. A well-prepared dish doesn't need sauces and sides to get my attention. Same goes for restaurants: White tablecloths and black ties do not necessarily equal excellence. Tasty food and friendly servers mean more.
I found both in abundance at JT's Grille & Bar (2210 E. 54th St., 253-3300). As JT's variation on the standard "bar-and-grill" name implies, the focus at this neighborhood joint is on the food, not the drink. And the quote on its home page told me I probably wouldn't have to resort to Google to decipher the menu.
Indeed, the choices at JT's are delightfully simple. And our selections were downright delicious.
I'm a sucker for a funny name, so I instantly gravitated to the Pork Out sandwich ($8.95): a grilled pork patty topped with pulled pork topped with coleslaw and served on a grilled bun. A side salad helped me justify the indulgence. (And I only tasted a drop of the yummy house-made bleu cheese dressing as a favor to you, dear reader.)
The pork-on-pork combo was fabulous. The patty was a solid foundation for the shredded meat and creamy coleslaw, keeping the sandwich together and providing a flavor-packed crunch that left me wanting more. The pulled pork, cooked in a smoker out back, was more subtle than the patty but equally appealing.
My husband continued his quest for a restaurant meatloaf that rivals his "World's Best" recipe, ordering the Angus Meatloaf ($11.95) sided by cheddar whipped potatoes and a bowl of French onion soup ($2.50 upcharge). His clean plate was the surest sign that JT's is a contender. Topped with a sweet-yet-tangy
sauce, the generously sliced loaf was moist and flavorful—its ingredients blended thoroughly enough before baking that they were impossible to identify.
Our companion opted for Chicken Cutlets ($11.95) with a side of baked beans, literally groaning with pleasure at juicy meat and light Italian breading pan-fried to golden perfection.
Then came dessert, thanks to our solicitous server's high praise for the post-meal goodies the kitchen staff makes. We gambled on the Ambrosia cake ($3.50) and hit the jackpot. The fruity layer cake was moist to the point of creaminess, its light frosting making it seem less decadent than I'm sure it was. Simply perfect.•
__________
Last in a month-long series of "Grill" restaurant reviews.
Please enable JavaScript to view this content.