The Indy Warehouse Automation Expo, Aug. 1 at the Primo Banquet Facility in Plainfield, won't have the characters and drama of, say, a Star Trek convention.
But the technology involved in managing the region's mega-warehouses and manufacturing floors is pretty far out—everything from radio frequency ID tags on merchandise to ultra-fast cameras to the next generation of two-dimensional laser scanners.
"We're the guys in the background helping to make these industries operate more efficiently," said Dave Mattingly, president of Noblesville-based EMP Technical Group, which is putting together the event.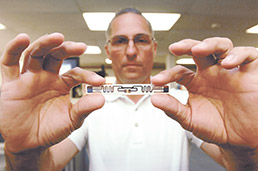 EMP Technical Group President Dave Mattingly displays the radio tag that tracks down stray garbage totes. (IBJ Photo/ Perry Reichanadter)
EMP installs and configures data-collection systems for some of the biggest companies in the region, including Cummins Inc., Eli Lilly and Co., Rolls-Royce and Subaru.
Among EMP's ongoing projects are carts used to program RFID-equipped trash totes for the city of Toronto.
The radio tag tells garbage truck operators whether the customer is using the bin assigned to him; the tag can even track down lost totes. Swipe a larger-capacity tote from your neighbor down the street and you're busted.
Closer to home, EMP has been building carts for a local Pep Boys warehouse that can be rolled from pallet to pallet to process information.
In 2005, EMP was spun off from Westfield-based Enterprise Marking Products, a labeling firm. EMP last year had revenue of almost $5 million, up 45 percent from the previous year. Last year, it moved to a new location in Noblesville. The firm has a dozen employees, about half of them engineers.
Please enable JavaScript to view this content.