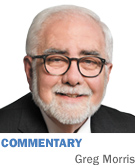 I would like to introduce you to a worthwhile organization you might not be familiar with. It's the Indianapolis Legal Aid Society. In the interest of full disclosure, I recently joined its board, but that gives me an intimate inside look at the operation.
Very simply, the Indianapolis Legal Aid Society operates as a civil law firm for the poor in central Indiana. This low-income population would not be able to afford much-needed legal assistance without the help of an organization like ILAS.
Serving since 1941, the society is the only organization in central Indiana where a low-income client can sit down with a highly qualified attorney immediately, or within one to two days of requesting consultation, to discuss a civil legal question, and pay no attorney's fees.
It was the first organization of its kind in the state, and it has operated continuously since its incorporation, compiling a record of continued growth and provision of quality civil legal assistance.
Today, it's the largest organization in Indiana devoted solely to the non-ideological, non-sectarian, non-governmental provision of civil legal assistance to persons of limited means. Many of the society's clients have issues that involve family law, and a significant number of cases involve bankruptcy, housing, property, debt, and a host of other miscellaneous issues.
Among the family issues the organization handles are adoption, paternity, visitation, guardianship, support, custody and divorce. The majority of the legal issues involve the interests of women, children and the elderly—women in need of protective orders for themselves and their children, couples wishing to adopt, elderly individuals wishing to resolve housing issues so they can remain in their own home, and grandparents wishing to properly care for their grandchildren through guardianships. ILAS does not handle fee-generating cases or criminal matters.
Huge obstacles are removed when any of these legal issues are resolved. Family members are able to move on with their lives—without fear and uncertainty—and to become more productive.
Many clients also have non-legal problems. The society's attorneys are trained to evaluate such problems and to refer clients to appropriate social service agencies, which are usually other United Way affiliates.
The society's service area consists of Boone, Hamilton, Hancock, Hendricks, Johnson, Marion, Morgan and Shelby counties. Services are available to individuals and families with incomes of less than 125 percent of the federal poverty level guidelines. According to the 2010 census, more than 200,000 people would qualify for this service in central Indiana.
The society's staff of seven full-time lawyers and one part time, together with scores of volunteers, annually screen more than 15,000 inquiries, and competently counsel and represent about 8,000 low-income clients. The society's lawyers are in court an average of three times per day.
John Floreancig, general counsel, explains: "We are truly a law firm for the poor. And in that I mean that we operate like any law firm of the city of Indianapolis would, with the exception that we don't charge fees for our services. In my opinion, it's the only way to serve a low-income client."
I asked Floreancig to give me an example of a recent case and the outcome obtained for the client. "When their father was convicted of abuse of one of their children, our client [the mother] needed an immediate modification of custody to keep the children out of foster care in a Washington State Juvenile Court action," he said. "We were able to act, on an emergency basis, to coordinate all parties and courts and to prepare the necessary documents for modification of the children's custody in a matter of days. Both courts accepted the documents and the children were safely placed in their mother's custody."
This is just one example of hundreds of cases handled each year by ILAS. If you want to help the organization in any way, by donating either your time or treasure, contact Floreancig at 635-9538.•
__________
Morris is publisher of IBJ. His column appears every other week. To comment on this column, send e-mail to gmorris@ibj.com.
Please enable JavaScript to view this content.