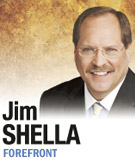 He lost the majority in 2010 and staged two failed walkouts in 2011 and 2012. That was part of it. He thinks it was personal—based on age, height and appearance (the hair jokes won't go away)—and that was part of it, too.
But what Pat Bauer doesn't realize, or admit, is that there was an expiration date on his post as Indiana House minority leader because of what he did to get it and what he did to keep it.
The leadership style Bauer maintained ever since he became the Democratic point man in the General Assembly has been rooted in fear and intimidation. When he was first elected speaker, supporters were assigned to sit next to members who were on the fence and look over their ballots. Vote for Pat, or face consequences.
He's been a micromanager who gave others little authority and even less independence. As an example, when Bauer was chairman of the House Ways and Means Committee, he handled negotiations on the budget bill. When he became House speaker and later minority leader, he still handled negotiations on the budget bill or, for that matter, whatever piece of legislation included the most important deal in a given session.
Republican Luke Kenley seemed to be the only one from the other side who could work with him. He wouldn't attend most social events or even many lobbyist luncheons when Republicans were there.
He would listen in on key hearings, and he was known to call committee members (and when the Democrats were in control, chairmen) into his office for mid-hearing strategy sessions. The stories of behind-closed-doors temper tantrums and shouting matches are legion.
The list of Democrats who challenged his approach is a list of lawmakers who also possess leadership skills, yet saw themselves demoted by Bauer in an effort to keep control. Rep. Win Moses, D-Fort Wayne, was moved to the back of the chamber. Rep. Ed DeLaney, D-Indianapolis, was removed from the Ways and Means Committee. Rep. Chet Dobis, D-Merrillville, lost his leadership post and had his office taken away.
The demotion that did Bauer the most damage may be that of Rep. Dale Grubb, D-Covington. Grubb was the caucus chairman for the House Democrats up until he returned to the floor during the 2012 Democratic walkout.
It was a tough decision for Grubb, who tried to work within the caucus to end a failed strategy. He had reached out to GOP leaders seeking small concessions that might give Democrats a reason to come back to work, and, when Bauer rejected them, Grubb made a public statement. As a result, Bauer took Grubb's leadership position away.
Of course, Bauer also rewarded colleagues and won support for doing so. Notably, he appointed African-Americans Bill Crawford, Charlie Brown, John Bartlett and Greg Porter as committee chairmen and gave leadership posts to two others, Earl Harris and Vanessa Summers. That made the black caucus his base of support.
Bauer maintained a loyal staff, yet that might be part of his problem, too. Fellow Democrats believe he became isolated and insulated. Mostly, they wanted input into campaign strategy for House Democratic candidates this year and tried to quietly convince him to accept advice from others. When he refused, they set out to replace him.
And when push came to shove, the people behind the movement to replace Bauer included not just Grubb and DeLaney, but also Brown. The expiration date had arrived.
He should have seen this coming a long time ago.
(Correction: In a previous Forefront column, a reference was made to a Twitter account (@greggplan1) that is used to attack the campaign of Democratic candidate for governor John Gregg. It is operated by a supporter of Republican Mike Pence, not the Pence campaign.)•
• Shella is WISH-TV Channel 8's political reporter as well as host and producer of the Emmy-nominated "Indiana Week in Review." Send comments on this column to ibjedit@ibj.com.
Please enable JavaScript to view this content.