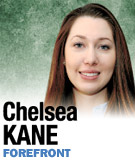 Thanks to Indiana Black Expo Inc., Indianapolis police and all affiliated for the fantastic showing at this year's Summer Celebration. It was a pleasure to watch the expo board and the Indianapolis community as they worked to recover from the tragic shooting that detracted from the Summer Celebration in 2010.
Many worked hard to ensure the event would not be marred by violence similar to that encountered in previous years. The 42nd year of Summer Celebration was a great success, and I am proud of all those involved who continue to bring esteem to our city.
It has been unfortunate to hear the criticisms and judgmental rumblings regarding the decorum of expo visitors and tourists over the past few years. The violence of summer 2010 only served to solidify negative perceptions of the African-American community held by some less-than-sensitive members of the community.
Increased police presence and proactive response from Black Expo have been criticized as being ineffectual and tardy. Some have ignorantly questioned the value of the expo, citing the violence of 2010 as "evidence" that the event serves only as a haven for aggressive behavior. These propositions are frequently, though not always, steeped in racist beliefs.
Suggestions that expo be amended or canceled are absurd. The expo is an important cultural, educational and economic event. This event highlights the best of Indiana's black leaders, businesspeople, educators and elected officials.
Further, expo provides a stage for these individuals and their communities to share their success with the world. Events like the expo are beacons for African-American young people.
Many individuals ignorantly assert that violent events like those in 2010 are "culture-bound." This is a watered-down way of saying violent acts are perpetrated only by African-Americans—an assertion that is patently racist and off base.
Very little racial clustering is evident in statistical studies of violent crime, particularly murder. Although African-Americans are over-represented relative to their demographic composition, Caucasians commit more murders than African-Americans across all measured categories, according to the Indiana Criminal Justice Institute. However, I am not here to talk statistics.
Anytime large groups of people gather, the potential for accidents, altercations and crime increases. However, any occasion where Hoosiers and/or visitors have the opportunity to share and celebrate together should be protected and supported.
The myriad comments that peppered Indianapolis Star coverage of Black Expo range from genuine gratitude to unabashed disdain for the steps taken to ensure safety of patrons to the events surrounding the event.
Some challenge the necessity of increased police presence, questioning whether it should be the responsibility of taxpayers to "foot the bill" for heightened security.
To those who tout this argument, I ask, would you consider reducing police presence following violent criminal activity at events like the Indiana State Fair, the Indianapolis 500, the Super Bowl, the Final Four, Olympic trials? My guess is no.
Because this is a prominent event in the African-American community, people act as if it is open season to generalize, judge and demean the merits of the expo. Black Expo and its patrons deserve the opportunity to put on a world-class event without the threat of violence or prejudice from inside or outside their contingent.
If putting on such an event requires increased security presence to ensure the health and safety of visitors and to protect the integrity of Indiana Black Expo Inc., so be it.
I will be the first to stand behind Black Expo as it continues to work to build a high-quality and safe environment for its members and Summer Celebration participants.
Increased police presence, strict curfew enforcement and communication in local community centers all served to reduce crime and improve the flow of festivities. I hope to see many more successful Summer Celebrations.•
• Kane is a doctoral student in clinical psychology at the University of Indianapolis and a past president of the College Republicans at Indiana University. Send comments on this column to ibjedit@ibj.com.
Please enable JavaScript to view this content.