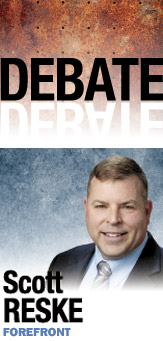 QUESTION: With the U.S. Supreme Court upholding the constitutionality of the Affordable Care Act, what action, if any, should Congress take in response?
ANSWER: While the top priorities for Congress must be improving our economy and creating jobs, it is also important to ensure the implementation of the Affordable Care Act does not lead to counterproductive results.
Following the Supreme Court's ruling on the ACA, it is the responsibility of Congress to ensure the consumer protections, cost-savings measures and market-based requirements in the legislation are maintained while eliminating provisions that impede innovation and advancements in health care.
Like many important issues in our hyper-partisan political environment, the decision on the ACA has led to unproductive rhetoric among politicians who seek to score political points rather than find actual solutions. Those who call for a blanket repeal of the ACA fail to recognize the necessary and overdue consumer protections in the law.
Further, calling for repeal without offering an alternative plan does nothing to solve one of our nation's greatest problems.
In improving the ACA, we must remove provisions that serve as impediments to medical advancement such as the medical device tax currently in law. With the importance of the life sciences industry to our state, the 5th District's representative in Congress must be a clear voice against any taxes, fees or unnecessary regulations that interfere with medical research, technological advancement, and the delivery of new and better medical options into our system.
While the ACA is far from perfect, we must consider the factors that led to the push for overhauling access to our health care system. Although America's health care technology is the best in the world, our average accessibility to care is one of the worst of any industrialized nation.
Consumers were at the mercy of insurance companies in decisions regarding treatment, often at a time medical decisions were literally a matter of life or death. Of particular concern were policies that limited or denied access to care for children and unfairly burdened women.
Under the old system, far too many Americans were only one major illness from falling into poverty, being dropped by their insurance provider, or being denied coverage due to a previous illness.
Eventually, the uninsured used the costly emergency room doors to gain access to health care at great expense to hospitals and taxpayers. In the end, those paying insurance premiums and medical bills also paid for everyone else's care.
Congress must support this shift toward a prevention-based system and away from an unnecessarily expensive, reactionary system.
Under the ACA, providers now have the proper incentives to provide wellness options. Preventing disease and responsibly managing chronic illnesses will produce better results for patients while creating significant cost reductions.
Consumer protections, such as the removal of lifetime benefit caps and forbidding insurance companies from dropping sick customers and denying coverage due to pre-existing conditions, must be protected. In addition, allowing young adults to remain under their parents' health care coverage will give them added stability as they make their way into the work force, a daunting task in our current economy.
While I believe health care is an important issue in our nation, Congress must immediately focus the bulk of its efforts on addressing our economic problems and creating jobs. As a congressman, improving our economy will be my top priority. We must also eliminate our budget deficit, protect Social Security, and create a simpler and fairer system of taxation.
Our failure to act in these matters could lead to disastrous results for our economy and rob future generations of opportunity.•
• Reske, a Democrat of Pendleton, is running for the 5th District seat in the U.S. House of Representatives. Send comments on this column to ibjedit@ibj.com.
Please enable JavaScript to view this content.