I'm always thrilled to tout a good new local restaurant. I get even more excited when that restaurant has the potential not only to anchor but also to help define a part of town.
All that is the case with Bluebeard (653 Virginia Ave., 686-1580), the new eatery already making a name for itself in the Cultural Trail construction zone between downtown and Fountain Square.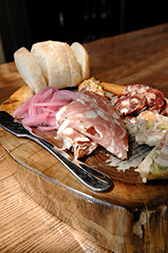 The Charcuterie at Bluebeard offers meaty surprises. Bread and more fill out the appetizer. (IBJ Photo/ Perry Reichanadter)
For a fairly flawless lunch in an artfully rumpled environment (check out all the old-school typewriters), we started with the Charcuterie ($14). Handsomely served on a slice of tree trunk, it included the pate-like duck rillette, delicious slices of elk and pork salami, fresh baked bread from adjacent bakery Amelia's, pickles, and more. Both soups on the day's menu, Puree of Roasted Fennel & Potato ($5/$8) and Watermelon Gazpacho fluke ceviche ($5/$9), distilled unique flavors down to their liquefied essences (although the former was too rich for me even to finish a cup).
Sandwiches dominate the main lunch selections and, on Amelia's bread, the kitchen would have to work pretty hard to create a dud. Quite the contrary: My companion and I fell over ourselves singing the praises of each of our sandwiches. Mine, the Agnello Roasted Lamb Shoulder ($13), was dressed with pepper chutney, saffron aioli, scallions and romaine lettuce. That's a combo that
might sound busy, but here the flavors blended effortlessly into an original, winning creation. I barely was able to steal a taste of The Salumi Salami, Mortadella and Hot Coppacolla ($12) that my guest ordered. Pickled red onions and grain mustard provided just the right accents.
Bluebeard also serves creative salad combos
(Greek beets and green beans anyone?) and medium plate entrees for lunch (on our visit, mussels and a white pizza with oysters and pork sausage). And while the more-than-standard prices might cause you to stop before desserts, those who continue will be glad they did, based on our sampling of the Buttermilk Bread Pudding ($8), which was served as a small but mighty fine pair of treats, with sweetened ricotta, almonds, honey and prosecco pickled cherries—which should be available by the jar.
Warning: Offerings here can change depending on availability of fresh, largely local, ingredients. And, as of now, Bluebeard doesn't accept reservations. Still, you shouldn't have any reservations about venturing down Virginia Avenue for one of the best new Indy restaurants in recent memory.•
—Lou Harry
First in a month-long series of colorful restaurants (which will resume after next week's state fair food binge).
Please enable JavaScript to view this content.