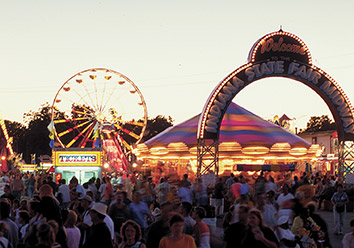 The Indiana State Fair that opened Friday is trying to shake off the emotional and economic shadow of last year's deadly stage collapse, pumping up the event's appeal in hopes of drawing back crowds whose faith in the annual tradition was shaken by the tragedy.
Stage rigging fell onto a crowd waiting for the country duo Sugarland to take the stage as high winds slashed through the city ahead of an approaching storm last Aug. 13. Seven people died and dozens more were injured, including some who are still struggling to recover.
The collapse sparked months of investigations and lawsuits amid questions about why the show wasn't canceled or postponed. In the year since, fair officials have made sweeping changes to their safety procedures and changed the organization's management structure. Lawmakers passed a bill requiring state inspections of such temporary structures.
Fair officials and vendors hope it's enough to bring people back to rebuild fond memories of an event many liken to a family reunion.
"I think it's a good idea to bring people back out and let them know the fair is a safe place," said Chris Tincher of Corydon, whose family has been bringing its deep-fried candy stand to the fair for about 50 years.
Still, the impact of last year's collapse is evident even beyond the memorial plaque outside the grandstand that honors the seven people killed.
Ticket prices are up and a new parking fee has been implemented as officials try to recover from a steep drop in revenue after the collapse, which forced the fair to cancel several big concerts and close for a day. Attendance was down 8 percent from 2010, and the fair's overall revenue fell from $11.9 million in 2010 to $8.38 million in 2011. Profit shrank from $1.23 million to $310,953 during the same period.
This year's headline concerts, which include shows from Barry Manilow, Train and Blake Shelton, have been moved to Bankers Life Fieldhouse in downtown Indianapolis. That takes people — and the money they'd spend at the fair — off the fairgrounds for events that typically are big draws.
Fair organizers hope to offset that impact by increasing shows on a permanent free stage, where acts like REO Speedwagon and MC Hammer will perform. The grandstand will offer more thrill-based entertainment, like motorcycle races, tractor pulls and monster truck rallies.
"This is the most programmed that we've ever been," fair spokesman Andy Klotz said.
The fair also is promoting options for discounted tickets and is offering concertgoers who attend the downtown shows free admission on any day of the 17-day fair.
"We believe this fair will be about healing," said Fair Commission Executive Director Cindy Hoye.
While she says the fair must move on and get back to being a place where people go to celebrate Indiana tradition, Hoye noted it's important to pay respects to the victims of the collapse.
A moment of silence is planned for 8:46 p.m. Aug. 13, the anniversary of the collapse. Amusement rides, games and concession stands will come to a halt, perhaps for as long as five minutes.
How well the changes play with fairgoers won't be known until the final attendance and revenue figures come in. Many of those arriving for the fair's opening Friday said they thought the fair was likely a safer place because of the new protocols.
Ashley Gregory, 21, of Danville, Ind., paused to reflect by the plaque honoring the victims. She was at the concert last year when the stage collapsed but wasn't injured.
She said being at the fair "feels different" this year but that she couldn't stay away.
"I love the state fair. I'll always come back to the support the fair," she said.
Lindsey Lewis, 21, a Purdue University student from Greenfield who was at the grandstand with a friend the night of the collapse but left as storm clouds approached, shared that sentiment.
"When that accident happened, like all of us came together and kind of grieved even if we didn't know the people," Lewis said. "And I think that's what this year is all about — coming together."
Please enable JavaScript to view this content.