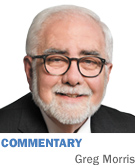 The headline on page two of the July 29 Indianapolis Star read, "For The Star and its readers, changes ahead in changing times."
Karen Crotchfelt, president and publisher of Star Media, alerted readers to changes aimed at limiting free access to news on the IndyStar.com website and on smartphones and tablets. Effective Sept. 1, nonsubscribers will be able to read up to 20 articles a month before needing to subscribe.
Times are definitely changing. Through my role here at IBJ Media and as president of the board of the Hoosier State Press Association, I field a lot of questions about the future of newspapers. Are there going to be newspapers in five years? Can newspapers stay in business? Is journalism going to disappear, leaving us to get all our information from blogs, social media and other unreliable sources? And the list goes on.
I want to offer my perspective on where the Indianapolis Business Journal falls in this digital metamorphosis. I believe our company is a small microcosm of the entire industry. First, yes, I believe the printed newspaper will be around for many years to come. I do believe smart newspaper operators can stay in business and make a profit. And, yes, I do believe journalism will continue to be a mainstay. I readily admit it is harder to sort through fact and fiction on the Internet. That's why you should rely on quality news brands you know and trust.
I haven't viewed our organization as a newspaper company for a long while. Rather, we are a news and information company that distributes our unique local business content via newspapers, e-newsletters, online websites, iPhone and Android smartphones.
In the next few months, apps for the iPad and other tablet devices will be among our offerings, and we stand ready to look at new forms of distribution as new formats develop. We break news online daily, seven days a week. Yes, our printed newspaper is still the most important form of distribution of our information, but digital platforms continue to grow every year.
I don't believe our business is print or digital. It's print AND digital. The successful business model today blends the two platforms and delivers news to readers when, where and how they want it. Each year, more of our subscribers opt for a combination print and digital subscription.
Today at IBJ, we publish more news online on a daily basis than we do in the weekly newspaper—by a large margin. The newspaper coverage is more in-depth. However, if you don't keep up with our online coverage, you miss a lot. Currently, you need a paid subscription to get our newspaper content online. That is protected, premium content. But all the other news we produce digitally is free. A business model that provides mostly free digital content can't continue in the long term.
Which brings us back to The Indianapolis Star's new metered business model and why I think it's the right strategy for today. Many publications are employing this new approach. And yet many folks today don't think they should have to pay for online news. Everybody wants everything for free.
Of course, it costs a lot of money to produce great journalistic news and information. It doesn't cost much for someone to sit down at a computer and blog their opinion. If you want great, unique content online that is of true value, you're going to have to pay something for it.
The Indianapolis Star's unique online content has value. IBJ's unique online content has value. There needs to be an investment by readers commensurate with the value received. IBJ will be announcing online access changes of its own by year-end. In the meantime, I want to say thank you for reading IBJ in print, online at ibj.com, via e-newsletters in your inbox, and on your mobile and tablet devices.•
__________
Morris is publisher of IBJ. His column appears every other week. To comment on this column, send e-mail to gmorris@ibj.com.
Please enable JavaScript to view this content.