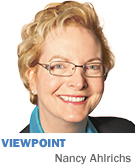 Multiple organizations, from St. Vincent Health to Emmis Communications Corp. to Buckingham Cos. to Riley Children's Foundation, have added a "chief strategy officer" to their ranks. United Way of Central Indiana added "strategic thinking" as a core competency, a set of skills expected to be exhibited by all employees no matter their responsibilities, from the receptionist to the CEO. What is going on?
Each decade, businesses in search of growth focus on a different function in the organization and develop it to enhance the odds of bottom-line results. In the 1970s, bottom-line growth was supposed to come from the sales function; in the 1980s, the key to growth was operations and processes. In the 1990s, growth was all about quality, and in the first decade of the new century, technology held the solution.
In the decade starting with 2010, strategy—heretofore the sole responsibility of the chief executive—is seen as the source from which bottom-line success will come.
There is good reason for the emergence of strategy as the new "grail." For one thing, other functions have been fully maximized and commoditized. Now everyone has excellent sales, operations and processes, quality controls and technology—or knows that they should. For another, it does not matter what your industry, your organization is functioning very differently than it did at the beginning of the recession—in the previous decade.
Strategy today is not just about opening new markets or finding new products or services to sell. It might involve two organizations collaborating on shared services, shared strategies or even a shared chief strategy officer position!
Strategy development has become a dynamic, continual process, so it is critical to have rapid, effective decision making and communication throughout the organization. Communication must be as real-time as possible to communicate any strategy refinements and minimize the likelihood that any employee will misspeak or be off message.
In most organizations, the quality of the executive team is considered the organization's competitive strategy—but it is no longer enough to have top talent in leadership if there is mediocrity anywhere else in the organization. Today, every employee—especially every customer-facing employee—is seen as being a competitive differentiator.
Now that strategy is a priority, more organizations are adding a "chief strategy officer" or are adding "strategic" to their management-level employees' titles, to convey the expectation of a bigger-picture view and responsibility. Many organizations are screening new hires for strategic-thinking skills and training their employees, too. Often, all employees are involved in strategic planning—to get their buy-in and their ideas. When the entire organization is trained in strategic thinking and has accountability for executing on appropriate opportunities within its control, more organizational goals will be met.
Since every system is perfectly designed to deliver the results it gets, the first step of strategy development involves evaluating the organization's design as a whole and drilling down on organizational performance at every level.
Is strategy execution part of every manager's performance requirements? Are managers held accountable for the performance of their staff members? Do core and functional competencies support the strategy? Are they linked to hiring and performance review processes? Are there differentiated rewards for top performers?
Today, strategy is not going to sit in a binder on the shelf. No, in 2012, strategy execution is likely to be woven into the culture of the organization by being part of every employee's responsibilities—and for some, strategy is job one.•
__________
Ahlrichs is strategic account manager for FlashPoint and author of "Competing for Talent." Send comments on this column to ibjedit@ibj.com.
Please enable JavaScript to view this content.