Indiana this year became the 23rd state to enact a right-to-work law in which workers cannot be compelled to pay union dues. Within months, individual workers in union shops opted out, even as court challenges linger.
"Workers are starting to use it, and we are receiving calls about it," said Anthony Riedel, deputy legal information director for the National Right to Work Legal Defense Foundation in Springfield, Va.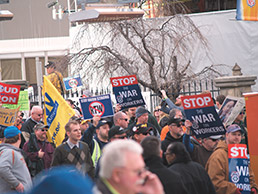 Groups marched in the Super Bowl Village in protest of the 2012 Indiana General Assembly's right-to-work bill. Unions fear membership declines.(IBJ Photo/ Julie Kirkendoll)
One of those first workers was Robert Symonds, a truck driver who worked at trucking firm Indianapolis Haulage LLC. Symonds sought the foundation's assistance in his successful effort to stop paying dues to International Brotherhood of Teamsters Local 135.
"You shouldn't have to pay union dues to get or keep a job, which is why Indiana's new right-to-work law is right for Hoosiers everywhere," foundation Vice President Patrick Semmens said in a July 16 statement issued after the foundation intervened and the local union agreed to stop deducting dues from Symonds' pay.
Adoption of right-to-work in Indiana and the recent U.S. Supreme Court decision, Knox v. SEIU, limiting unions' ability to force members to pay for political activity, are the latest in a series of recent blows that observers say could stagger organized labor.
"I think it will strip a lot of the basic ability to organize," David Gray, a director at Lewis & Kappes PC in Indianapolis, which represents employers in labor disputes, said of Indiana's right-to-work law. "The number of union members, I think, will go down dramatically."
The full effect of Indiana's right-to-work law is yet to be seen. Workers cannot opt to stop paying dues until contracts that cover them expire. And state agencies are still drawing rules governing how workers may go about removing themselves from membership.
Kenneth Dau-Schmidt, the Willard and Margaret Carr professor of labor and employment law at Indiana University Maurer School of Law, said Knox won't have much impact on Indiana because it deals with special assessments on a class of workers covered by union security clauses, which are being phased out under right-to-work.
But, he said, Knox is the latest in a line of labor rulings that endangers the right to organize because it prevents unions from collecting money for political speech. In contrast, he said the U.S. Supreme Court's Citizens United ruling holds that any restrictions on individual and corporate political spending would violate the First Amendment guarantee of free speech.
"You can argue that this is the biggest power grab by the upper class since the Gilded Age of the 1890s," Dau-Schmidt said of the disparate rulings in Knox and Citizens United. "It will have an effect on our democracy."
Right-to-work rules
The divisive battle in the General Assembly over right-to-work ended with Gov. Mitch Daniels' signature on the bill in February. Months later, how to enforce the law is still being worked out.
Indiana Department of Labor spokesman Bob Dittmer said the department has finished promulgating its rules, which have been approved by the attorney general and governor. They then will be published and finalized, probably by Oct. 1, he said.
As of late July, Dittmer said the Labor Department received no formal right-to-work complaints.
A July 10 public hearing in a state office meeting room overflowed with labor, business and legal interests, he said. Comments on proposed rules were taken through July 16.
Under the statute, a right-to-work complaint may be filed with the Department of Labor, the Attorney General's Office or a local prosecutor. Right-to-work actions also may be filed in court. Dittmer said complaints filed in other state offices will be handled by the Department of Labor.
The law does not cover public employees or those subject to the Railway Labor Act.
According to the U.S. Bureau of Labor statistics, 333,000 Hoosiers—about 12.4 percent of the work force—were represented by unions in 2011. That's a slight increase over the past two years, but about half the percentage of those represented by unions in 1989.
Who pays dues?
Under the right-to-work law, no one may be compelled to be a member of a union or pay dues for political activity or for general membership representation.
That violates the state constitution, argues Jim Robinson, director for United Steelworkers of America Region 7, which represents members in Indiana and Illinois. The steelworkers union is a plaintiff in a lawsuit in Lake Superior Court that alleges right-to-work violates a section of the state constitution that says, "No person's particular services shall be demanded, without just compensation."
Robinson and others said the argument is that unions still are legally required to provide services to workers they represent, whether or not those workers are dues-paying members.
"The right to freeload has been around since the '50s" as a matter of federal labor law, Robinson said. "But the Indiana constitutional issue is unique to Indiana, and we think it's a good case."
Robinson said the state has filed a motion to dismiss the case, and a ruling is expected at any time.
The National Right to Work Legal Defense Foundation also intervened in that case, filing an amicus brief on behalf of two steelworkers who said forced payment of dues violates their First Amendment right of freedom of speech. The foundation says claims in the Lake County case are spurious.
Another case in U.S. District Court for the Northern District of Indiana in Hammond—James L. Sweeney, et al. v. Mitch Daniels, et al.—awaits a ruling on the state's motion to dismiss. That right-to-work challenge involves the International Union of Operating Engineers Local 150.
Ann DeLaney, former Indiana Democratic Party chairwoman and co-founder of the law firm DeLaney & DeLaney LLC, said right-to-work means, "There's going to be fewer members who want to contribute."
"It's human nature—if you can get a free ride, you're going to take it," she said.
DeLaney sees a pattern in recent Supreme Court decisions and the push for right-to-work to restrict the power of the union to get its message out.
Nancy Guyott, president of Indiana's AFL-CIO chapter, which represents about 800 union locals, said the Knox case represents a double standard for unions compared with unlimited corporate political spending allowed in Citizens United.
"The court went out of its way to make statements that were not at issue" in Knox, said Guyott, who is an attorney but does not practice. "Those statements encouraged limitations on the right of workers to collectively speak in politics."•
This story originally appeared in the Indiana Lawyer.
 
Please enable JavaScript to view this content.