Eli Lilly and Co.'s highly anticipated Alzheimer's drug solanezumab has a remarkably simple way of working: It takes out the trash.

The drug, which is an antibody and works through patients' immune systems, binds to the protein believed to cause Alzheimer's and carries it out of the brain, where it can wreak havoc, safely into the bloodstream. It's that simple.

But lying behind that simplicity is more than a dozen years of highly complex research by Lilly scientists, which includes multiple advances that are breakthroughs in their own right.
And even before solanezumab, Lilly scientists spent another dozen years studying other ways to attack Alzheimer's disease.

The work at Indianapolis-based Lilly is just a small part of a worldwide leap in the understanding of Alzheimer's disease that has occurred since the mid-1980s and will reach its latest milestone when Lilly announces, in the next few weeks, results of its trials of solanezumab in more than 2,000 patients.

If solanezumab slows the rate of mental decline in Alzheimer's patients by even a mere third, it is likely to be the most lucrative single breakthrough in the history of the pharmaceutical industry.

That's because no drug to date has been able to touch the progress of the memory-sapping and ultimately fatal disease, which generates enormous bills to provide care for the 18 million people worldwide who suffer from it.

But odds are solanezumab won't succeed. Perhaps not because the drug doesn't do what scientists designed it to do, but because patients in Lilly's clinical trials are too far gone. Alzheimer's disease is something that is now known to attack people's brains as much as a decade or two before the disease can be diagnosed.

Or Alzheimer's disease might turn out to be caused by more than one thing at a time, so it might require multiple drugs to treat.

The stakes are enormous for Lilly. The company is in the midst of losing patent protection on its two most lucrative drugs ever—the antipsychotic Zyprexa and the antidepressant Cymbalta—and needs another blockbuster to keep its revenue from plummeting.

Wall Street analysts say solanezumab could generate as much in sales as Zyprexa and Cymbalta combined—$9 billion a year. Lilly's stock price could jump 50 percent or even 100 percent on a broad success from solanezumab's trials.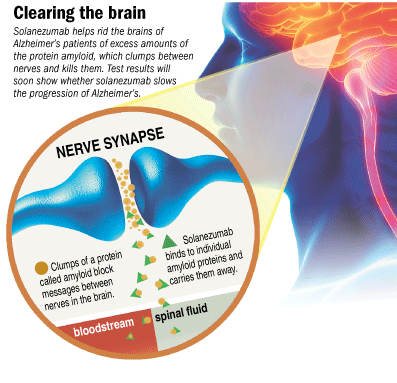 "It would probably be the undisputed biggest upside surprise ever in the pharmaceutical industry," said Dr. Mark Schoenebaum, a pharmaceutical analyst at ISI Group in New York. "Lilly investors would probably go out and celebrate that night."

If solanezumab fails, Lilly has one other Alzheimer's drug in human testing, and even more drugs in earlier stages of development. But there are also half a dozen other major drug companies that have Alzheimer's drugs in late-stage clinical trials.

If solanezumab is partially successful—working, for instance, only in patients with mild Alzheimer's disease or in patients with specific genetic traits—even that would be huge.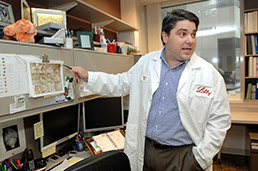 Lead solanezumab biologist Ron DeMattos shows mouse and human brain images with signs of Alzheimer's disease. (IBJ photo/Perry Reichanadter)
That's because doctors who treat Alzheimer's patients are desperate for some kind of treatment—and would likely try on all kinds of patients a drug that showed some effect on even a small group.

"I'm praying that we actually have the victory, even if it's a small victory," said Ron DeMattos, Lilly's lead biologist on solanezumab, whose research team created the science behind the drug. "This has been 10 years of going at it as hard as we can."

Accumulating knowledge

Like all the experimental Alzheimer's drugs currently in clinical trials, solanezumab is based on the amyloid hypothesis—a specific school of thought about what causes Alzheimer's.

The hypothesis was first suggested in the late 1970s but not firmed up until 1991. That is when British geneticist John Hardy and others identified a small group of Alzheimer's patients who had a mutation that boosted their brains' production of a protein called amyloid beta.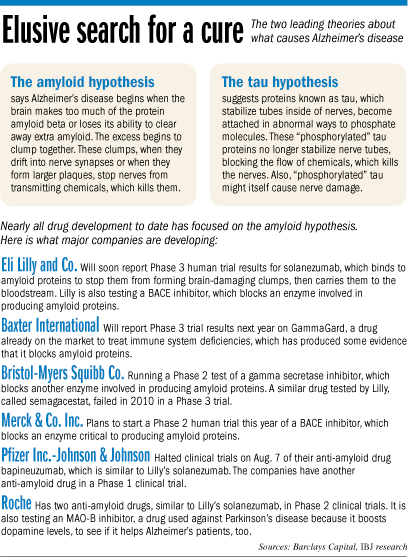 This protein hadn't even been known to exist until 1984, when it was discovered by scientists studying Down syndrome patients.

In 1985, scientists identified amyloid beta proteins as the thing that clumped together to form the telltale plaques that were always seen in the brain tissue of Alzheimer's patients after they died. The plaques were first identified by German psychiatrist Alois Alzheimer, under a microscope, in 1906.

After Hardy's work showed that amyloid was a cause of Alzheimer's disease—at least in some patients—scientists still faced the task of figuring out how amyloid caused trouble. It was thought that it clumped together into plaques that prevented neurons from swapping chemicals and killed them. But the mechanics of the clumping process had yet to be unwound.

The same year Hardy's team made its discovery, other scientists established that amyloid beta is produced naturally by all people and, in most people, is cleared away easily before it can start clumping.

It still isn't clear why human brains produce amyloid beta at all. Some think it helps neurons adapt over time. Others think it's simply a byproduct of some other brain processes.

Still, the discoveries about amyloid gave researchers a target for new drugs. And when, in 1995, scientists at Lilly and California-based Athena Neurosciences Inc. announced they had developed a genetically altered mouse that produced excess amyloid, drug companies had a way to start moving drugs toward human trials.

"It's been one of these things where there's been a steady accumulation of information," said Dr. Martin Farlow, the associate co-director of the Indiana Alzheimer Disease Center at the Indiana University School of Medicine, who has conducted parts of Lilly's clinical trials of solanezumab. "It has a long way to go, but it's come a long way."

The amyloid hypothesis isn't the only explanation for Alzheimer's disease. The other leading explanation involves the other oddity that Alois Alzheimer spotted under the microscope a century ago—tangled chains of a deformed version of the protein tau.

Other theories suggest that the nerve damage caused by Alzheimer's may be an issue of inflammation or damage caused by highly reactive molecules in the brain, known as free radicals.

Lilly has researchers working from the tau hypothesis and exploring other ideas as well, DeMattos said.

"It's obvious, there's going to be multiple ways to hit this," he said.

A breakthrough with mice

Solanezumab's story begins in St. Louis at the Washington University School of Medicine, where DeMattos landed in 1999 for a fellowship after earning his doctorate in molecular biochemistry.

Lilly's neuroscience researchers already were collaborating with Washington University researchers to develop drugs for Alzheimer's disease.

At the time, the most cutting-edge thinking on the way to attack the disease was to use the body's immune system. Some drug companies were trying to develop an Alzheimer's vaccine by injecting amyloid beta into patients to force their bodies to develop antibodies that would attack amyloid plaques in the brain.

But Lilly had already decided on a different strategy: Create in the laboratory an antibody for amyloid beta, then inject that antibody into patients.

Antibodies are proteins themselves, but if they contain the right organic substances and are structured in the right way, they can easily bind to a problem-causing protein and not let go. Ideally, the combination of the antibody and the troublesome protein has a chemical structure that no longer causes problems.

DeMattos' key insight was that, instead of targeting the plaques, an antibody could target free-floating amyloid proteins in the brain. If a drug removed enough of that free-floating amyloid, he figured, it would allow more of the amyloid that was already clumped together on plaques to hop off and float away.

When he tried it in mice in 2000, the antibody did what he hoped: It latched onto amyloid beta proteins and carried them out of the brain and into either the spinal fluid or the blood. He even found evidence that pieces of the plaques were breaking free.

DeMattos' work in St. Louis prompted Dr. Steve Paul, president of Lilly Research Laboratories, to recruit DeMattos to Indianapolis.

Paul, a psychiatrist by training, was a champion of Lilly's Alzheimer's program throughout his 17 years at Lilly. He retired at the end of 2009, but now directs an Alzheimer's research institute at the Weill Cornell Medical College in New York.

"This is a major public health problem. If unchecked as our population continues to age, what is now a public health problem could become a public health catastrophe," Paul said. "That is why Lilly and other companies are so committed to slowing the disease."

When DeMattos, then 32, arrived in Indianapolis in the summer of 2002, Lilly's protein engineers already had produced several antibodies that could act in human brains the same way the one DeMattos used had acted in mice. The drug DeMattos settled on—after he first used it as a control substance in a test—was solanezumab.

His lab team of nine people then had to prove that solanezumab was having the same kind of effect in humans that DeMattos had seen in the mice back in St. Louis.

"You've got to show that it's doing something," Paul said in 2003. Otherwise, Paul knew, he would have a hard time persuading the finance executives at Lilly to keep funding the drug's development.

So in 2004, DeMattos' team developed an entirely new way to test the levels of amyloid beta in patients' blood and spinal fluid.

Human trials on solanezumab began that year. Four years later, results from the studies showed that patients taking solanezumab had higher levels of amyloid beta bound to the drug in their spinal fluid and blood—a sign that solanezumab was indeed clearing the amyloid out of the patients' brains.

That was enough for Paul and Lilly CEO John Lechleiter. Rather than waiting to see if solanezumab had an effect on patients' cognitive decline, they decided in the summer of 2008 to advance solanezumab into a very long and expensive Phase 3 trial. Lilly has said it will announce the results of that trial before the end of September.

Too late for treatment?

Lilly has been testing solanezumab in patients who have already been diagnosed with either mild or moderate Alzheimer's disease. Neurologists make such diagnoses based on a systematic questionnaire designed to gauge patients' ability to think and to do common daily activities.

The big question for Lilly is whether it's already too late to help those patients. Three research announcements in just the past six weeks all suggest it is.

A study published in Nature showed that a group of Icelanders have a protective gene mutation that does not allow them to get Alzheimer's disease—but only after the gene mutation prevents excess amounts of amyloid in their brain for multiple decades.

The same week, a study published in The New England Journal of Medicine found that buildup of amyloid plaques and the damage they cause appear to start two decades before any dementia sets in for Alzheimer's patients.

And on Aug. 7, Alzheimer's patients in a clinical trial of the anti-amyloid drug bapineuzumab by drug firms Pfizer Inc., Johnson & Johnson and Elan Corp. were halted because the drug showed no positive effect in any patient group.

"The simple answer is that we have to move Alzheimer's treatment much earlier," wrote Dr. Eddie Koo, an Alzheimer's researcher at the University of California at San Diego, in an e-mail. "The current anti-amyloid approaches are likely to be most effective, if at all, early and not when the disease is well on its way."

Many researchers liken the situation with Alzheimer's therapies to the cholesterol-lowering statin drugs given to heart patients. While the drugs have been shown to help patients even after they have had a heart attack, the real benefit of statins is when they are taken by patients at risk of heart disease—years before a heart attack is likely to occur.

Until recently, it has been hard to know who would develop Alzheimer's—other than those patients with known gene mutations that cause it. But there is now an imaging agent that will light up amyloid plaques in a brain image known as a PET scan.

In fact, Lilly brought that imaging agent, known as Amyvid, to market after acquiring the inventor, Philadelphia-based Avid Radiopharmaceuticals Inc.

Using such scans on patients who already have mild cognitive impairment—a common precursor to Alzheimer's—or who have a family history of Alzheimer's may be a way to identify a group of patients for treatment earlier in the process.

Switzerland-based Roche's Genentech unit soon will start a clinical trial doing exactly that. And Farlow, the IU researcher who has participated in some of solanezumab's clinical studies, said he thinks Lilly might even try solanezumab in another trial, targeting pre-Alzheimer's patients, if the drug shows any indication that it is working.

Or Lilly may instead focus its resources on the next Alzheimer's drug in its pipeline. It is called a BACE inhibitor because it blocks one of the two enzymes that splice off the pieces of amyloid beta from a larger protein.

That drug is being tested in humans in a Phase 2 trial. Results are expected in January 2014.

DeMattos said the important thing is that Lilly won't end its Alzheimer's program, even if solanezumab fails. Instead, it will learn whatever it can and keep trying.

"There was a decision by senior management that we were going to be a player in this," he said. "They see that we have to win here, and they're going to see that we do."•