Ellen Annala has less than a year to lead United Way of Central Indiana through a multimillion-dollar fundraising campaign and launch a five-year strategy—while continuing to oversee hundreds of employees, thousands of volunteers, and more than $100 million in assets.
At the same time, the not-for-profit's board will have its own challenge: finding someone to take over when Annala retires April 1. It won't be easy to replace someone who has worked at the organization for 23 years, including 14 as CEO.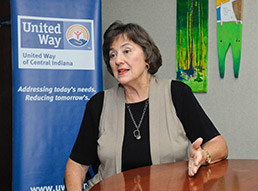 Ellen Annala kept the finances of United Way of Central Indiana steady during the Great Recession. (IBJ photo/Perry Reichanadter)
"She just has a tremendous sense of our community and its needs," said David Resnick, who will head the search committee. "And she's very proactive in her thinking, strategizing. It's not everybody that can operate in today's world and the next."
The search will be difficult, he said, because of what Annala has accomplished. She kept the organization's fundraising on track during a tough economic climate, guided its efforts to provide services as demand skyrocketed, and earned it a spot on the Indiana Chamber of Commerce's Best Places to Work list.
Patrick Rooney, executive director of The Center on Philanthropy at Indiana University, said it is tough to predict how the leadership transition will affect the organization because not-for-profits rarely keep CEOs in place for so long.
"I would guess, just looking at nonprofits nationally, that this is very unusual," Rooney said. "She has a huge board of community leaders and business leaders and so forth, and they do this huge campaign every year.
"It's not only a high-profile job, but it's a high-pressure job. And she has handled it gracefully. They need to find somebody who can not only endure, but thrive, in that environment."
Fresh fundraising
Colleagues and consultants give Annala credit for keeping the local United Way's finances steady during the Great Recession.
Revenue dropped 22 percent, to $45 million, in 2009 as the economy faltered, dragging down donations with it. By last year, the agency had built revenue back up to $52 million—securing $40.6 million during its annual fundraising campaign.
Annala mentioned a range of methods she and her employees used to keep the group going through the tough fundraising environment. Ultimately, their success depended on Indianapolis-area CEOs' abilities to get employees to give.
Most companies no longer coordinate carnivals or other elaborate events to inspire donations. Instead, businesses are turning to low-cost activities—something as simple as allowing contributors to wear jeans to work, Annala said.
"The whole idea was to make it fun," she said. "When you do something for … 94 years, you've got to refresh what you do. It can be monotonous."
In one case, a corporate leader dressed up as a caveman and filmed a promotional video for his firm's campaign. Recruiting that kind of help from CEOs takes a level of rapport that will be important for Annala's successor to establish, said Bryan Orander, president of Fishers-based not-for-profit consultant Charitable Advisors.
Without workplace-giving initiatives, United Way's fundraising would crumble. All told, 57 percent of the 2011 campaign pledges came from individual employees.
Rooney, whose organization tracks charitable giving throughout the United States, said research has revealed that the value donors see in not-for-profits' missions, sizes and ages account for about 3 percent of all giving. The remaining 97 percent, he concluded, largely depends on the relationships charities' leaders have with their contributors.
And the local United Way will lose Annala's connections to organizations and community leaders who are pivotal in fundraising campaigns.
Take Lilly Endowment Inc., for example.
During her tenure, Annala has landed $150 million from the Indianapolis-based foundation: a $50 million endowment gift that generates enough investment income to cover fundraising and administrative costs, and $100 million in capital-projects funding to revitalize affiliated agencies' buildings and properties.
Annala's successor will need to establish relationships with such groups to keep United Way operating smoothly. But that might take time, Rooney said.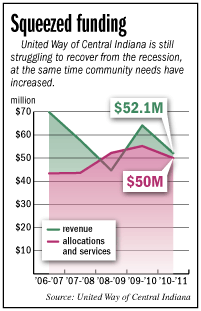 "While they have this relationship with Ellen, this trust with her as an individual, hopefully there's a commitment to the organization that transcends just the individual," he said.
Setting priorities
Fundraising is a crucial component of the job, but it's not the only one.
Orander listed three criteria that the search committee will have to weigh in finding a replacement for Annala: fundraising skills, leadership skills and community outreach skills.
The search committee is going to have to figure out what it values the most among those attributes, he said.
"That's one of the questions that any search committee faces in a circumstance like this," he said. "Sometimes it's [necessary to] choose between what's more important."
Annala's replacement will take over an organization that reported $52 million in revenue and $115 million in net assets to the IRS at the end of the 2011 fiscal year. United Way of Central Indiana cut expenses by about $5 million in 2011, but an $11 million drop in grants and contributions led it to finish the year with a $5.6 million deficit.
Despite the deficit, the organization provided grant funding to almost 100 affiliated not-for-profits in six central Indiana counties last year.
Then there is the management aspect. On top of running an organization with about 150 employees, the CEO oversees a group that had 17,000 volunteers last year.
"On day-to-day business, they're not making 20 calls to individuals or to small businesses that they need to give," Orander said. "They need to know how fundraising works, but it's more important that they're leading the organization."
It's not like running a business, he said. As many people at the top in for-profit businesses have discovered, their skills can't always transfer to the charitable sector.
"Ten or 12 years ago … everybody wanted business leaders in charge of [not-for-profit] organizations," he said. "A disproportionate share of those attempts failed because the business leaders came in and treated the nonprofits like businesses."
CEOs at public companies earned a national average of $9.6 million in 2011, the Associated Press reported in May. Annala received total compensation of about $245,000, according to IRS records.
Charitable leaders also have to find a different way to motivate the workers—and volunteers—who deliver services, Orander said.
"You can't control people through a compensation structure—half the people don't get paid at all," he said. "Everyone feels that they should share opinions, but the [executive directors] felt like, 'I don't have time for that.' A lot of businesspeople get frustrated in that kind of environment."
When Annala came to United Way of Central Indiana as a vice president in 1989, she changed operations in ways that will continue after she leaves. The organization is more transparent about its financial reporting, for example. Annual reports include detailed breakdowns of how much the agency collected and where the money went.
Donors want to see where their money has gone, Annala said. Without seeing it, they are less likely to donate again.
Looking ahead
One of the last projects Annala intends to finish before retiring is the implementation of a new strategy that her successor will have to see through.
Historically, United Way's primary purpose was to raise money for other human-service agencies. But under Annala's leadership, the organization has begun its own programs, such as a reading club for children.
In its 2011 annual report, United Way highlighted six areas on which the agency and its board plan to focus over the next five years.
Among the priorities: doing more to connect companies and their employees with volunteer opportunities. Many people seek employers that are civic-minded, Annala said, and the businesses want their workers to volunteer in areas that they already serve, such as a food producer helping a hunger-relief organization.
United Way's strategy also calls for more-direct communication with individuals. One issue the agency has encountered is that, when donors retire, they lose their connections to United Way and no longer know how to contribute. By developing direct relationships, the agency hopes to keep those channels open.
On the programs and services side, United Way's strategy pushes it to focus more on the issues of health, income and education, especially for children.
United Way has set up task forces to tackle the changes, but Annala expected the board to be hands-on with the strategy as her replacement acclimates to the job.
Once the five-year initiative is ready to hand over, Annala said, she will feel comfortable retiring.•
Please enable JavaScript to view this content.