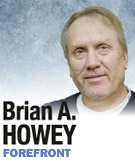 You say you want a revolution? You believe we need constitutional term limits?
Well, the anger of Hoosier voters and the implicit threat that lies therein, working along Father Time, has created an almost unprecedented exodus of power over the past two years.
This has been coming at us in waves. The precursor was 2007, when we saw around 40 percent of Indiana mayors retire or go down to defeat in primary or general elections. And that included big names like Bart Peterson in Indianapolis, along with mayors in Terre Haute, LaPorte, Anderson, Plymouth and Vincennes.
The congressional exodus has been under way since 2010, when Sen. Evan Bayh and Rep. Steve Buyer retired, Rep. Mark Souder resigned, Rep. Baron Hill was defeated for re-election, and Rep. Brad Ellsworth lost a Senate race after four years in the House. That's six decades of Capitol Hill experience.
In 2012, add another 76 years as Sen. Dick Lugar was upset after 36 years in the upper chamber, Rep. Dan Burton retired after 30 years in the House, and Rep. Mike Pence opted to seek the governorship after 10 years.
Combined, that's almost 140 years of Capitol Hill tenure and clout. For the first time in 50 years, there won't be a Lugar or a Bayh representing Indiana in the Senate. And freshman U.S. Rep. Marlin Stutzman, at two years and a month (he took the oath in November 2010 to finish Souder's term), will be the dean of Indiana House Republicans.
After a dozen years in the Senate in two stints, Dan Coats finally can drop the "junior" designation to his title.
Now, let's survey the Statehouse.
At the executive level, the exits this year of Gov. Mitch Daniels and Lt. Gov. Becky Skillman represent 16 years of experience, but decades more when you factor in Skillman's tenure in the state Senate, and Daniels' vast array of jobs ranging from the City-County Building, two stints in the Reagan and Bush 43 White Houses, and on the Republican Senatorial Campaign Committee.
The anomaly with the Daniels/Skillman dynamic is that in the television age of Indiana political history, the lieutenant governor usually moved up to the big office (as Robert Orr, Frank O'Bannon and Joe Kernan did) or as Robert Rock and Dick Ristine tried to do in 1968 and 1964.
With the judiciary, we have watched as Chief Justice Randall T. Shepard (22 years), Justice Theodore Boehm (14 years) and Justice Frank Sullivan (19 years) retire, representing 55 years of experience.
But the real change comes in the General Assembly.
By the time the filing deadline ended in February, a dozen Democrats representing 236 years of experience had retired. These included heavyweights like Bill Crawford, Chet Dobis and Dale Grubb. And it came on the heels of the 2010 election defeats of longtime Democrats like Bob Bischoff and Paul Robertson, creating an exit of around 300 years of experience in just two years.
Add in retiring Republicans like Reps. Jeff Espich and Ralph Foley, and there is 340 years of legislative experience going out the door just in 2012.
When you factor in the Crawford and Espich retirements, that represents 80 years of experience from the men who chaired the influential House Ways & Means Committee for much of the last two decades.
Last month, House Democrats replaced House Minority Leader B. Patrick Bauer, a 40-year veteran, who ran that caucus as well as serving two stints as House speaker, in a coup d'etat.
It took 192 years for the Indiana Senate to have a female caucus leader (Vi Simpson, who exits this year after two decades), and 196 years for Rep. Linda Lawson to break the House glass ceiling after Bauer's exit.
Change has come to Indiana government via defeat, retirement, resignation and power play. It has come, in an unprecedented and emphatic way.•
• Howey is a third-generation Hoosier journalist who publishes Howey Politics Indiana. Send comments on this column to ibjedit@ibj.com.
Please enable JavaScript to view this content.