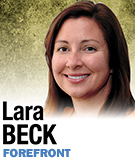 When Melina Kennedy ran for mayor of Indianapolis last year, childhood education was a cornerstone of her campaign. The issue caught the attention of parents, employers, educators and the media, and Kennedy made a compelling case for investing in our community's human capital.
Nearly every expert will tell you that the early years in a child's life are the most crucial for their intellectual, social and emotional development. Studies have found that high-quality pre-kindergarten programs increase high school graduation rates, improve scores on standardized tests, reduce crime rates and, ultimately, diminish the achievement gap.
Where does Indiana stand in offering early childhood education to our youngest citizens and future work force? Indiana is one of only 11 states that provide zero funding for public pre-kindergarten programs.
Even more concerning is that kindergarten isn't mandatory in Indiana. Half-day kindergarten must be offered at every public school, but parents can choose whether they enroll their children. Two-thirds of states require children to start school earlier than Indiana's standard age of 7.
Central Indiana children returned to school earlier this month. Among them was my 4-year-old son. Last year, my husband and I enrolled him in a fairly rigorous pre-kindergarten program at a school in our neighborhood. I began to see noticeable progress within weeks. By the end of the year, he was writing his name, recognizing all his letters, asking me to spell words so he could write them, and putting me to shame in the counting department.
On occasion, he'll ask me what sharks eat. He'll correct me that Pluto is no longer Pluto, but the "dwarf planet." I can say with certainty that these are not concepts he's picked up at home. I give full credit to Mrs. Morris and Mrs. Tindall.
I've experienced firsthand the impact of a quality pre-kindergarten program on a child. I've seen the beaming face, sharing an art project or a book selected on a library trip. I've also seen how Indiana is falling behind. Nationally, more than 41 percent of 4-year-olds are enrolled in publicly funded pre-kindergarten programs, and 10 states have enrollment rates exceeding 60 percent.
In the race for governor, one candidate—John Gregg— is talking about early childhood education. He has already outlined his plans to launch a pilot pre-kindergarten program for 4-year-olds, modeled after a successful Wisconsin initiative. He is proposing to institute a Hoosier State Childcare Tax Credit, which would help offset the costs of quality child care for working families. And he supports fully funding full-day kindergarten for all Indiana children.
I'm the first to admit that I'm not an education expert. However, I find it interesting that some in our state have spent considerable resources to "reform" our educational system. Yet, efforts to implement early childhood education and full-day kindergarten—initiatives that have proven to be successful and sustainable for our children—are consistently met with resistance at the Statehouse.
Our state has made considerable improvements to our physical infrastructure. Our city hosted one of the most successful Super Bowls in recent years. But we can't seem to muster the political will to educate our youngest children.
As Gregg noted, it has become a question of priorities. According to the Pew Center on the States, every dollar invested in high-quality pre-K saves taxpayers $7. And that program in Wisconsin? A 40-year study shows that taxpayers save in the long term, ranging from $8 to $17 saved for every dollar spent.
In a 1967 sermon, Martin Luther King Jr. preached about the "fierce urgency of now." Another school year has begun in Indiana without an early childhood education initiative. The consequences of inaction are simply staggering.
Let's not go another year without making progress.•
• Beck served on the staffs of former Mayor Bart Peterson and former first lady Maggie Kernan. A resident of Irvington, Beck owns the strategic communications firm Beck Communications. Send comments on this column to ibjedit@ibj.com.
Please enable JavaScript to view this content.