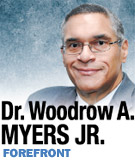 I like Michael Bloomberg, the mayor of New York City. He says what he thinks and thinks about what he says. He has challenged both presidential candidates to speak out on the role of firearms in our society and their facilitation of the multiple senseless spates of mass murders committed in recent weeks by men with clear signs of mental and emotional illness.
He has pushed hard, often without the support of the federal government, to do what he believes is best to protect the people of New York City in a post-9/11 world, including surveillance that if not technically illegal and unconstitutional, comes awfully close.
Bloomberg banned smoking in bars and restaurants during his first term, and that was a good move. And he leads his city's fight against obesity.
Bloomberg championed a law that forced the restaurant industry to change the way it fries food. New York City now bans frying oils containing artificial trans fats. Both cardiologists and public health officials agree that trans fats increase heart disease by raising bad cholesterol and lowering good cholesterol at the same time. Some experts say that makes trans fats worse than saturated fat.
It is unusual for a mayor to take such an active role in protecting the health of his citizens. But Bloomberg is an unusual guy. Most of the time, he is right. But this time he is not. Now he is after soda pop. And he has convinced the folks at Coke and Pepsi, who are normally at each other's throats, to band together to stop him.
Coke, Pepsi and all their cousins, while tasty, are nutritional duds. They are flavored combinations of carbonated water and sugar. They are "empty" calories that provide no supplemental nutritional value, such as vitamins, minerals, antioxidants, amino acids or dietary fiber. And they are great at making you fat.
Bloomberg now wants to ban the sale of sugary drinks larger than 16 ounces in regulated food establishments, including in movie theaters and sports arenas. Food retailers love selling 32-ounce beverages because the ingredients are inexpensive and the profit margins are high.
The ban would not apply to grocery stores (where you could still buy the giant, two-liter bottles) nor would it prohibit a thirsty customer from buying two 16 oz. beverages to get the same 32 oz. sugar "high."
And that is why it is a bad idea. It is not logical. By selectively targeting the establishments regulated by local government because of public health and food safety concerns (restaurants) and ignoring those where local government has little control (grocery stores), his good intentions (reducing morbidity and mortality associated with obesity) are lost and his critics are empowered.
Soda pop is not the only cause of obesity, either. One box of cherry Jell-O (my favorite) has almost as many empty calories as a 32-ounce Big Gulp from 7-Eleven. There are about the same number of empty calories in a 32-ounce fountain soft drink as there are in 32 ounces of beer (minus the alcohol). And neither Coke nor Pepsi is a cause of drunk driving, another serious threat to public health.
The mayor cares about his people, and he fights hard to keep them safe, even from themselves. If I were still the NYC health commissioner, I'd advise that the mayor push to increase physical education in the schools and encourage rewards for those who find safe ways to lose weight. If I were the mayor, I'd save my political capital for those battles that offered the most reward, not the most risk to my credibility.
And as a parent in New York (or in Indiana), I'd never let my kid buy or drink 32 ounces of pop.•
• Myers is a former chief medical officer for WellPoint Inc. and served as health commissioner for Indiana and New York City. Send comments on this column to ibjedit@ibj.com.
Please enable JavaScript to view this content.