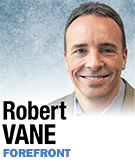 In an economic climate that can at best be deemed uncertain, and at worst catatonic, it is critical that the public and private sectors encourage and aid small-business entrepreneurs.
And no entrepreneurial business class is experiencing more growth and generating more interest than veteran business enterprises.
When I was contemplating leaving the mayor's office in late summer of 2010, I sat down with some friends to discuss my next move. Once I reminded them of my status as a U.S. Army veteran, the verdict was unanimous—start your own veteran business enterprise.
Apparently, I am not alone. From Potbelly's restaurant on Monument Circle to Lee & Ryan out in Greenfield, and from Finch Construction to Guidon Design right here in Indianapolis, the veteran business world is an emerging economic powerhouse.
One reason for the growth of veteran businesses is the heart-wrenching statistics that tell a grim tale of what awaits veterans when they separate from the service.
A recent report found that the rate of homelessness among veterans in our city rose 34 percent in 2011. Additionally, the Bureau of Labor Statistics pegged the unemployment rate for Indiana in 2011 at 8.2 percent, while the unemployment rate for 9/11-era veterans was 15.7 percent.
Beyond numbers, I've heard of people suffering from traumatic brain injuries who must wait more than a year for treatment. In one case, a soldier who served overseas was accidentally put on the deceased list, then was told he had to go to the end of the backlogged list even though the error wasn't his.
Since the debate over the cause of these troubling issues isn't nearly as important as the discussion on how to improve veterans' economic opportunities, the key question is, what can be done?
Republican gubernatorial candidate Mike Pence recently announced a series of policy initiatives aimed at improving the quality of life and economic prospects for veterans.
It is my privilege to serve on Rep. Pence's veteran policy committee (along with an amazing group of veterans and supporters), and he has reiterated many times his commitment to building on the advances made by the Daniels administration.
A pillar of Pence's policy initiative is a 3-percent goal on Indiana state contracts for veteran business enterprises.
Mayor Greg Ballard instituted a similar VBE goal in Indianapolis. A state program for VBEs would be an economic boon for Hoosier vets.
For example, during the first six months of 2011, the state awarded $1.2 billion in contracts. Under Pence's plan, $35 million of that would have gone to VBEs. That's the sort of impact we need to grow veteran businesses and reduce veteran unemployment.
Aside from the policy implications, veterans are one of the most powerful, most respected voting blocs in Indiana. With nearly 500,000 living Hoosier veterans, it is also a constituency that cannot be ignored, and it's taken notice of Pence's plan.
Beyond politics, divisive and unpopular as it is, there is the broader and still unanswered policy question of whether VBEs can help grow the Indiana economy.
The answer is yes. There are billions of dollars in federal investment being spent to help veterans and VBEs. These outlays could very easily flow to the Hoosier state and help create jobs, wealth and hope in equal measure.
Joining the military was the best decision I've ever made, but it was certainly not the easiest. I was no warrior (I hosted a television show), but my son, who just returned from Afghanistan last month, is a brave young man who volunteered to serve during wartime.
Who wants to step forward to tell him he doesn't deserve the absolute best?
The time is now and the situation is critical. Pence has taken the lead in the effort to help Hoosier veterans; the question now is, who's next?•
• Vane, a U.S. Army veteran, has worked for elected Republican officials including Indianapolis Mayor Greg Ballard, and currently owns the public relations firm Veteran Strategies. Send comments on this column to [email protected].
Please enable JavaScript to view this content.